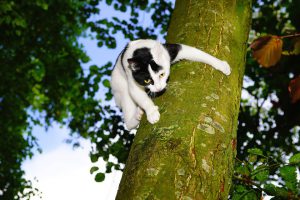 Orange County, Florida – On Sunday night, a heartless teenager, accompanied by two juveniles kicked a cat out of a tree, and then encouraged three pit bulls to tear the feline apart. The authorities have identified 18-year-old Alik Williamsmays as the individual who kicked the tree, causing the cat to fall to the ground where it was subsequently attacked by the trio of dogs.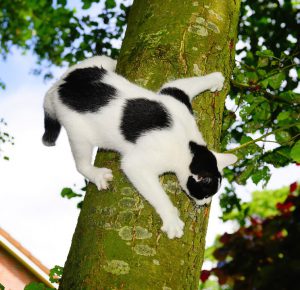 The helpless cat did not stand a chance against the dogs; a witness who recorded the gruesome incident told the authorities that the dogs "behaved in a tug of war with it." According to video reviewed by the authorities, neither Williamsmays nor the other two juveniles who were present, did anything to stop the attack.
Deputies reported "the dogs were encouraged to inflict excessive and repeated injuries to the cat," and an animal services officer stated that the likelihood of the cat dying "was very high due to its major injuries."
Williamsmays and the two juveniles were later found walking near South Pine Hills Road and West Livingston Street; Williamsmays had blood and fur on his pants, and one of the pit bulls was observed with a"large amount of blood" on it.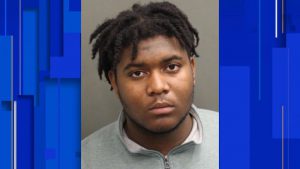 Williamsmays is facing charges of animal cruelty and contributing to the delinquency of minors; the juveniles, whose ages have not been released, will likely face charges too.
An innocent cat suffered a brutal death because of someone's callous disregard for animals and we will fight for justice. Please add your name to the petition to help us convince court officials that this cat's life meant something and that there must be REAL punishment for those convicted of the crime. Additionally, because of the deranged nature of this crime, we want to see a full mental evaluation and counseling if warranted.
We the undersigned demand that the convicted abuser(s) responsible for causing this cat to suffer a horrific death receive the maximum punishment allowable by law.
(Note: Images of the cat are stock images, not the cat who was killed)
Individuals are presumed innocent until being found guilty in a court of law. Animal Victory relies upon the authorities and the court system to determine guilt or innocence.
News:
Animal-Protection-Laws-of-Florida-2020-Animal-Legal-Defense-Fund
Update 9/7/2022: The next scheduled court date is September 27, 2022, at 9:30 a.m. for a pre-trial conference. The trial management conference will take place on October 4, 2022, at 1:30 p.m. The trial is scheduled for October 10, 2022, at 9 a.m. All of these court dates will be held on the 18th floor in room 18-D. 
Update 8/1/2022: Animal Victory is thrilled to report that this case is finally on the docket! Arraignment is scheduled to take place on 8/9/2022 at 8:45 a.m.
Update: As of 4/19/2022, nothing has changed, we are still awaiting a court date and ada assignment.
Update 3/29/2022: Animal Victory has been informed by the Orange County Clerk that a prosecutor has not been assigned yet and there is no date scheduled for the hearing at this time.
Update: Animal Victory has sent 17,858 signatures and comments to the prosecuting attorney at division 19 of Orange County, and the Solicitors office.
Heartless Teen Kicked Cat Out Of Tree And Encouraged Dogs To Rip It Apart
18,395
signatures = 92% of goal
18,395
Evelyn Yateman
Sep 17, 2022
18,394
Nereida Alamo
Sep 17, 2022
18,393
Guisselle Martinez
Sep 17, 2022
18,392
Jay Rich
Sep 16, 2022
18,391
Jennifer Warrow
Sep 12, 2022
18,390
Carmen Verdugo
Sep 11, 2022
18,389
Shambhavi Ojha
Sep 10, 2022
18,388
Kelly A Kalish
Sep 10, 2022
18,387
Michelle Krueger
Sep 09, 2022
18,386
Mirlan Bayaman
Sep 07, 2022
18,385
Catherine G
Sep 07, 2022
18,384
Shanelle Manzanares
Sep 06, 2022
18,383
Jammie Davis
Sep 05, 2022
18,382
Jeffrey Clouatre
Sep 04, 2022
18,381
Nancy Coupe
Sep 03, 2022
18,380
LEO MENDEZ
WHY DOES ANIMAL CASES TAKE SO LONG!!! THIS POS UGLY LOW LIFE SHOULD BE IN JAIL RIGHT NOW!! 25 YEARS AND A $100,000 FINE!!
Aug 29, 2022
18,379
MARIE BOTEILHO
You sick low life POS to do this to an innocent cat!!!! Put this SOB in jail for 30 years!!!!! BEAT THIS SICK PUNK FOR WHAT HE DID TO THIS INNOCENT CAT!!
Aug 29, 2022
18,378
Christine Trapasso
Aug 24, 2022
18,377
Bonnie Gillings
Aug 20, 2022
18,376
Mandii Dojcinovic
Aug 18, 2022
18,375
Paula Irvine
So much evil in this world life in prison and death penalty for those who hurt the vulnerable and the voiceless
Aug 18, 2022
18,374
Deborah Grottola
Aug 18, 2022
18,373
Maureen Dale
Aug 18, 2022
18,372
Chinanan Khurasee
Aug 17, 2022
18,371
Veronica Salas
Aug 17, 2022
18,370
Karen Sexauer
Aug 15, 2022
18,369
Sarah Stansill
Aug 14, 2022
18,368
Mary Wentz
Aug 12, 2022
18,367
Susan Cerniglia
Aug 11, 2022
18,366
Vickie Barnett
Aug 10, 2022
---