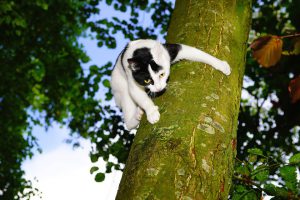 Orange County, Florida – On Sunday night, a heartless teenager, accompanied by two juveniles kicked a cat out of a tree, and then encouraged three pit bulls to tear the feline apart. The authorities have identified 18-year-old Alik Williamsmays as the individual who kicked the tree, causing the cat to fall to the ground where it was subsequently attacked by the trio of dogs.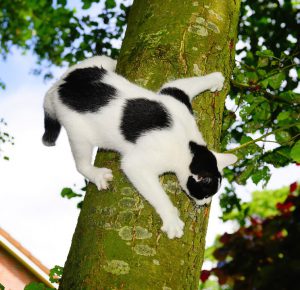 The helpless cat did not stand a chance against the dogs; a witness who recorded the gruesome incident told the authorities that the dogs "behaved in a tug of war with it." According to video reviewed by the authorities, neither Williamsmays nor the other two juveniles who were present, did anything to stop the attack.
Deputies reported "the dogs were encouraged to inflict excessive and repeated injuries to the cat," and an animal services officer stated that the likelihood of the cat dying "was very high due to its major injuries."
Williamsmays and the two juveniles were later found walking near South Pine Hills Road and West Livingston Street; Williamsmays had blood and fur on his pants, and one of the pit bulls was observed with a"large amount of blood" on it.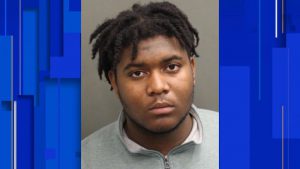 Williamsmays is facing charges of animal cruelty and contributing to the delinquency of minors; the juveniles, whose ages have not been released, will likely face charges too.
An innocent cat suffered a brutal death because of someone's callous disregard for animals and we will fight for justice. Please add your name to the petition to help us convince court officials that this cat's life meant something and that there must be REAL punishment for those convicted of the crime. Additionally, because of the deranged nature of this crime, we want to see a full mental evaluation and counseling if warranted.
We the undersigned demand that the convicted abuser(s) responsible for causing this cat to suffer a horrific death receive the maximum punishment allowable by law.
(Note: Images of the cat are stock images, not the cat who was killed)
Individuals are presumed innocent until being found guilty in a court of law. Animal Victory relies upon the authorities and the court system to determine guilt or innocence.
News:
Animal-Protection-Laws-of-Florida-2020-Animal-Legal-Defense-Fund
Update: As of 4/19/2022, nothing has changed, we are still awaiting a court date and ada assignment.
Update 3/29/2022: Animal Victory has been informed by the Orange County Clerk that a prosecutor has not been assigned yet and there is no date scheduled for the hearing at this time.
Update: Animal Victory has sent 17,858 signatures and comments to the prosecuting attorney at division 19 of Orange County, and the Solicitors office.
Heartless Teen Kicked Cat Out Of Tree And Encouraged Dogs To Rip It Apart
18,316
signatures = 92% of goal
18,316
Mary Fleming
May 22, 2022
18,315
Edie Shaw
May 22, 2022
18,314
Daniel Avichail
May 22, 2022
18,313
Wayne Hernandez
May 21, 2022
18,312
Michelle Peters
This human filth should all be charged as adults and get max penalty. Sick!
May 21, 2022
18,311
Mary Marts
Stop asking for mental evaluations. This evil cannot be treated. The individuals who stood by & watched are just as guilty. And people wonder why dogs can be vicious. Not THEIR fault. Lethal injection following torture is what this POS deserves.
May 20, 2022
18,310
Chris Van Enkenvoort
May 20, 2022
18,309
Lindsay Taylor
May 20, 2022
18,308
beverly hiller
to kick a cat out of a tree to be torn apart by 2 dogs and died to a boy thinking that sick pervert it was ok to make a cat suffer and be torn by 2 pitbulls apart went through torture, pain , suffering , this boy must have to be put away and suffer and be beaten as well and never again be allowed to touch a animal in any sort of way and be fined to rot in hell ok .
May 18, 2022
18,307
Raluca Florea
THIS POS SCUM NEEDS TO BE PUT BEHIND BARS!
May 18, 2022
18,306
Bruno Hurel
May 18, 2022
18,305
Barbara Snyder
May 18, 2022
18,304
Agnes Pawlusinski
May 16, 2022
18,303
Alison Yee
May 14, 2022
18,302
Marion Friedl
May 14, 2022
18,301
Cindy Rancourt
May 14, 2022
18,300
Ulrich Spauschus
May 14, 2022
18,299
Anne Caillat
May 14, 2022
18,298
Steven Havercamp
Prosecute to full extend of law
May 14, 2022
18,297
CAROL HARTMAN
this man is dangerous to people and pets! Lock him up or more innocents will be abused!!
May 13, 2022
18,296
Tirzah Given
May 13, 2022
18,295
Georgia Dees
May 12, 2022
18,294
Keleen McBride
May 11, 2022
18,293
Wendy Burkwood
Prosecute all three to the full extent of the law
May 11, 2022
18,292
Geana Davis
May 10, 2022
18,291
Becky Heath
What is wrong with the people?
May 07, 2022
18,290
Vivien Gémesi
May 06, 2022
18,289
Susan Walsh
May 06, 2022
18,288
Ava Fox
May 06, 2022
18,287
Suzanne Grafious
May 04, 2022
---