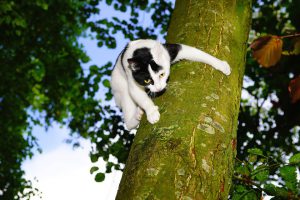 Orange County, Florida – On Sunday night, a heartless teenager, accompanied by two juveniles kicked a cat out of a tree, and then encouraged three pit bulls to tear the feline apart. The authorities have identified 18-year-old Alik Williamsmays as the individual who kicked the tree, causing the cat to fall to the ground where it was subsequently attacked by the trio of dogs.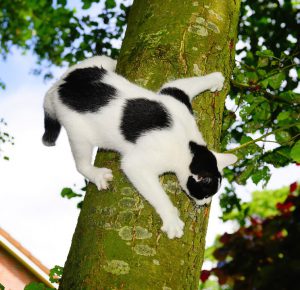 The helpless cat did not stand a chance against the dogs; a witness who recorded the gruesome incident told the authorities that the dogs "behaved in a tug of war with it." According to video reviewed by the authorities, neither Williamsmays nor the other two juveniles who were present, did anything to stop the attack.
Deputies reported "the dogs were encouraged to inflict excessive and repeated injuries to the cat," and an animal services officer stated that the likelihood of the cat dying "was very high due to its major injuries."
Williamsmays and the two juveniles were later found walking near South Pine Hills Road and West Livingston Street; Williamsmays had blood and fur on his pants, and one of the pit bulls was observed with a"large amount of blood" on it.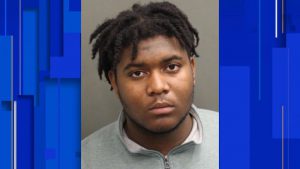 Williamsmays is facing charges of animal cruelty and contributing to the delinquency of minors; the juveniles, whose ages have not been released, will likely face charges too.
An innocent cat suffered a brutal death because of someone's callous disregard for animals and we will fight for justice. Please add your name to the petition to help us convince court officials that this cat's life meant something and that there must be REAL punishment for those convicted of the crime. Additionally, because of the deranged nature of this crime, we want to see a full mental evaluation and counseling if warranted.
We the undersigned demand that the convicted abuser(s) responsible for causing this cat to suffer a horrific death receive the maximum punishment allowable by law.
(Note: Images of the cat are stock images, not the cat who was killed)
Individuals are presumed innocent until being found guilty in a court of law. Animal Victory relies upon the authorities and the court system to determine guilt or innocence.
News:
Animal-Protection-Laws-of-Florida-2020-Animal-Legal-Defense-Fund
Final Update 5/4/2023: Animal Victory has learned the sentencing for this case.
Adjudication withheld

Two years of probation

Pay $518.00 in fines

Must have a psychological evaluation done

Has to do the Florida Pet Honorship Class

Must perform 75 hours of community service

Served two days in jail
Our thanks to everyone who signed the petition, helping us prevent this case from being dismissed as too many animal cruelty cases are!
Update: March 13, 2023: Williamsmays (1)
Update 1/20/2023: Animal Victory has learned that the new court date is on 3/13/2023; trial at 9:00 am, in Room 18-D on the 18th Floor.
Update 10/10/2022: The next court schedule is:
12/06/2022 9:00 am Pre-Trial Conference
12/12/2022 1:30 pm Trial Management Meeting
01/04/2023 9:00 am Trial
Update 9/7/2022: The next scheduled court date is September 27, 2022, at 9:30 a.m. for a pre-trial conference. The trial management conference will take place on October 4, 2022, at 1:30 p.m. The trial is scheduled for October 10, 2022, at 9 a.m. All of these court dates will be held on the 18th floor in room 18-D. 
Update 8/1/2022: Animal Victory is thrilled to report that this case is finally on the docket! Arraignment is scheduled to take place on 8/9/2022 at 8:45 a.m.
Update: As of 4/19/2022, nothing has changed, we are still awaiting a court date and ada assignment.
Update 3/29/2022: Animal Victory has been informed by the Orange County Clerk that a prosecutor has not been assigned yet and there is no date scheduled for the hearing at this time.
Update: Animal Victory has sent 17,858 signatures and comments to the prosecuting attorney at division 19 of Orange County, and the Solicitors office.
Heartless Teen Kicked Cat Out Of Tree And Encouraged Dogs To Rip It Apart
21,358
signatures = 107% of goal
21,358
Krista Sanders
May 01, 2023
21,357
Kathy Hamilton
May 01, 2023
21,356
Christina Lander
Apr 28, 2023
21,355
Bobbue Maiorka
Max sentence,PLEASE! Sorry ass! He would do this to you,oh but for the chance!!!
Apr 26, 2023
21,354
Sherri Wilson
strip this demon naked and let the pigs rip him apart as his own family cheers the pigs on.
Apr 15, 2023
21,353
Mary Grimmer
People disgust me sometimes. Why they think of things like this to do to animals is beyond me.
Apr 10, 2023
21,352
Maria Allar
Apr 07, 2023
21,351
Stella Williams
Ths is just straight up thuggary and as someone who worked the last couple decades to stop animal cruelty at the hands of individuals like this, it just needs to stop . Maximum punishment
Apr 04, 2023
21,350
Cheryl Dozois
Apr 04, 2023
21,349
Adrienne Venditti
Mar 30, 2023
21,348
ROSSELLO Brigitte
Mar 14, 2023
21,346
Kim Barber
Mar 10, 2023
21,345
Amalia Kadam
Mar 09, 2023
21,344
Nancy Donnelly
Mar 03, 2023
21,343
Marlena Wojciechowska
Mar 03, 2023
21,342
Mary Gibson
Mar 03, 2023
21,341
Tracy Menear
Mar 02, 2023
21,340
Chris Leverich
Mar 01, 2023
21,339
Stacy Temeyer
Mar 01, 2023
21,338
angel blanchard
punish to the maximum
Mar 01, 2023
21,337
Ana Mavrin
Feb 27, 2023
21,336
Alex Kapila
Feb 13, 2023
21,334
Lisa Moya
Feb 10, 2023
21,333
Wendy Hatch
Feb 09, 2023
21,332
Wendy Forster
Feb 06, 2023
21,331
Leah Kozak
Feb 05, 2023
21,330
Katelyn Donovan
Feb 05, 2023
21,329
Sharon Pinkney
Feb 03, 2023
---