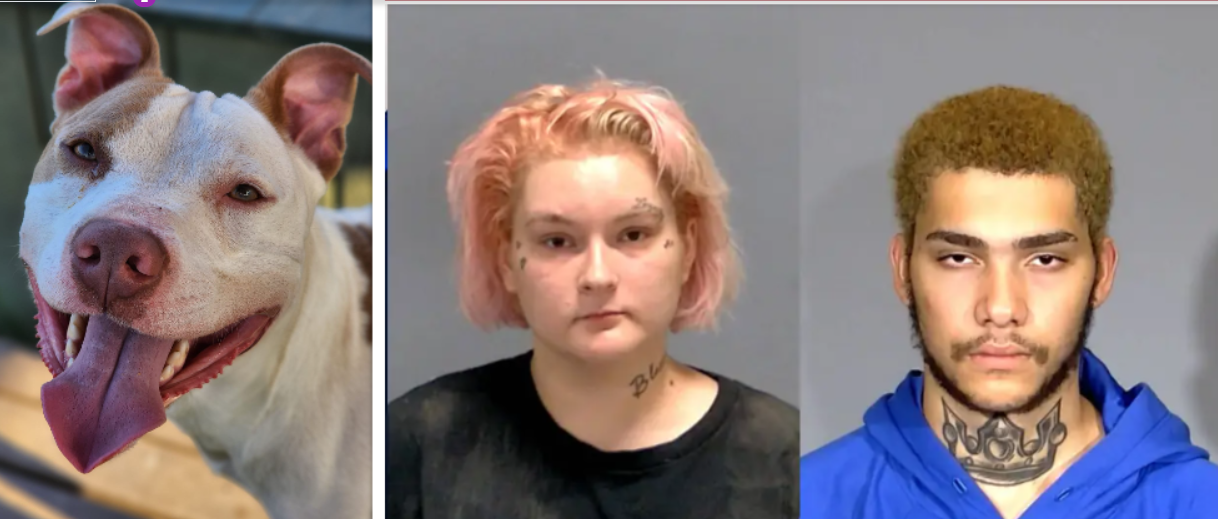 Indianapolis, Indiana – On July 28, a young dog named Deron was adopted from Indianapolis Animal Care Services. Just nine days later, his bloodied body was in a plastic bag, stuffed into a trash can at the home of the couple who adopted him.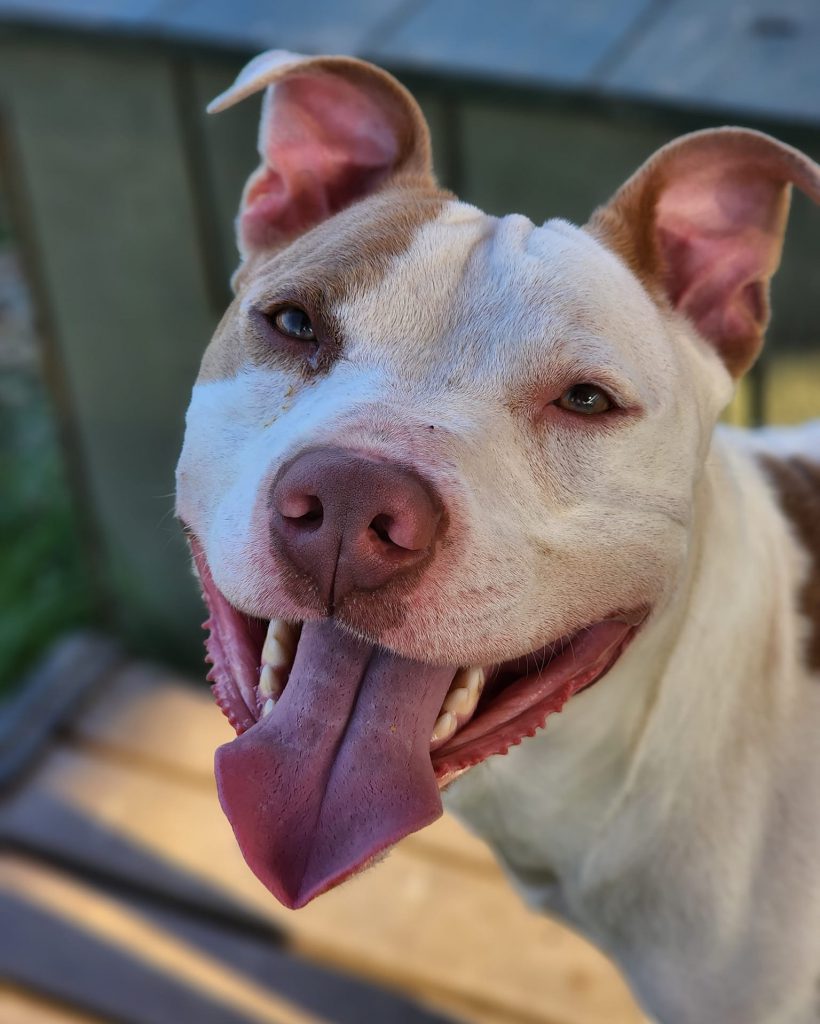 Details provided by witnesses provide grim insight into Deron's final moments. As reported by WTHR News, witnesses told the police that they:
"saw a man holding a knife while the dog was hanging from the front porch by a leash. The witness told police the man stabbed the dog and then placed a trash bag over the dog's head. The witness said three people were outside watching as the man stabbed, suffocated and tortured the dog."
On July 7, the animal shelter promoted Deron for adoption on Facebook, writing in part, "I'm an energetic, affectionate guy! I think I give the best kisses." A month after that post was made, the affectionate dog who gave the best kisses was dead after being stabbed, strangled, and stuffed into the trash.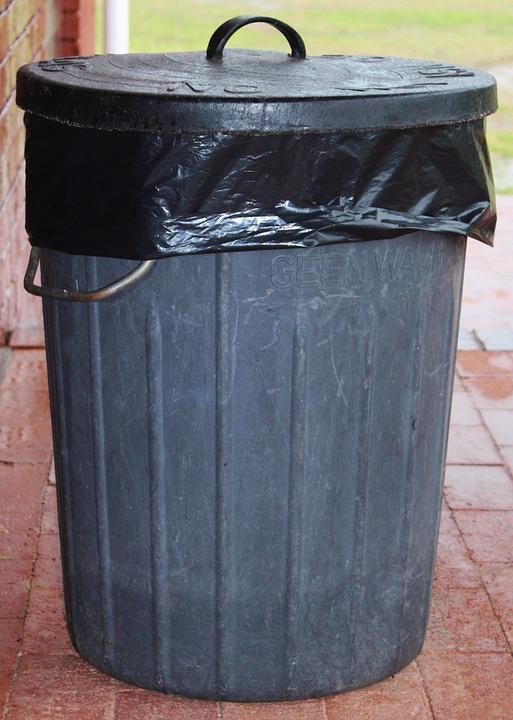 On the afternoon of August 6, multiple witnesses phoned the police to report the abuse that they saw. IMPD Officer Nickolas Smith responded to the home located in the 700 block of North Bosart Avenue and saw two women, identified as Sierra Makin and Denita Hughes, cleaning blood off of the porch.
One of the witnesses had reported that the dog was put into the trash, prompting Officer Smith to investigate – he found a trash can in an alley and after looking inside of the bags, discovered the bloodied body of the two-year-old dog, along with a bloody steak knife. Officer Smith returned to the porch and attempted to stop the women from destroying more evidence.
Makin tried to flee, running into the home and slamming the door shut. Inside, Officer Smith was met by 19-year-old Zech Thomsen, who tried to stop handcuffs from being placed on Sierra Makin.
The resistance continued…Makin struck the officer in the face with her fist and then bit him on the arm, drawing blood. Another officer who arrived to assist was struck in the back of the head by Thomsen.
Both individuals were eventually arrested and, now they are facing charges of torturing or mutilating a vertebrate animal, animal abandonment/neglect, resisting law enforcement and battery of a public safety official.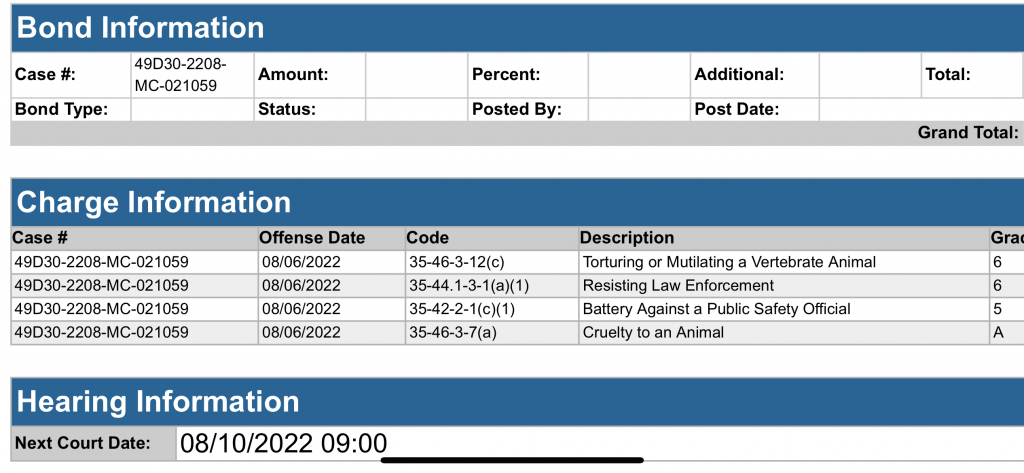 Thomsen has a criminal history, charged in the past with with criminal confinement, battery, strangulation and resisting law enforcement.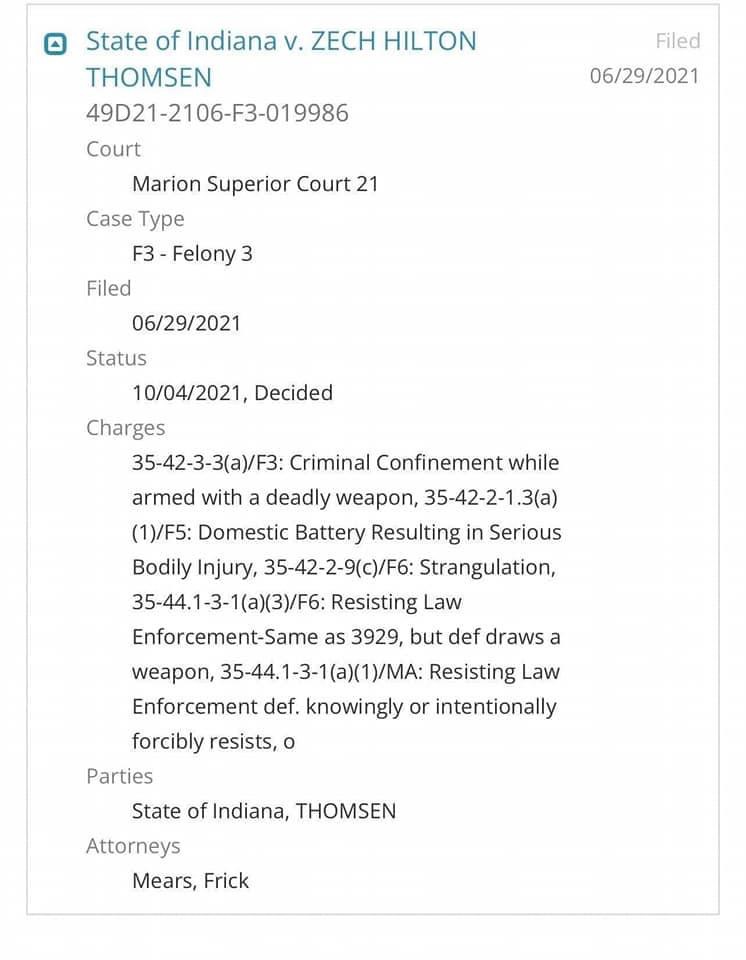 Animal Victory has shared the following fact before, and we will share it again.
The FBI has identified cruelty to animals as a sign of psychopathy, a red flag indicating a high risk for committing future acts of violence that pose a danger to the entire community, as evidenced by the history of animal torture and abuse that has been linked to every serial killer and school shooter.
These cases MUST be taken seriously in court to prevent animal abusers from harming someone in the future.
Please add your name to the petition as we fight for justice on behalf of Deron, who died after being viciously stabbed and hanged.
We the undersigned demand that Zech Thomsen and Sierra Makin are held responsible for the abhorrent cruelty inflicted on their adopted dog, Deron. We are petitioning for Thomsen and Makin to receive the maximum punishment allowable by law for their charges of torturing or mutilating a vertebrate animal, animal abandonment/neglect, resisting law enforcement and battery of a public safety official. We want to see these individuals prohibited from ever owning or residing with an animal in the future. We are also petitioning Indianapolis Animal Care Services to complete a background check on adopters. Had one been conducted for Deron's adoption, he would still be alive.
Note: Individuals are presumed innocent until they have been found guilty in a court of law. Animal Victory relies upon the authorities and the court system to determine guilt or innocence.
News:
Update 9/7/2022: Animal Victory has sent 20,971 signatures along with our petition to Attorney Andrew J. Bookwalter. 
Update 8/29/2022: There is a bail review hearing being held tomorrow, August 30, 2022, at 9:30 a.m. for defendant Clifford Massey. The pre-trial conference will take place on October 13, 2022, at 1:30 p.m. The jury trial is scheduled for October 19, 2022, at 8:30 a.m. 
Update 8/12/2022: Animal Victory has learned that two more people have been arrested and charged in this animal cruelty case. On Thursday night, IMPD announced the arrests of 21-year-old Clifford Massey and 66-year-old Denita Hughes. Hughes is facing a charge of felony obstruction of justice and Massey is charged with felony torturing or mutilating a vertebrate animal and felony obstruction of justice. These newly identified and charged individuals will be included in Animal Victory's petition and letter to court officials.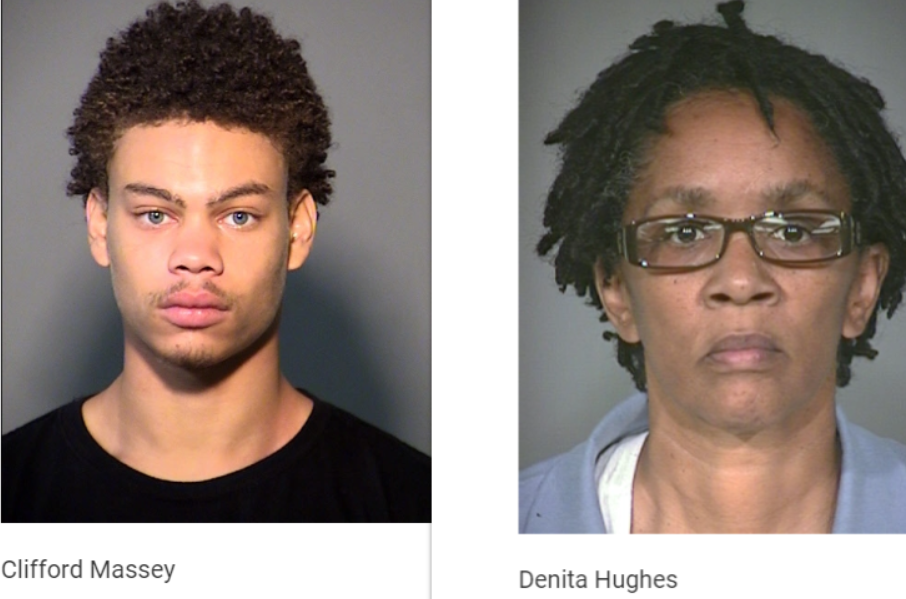 Heartbreaking Cruelty: Young Dog Stabbed And Hanged One Week After Couple Adopted Him From Shelter
21,540
signatures = 108% of goal
21,540
Daniel Perkins
"An Eye For An Eye!"
Sep 24, 2022
21,539
Cindy Bergenbaum
Sep 22, 2022
21,538
Julie Videra
Sep 22, 2022
21,537
Maxine Grears
These EVIL BXXXXXDS should be put in prison for a long time, they should get the same punishment as they would get if it was a person that they tortured and stabbed, animals MATTER just as much as people and they feel emotions AND PAIN just the same
Sep 22, 2022
21,536
Melissa Migdal
Please throw the book at these two. It takes a real psychopath to harm a defenseless animal. We must do better!! Send a message that animal cruelty is unacceptable in all forms.
Sep 22, 2022
21,535
Diane Sprouse
Rot in jail losers.
Sep 22, 2022
21,534
Sterling Long-Colbo
Sep 21, 2022
21,533
Megan Tucillo
Sep 21, 2022
21,532
Brenda Brewster
Sep 21, 2022
21,531
Bob Hand
Sep 21, 2022
21,530
Christine Ball
Sep 21, 2022
21,529
Steve McCann
Sep 21, 2022
21,528
Rebecca Mahoney
Sep 21, 2022
21,527
Jessica Lukaszczyk
Sep 20, 2022
21,526
Annie McCann
Sep 20, 2022
21,525
Eleonora Bacchini
Sep 20, 2022
21,524
bhavya shah
Sep 19, 2022
21,523
Terese Roer
Sep 19, 2022
21,522
Katherine Chapman
PROSECUTE THESE PSYCHOPATHS TO THE FULLEST. & BAN THEM FROM EVER BEING ANYWHERE NEAR ANOTHER ANIMAL. EVER !!...CHANGE Shelter rules to Check References of ADOPTERS.... THIS HAS HAPPENED FAR TOO MANY TIMES.!!!.
Sep 19, 2022
21,521
Ginnette Simmonds
Sep 19, 2022
21,520
Linda Teague
Sep 19, 2022
21,519
Annette Wynne
Sep 18, 2022
21,518
Denelle Ergh
Throw these two scumbags under the jail and forget they are there! They need to be taught a lesson they won't forget. Let the prisoners deal with them. Make sure they never see the light of day again. Find every charge you can hit them with and let them suffer in prison for the rest of their miserable lives.
Sep 18, 2022
21,517
Karen Griffin
take these two derelicts and shove them off the face of this earth to never ever have them to breath the same air as the rest of this world..
Sep 18, 2022
21,516
Koustuv D
Sep 18, 2022
21,515
Shannon Nichols
Punish these abusers!
Sep 18, 2022
21,514
Mickey Mccreless
Sep 17, 2022
21,513
Debra Emery
Sep 17, 2022
21,512
Janet Bernath
Sep 17, 2022
21,511
Andrea Sebastian
Sep 17, 2022
---