Gambler Enjoyed Air-Conditioned Vegas Casino While His Puppy Suffered With Taped Muzzle In Parked Car
Published: August 02, 2022 at 03:40 PM Author:
PENNY EIMS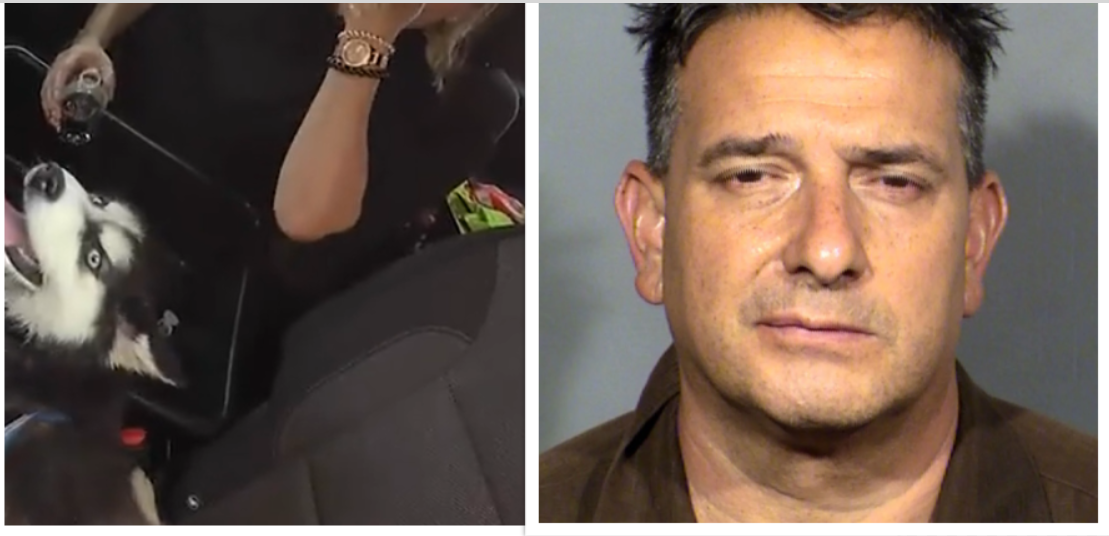 Las Vegas, Nevada – On July 20, while the blazing Las Vegas sun was out in full force, 50-year-old Raul Carbajal put medical tape around his husky puppy's muzzle and then went into the air-conditioned interior of the Bellagio Resort to gamble. Carbajal left his muzzled puppy inside of his Mercedes, which was parked on the top floor of the Bellagio parking garage; the temperature on this day reached 113 degrees.

An alert Bellagio security guard noticed the puppy inside of the parked car and the pup was removed through the vehicle's sunroof.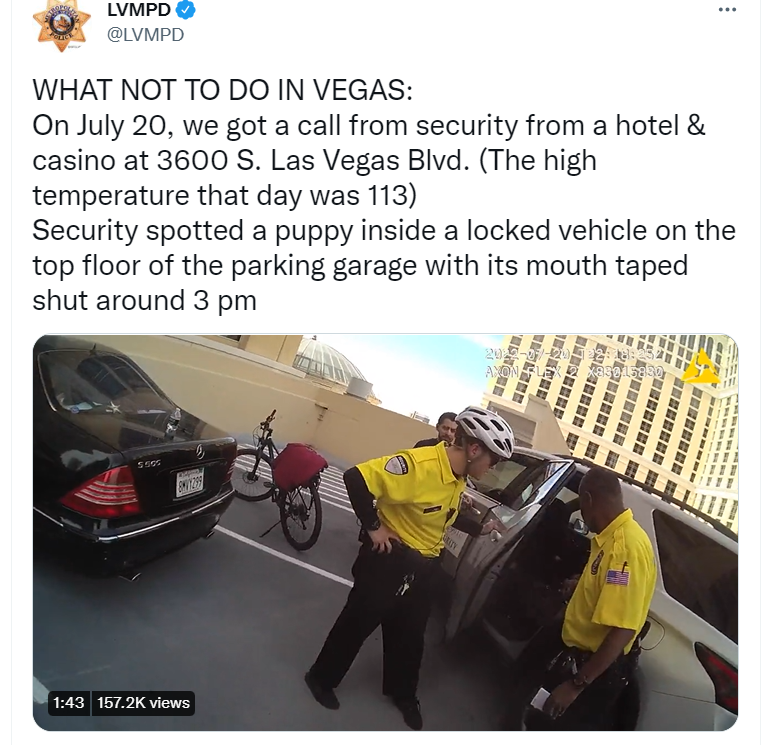 The Las Vegas Metro Police (LVMPD) responded to the parking garage and arrested Carbajal. You can hear the anger in the arresting officer's voice as he places the California man in handcuffs and puts him into the patrol vehicle while asking the man if he "realized how hot it is outside." The officer added, "You had the vehicle off, windows up, and you had tape around your dog's mouth."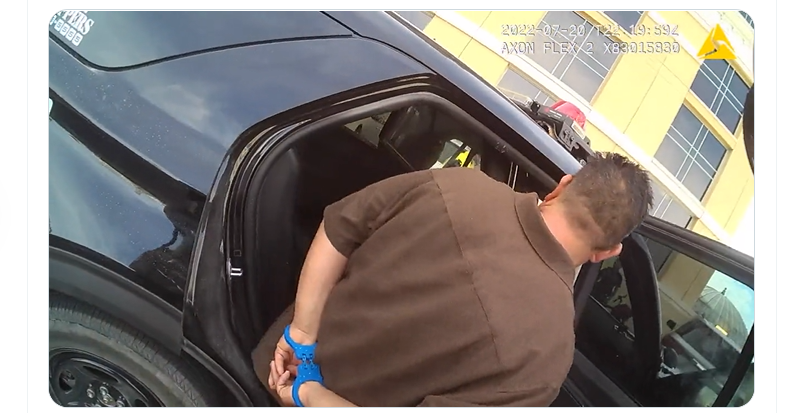 It is a miracle that this puppy is alive. Carbajal put tape around his muzzle, preventing him from panting to cool his little body. He left him in a car, parked in the direct sunlight, on a day that climbed to 113 degrees. If not for the alert security guard, this puppy would be dead. On July 28, the Las Vegas Metro Police said that the pup was STILL receiving veterinary care for the July 20 incident. It goes without saying that even though the puppy survived, he suffered tremendously during the two hours of agony inside Carbajal's car.
Carbajal is facing a felony charge for willful, malicious torture of an animal, and we need your signature to ensure that he gets the maximum punishment for his deplorable act of cruelty.
We the undersigned demand that Raul Carbajal is held responsible for leaving a puppy inside of his parked vehicle for two hours while he gambled inside an air-conditioned casino. We are petitioning for Carbajal to receive the maximum punishment allowable by law for the felony charge of willful, malicious torture of an animal and we want him to be permanently prohibited from owning or residing with animals.
On August 2, Animal Victory spoke to LVMPD Officer 1306, and she advised that said that she could not reveal ANY details, including the whereabouts or condition of the puppy while the case is active and open. The case is active and under the Regional Justice Center for Clark County. We have been informed that the preliminary court date is scheduled to take place on October 25, 2022. It is set for 8:30 a.m. in the Clark County Regional Justice Center.
Note: Individuals are presumed innocent until they have been found guilty in a court of law. Animal Victory relies upon the authorities and the court system to determine guilt or innocence.
News:
Link to LVMPD video and press release about this animal cruelty incident 
Update 11/17/2023: Victory! Raul Carbajal was found guilty and sentenced to 19-48 months in the Nevada Department of Corrections. Thanks to everyone who signed the petition making this sentence possible. 
Update 5/11/2023: Animal Victory learned that the case was bound over to district court on May 8.
Update 4/03/2023: Animal Victory has learned that the Prelim is set for May 8th at 10 a.m. with Judge Nadia Wood.
Update 3/14/2023: Animal Victory sent cover letter and petition to the judge.
Update 12/19/2022: The defendant is scheduled for negotiations on 02/07/2023 at 7:30 am with Judge Suzan Baucum.
Update 9/7/2022: Animal Victory has sent 12,667 signatures to Clark County District Attorney Steve Wolfson.
Update 8/11/2022: Animal Victory has learned that the puppy, named Dutchess, has recovered and was recently adopted by a new family. Please read the story here.
Prior Signatures 13,147