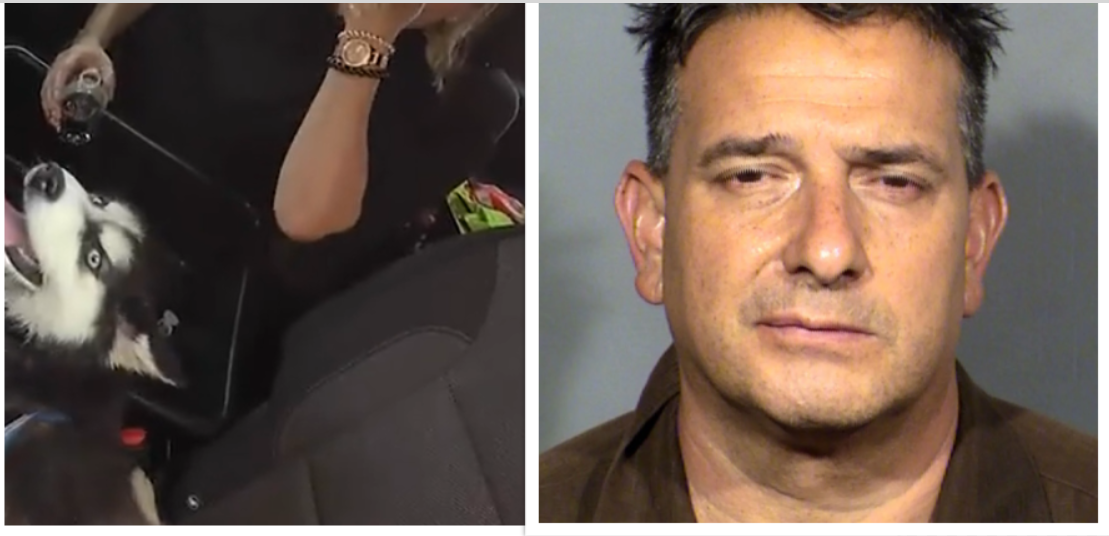 Las Vegas, Nevada – On July 20, while the blazing Las Vegas sun was out in full force, 50-year-old Raul Carbajal put medical tape around his husky puppy's muzzle and then went into the air-conditioned interior of the Bellagio Resort to gamble. Carbajal left his muzzled puppy inside of his Mercedes, which was parked on the top floor of the Bellagio parking garage; the temperature on this day reached 113 degrees.

An alert Bellagio security guard noticed the puppy inside of the parked car and the pup was removed through the vehicle's sunroof.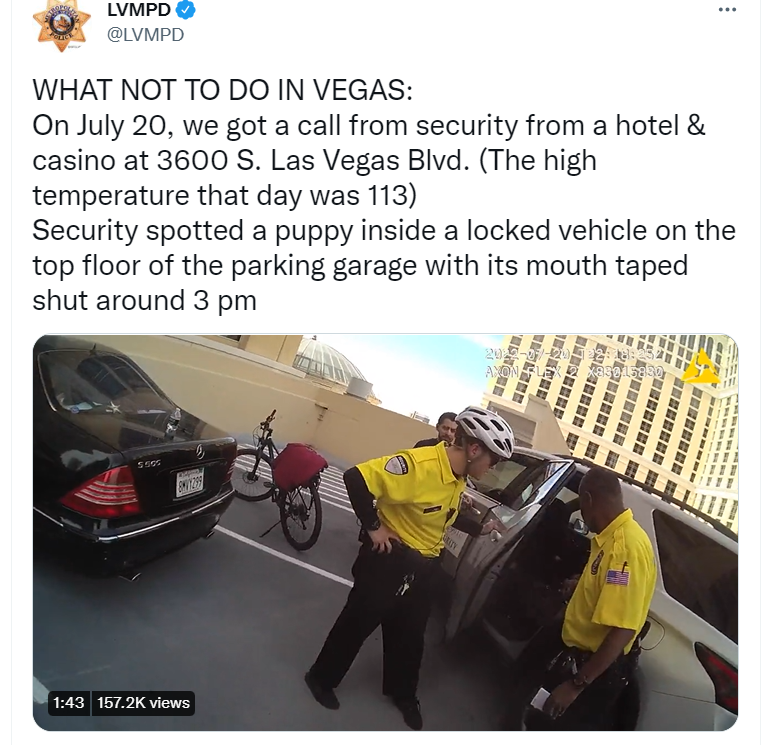 The Las Vegas Metro Police (LVMPD) responded to the parking garage and arrested Carbajal. You can hear the anger in the arresting officer's voice as he places the California man in handcuffs and puts him into the patrol vehicle while asking the man if he "realized how hot it is outside." The officer added, "You had the vehicle off, windows up, and you had tape around your dog's mouth."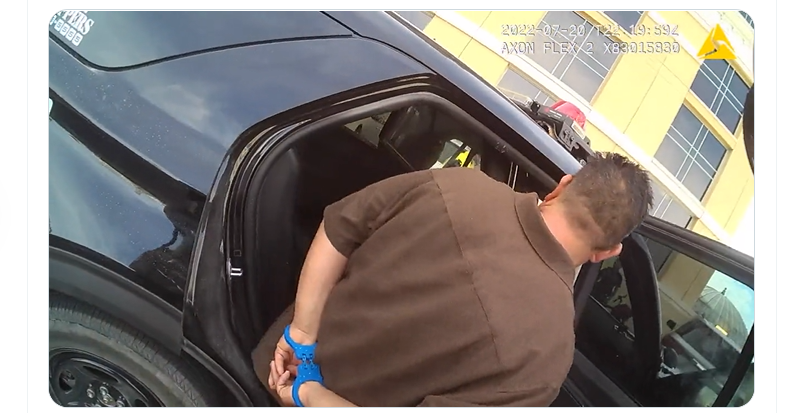 It is a miracle that this puppy is alive. Carbajal put tape around his muzzle, preventing him from panting to cool his little body. He left him in a car, parked in the direct sunlight, on a day that climbed to 113 degrees. If not for the alert security guard, this puppy would be dead. On July 28, the Las Vegas Metro Police said that the pup was STILL receiving veterinary care for the July 20 incident. It goes without saying that even though the puppy survived, he suffered tremendously during the two hours of agony inside Carbajal's car.
Carbajal is facing a felony charge for willful, malicious torture of an animal, and we need your signature to ensure that he gets the maximum punishment for his deplorable act of cruelty.
We the undersigned demand that Raul Carbajal is held responsible for leaving a puppy inside of his parked vehicle for two hours while he gambled inside an air-conditioned casino. We are petitioning for Carbajal to receive the maximum punishment allowable by law for the felony charge of willful, malicious torture of an animal and we want him to be permanently prohibited from owning or residing with animals.
On August 2, Animal Victory spoke to LVMPD Officer 1306, and she advised that said that she could not reveal ANY details, including the whereabouts or condition of the puppy while the case is active and open. The case is active and under the Regional Justice Center for Clark County. We have been informed that the preliminary court date is scheduled to take place on October 25, 2022. It is set for 8:30 a.m. in the Clark County Regional Justice Center.
Note: Individuals are presumed innocent until they have been found guilty in a court of law. Animal Victory relies upon the authorities and the court system to determine guilt or innocence.
News:
Link to LVMPD video and press release about this animal cruelty incident 
Gambler Enjoyed Air-Conditioned Vegas Casino While His Puppy Suffered With Taped Muzzle In Parked Car
12,123
signatures = 61% of goal
12,123
Lisa Breneman
Aug 07, 2022
12,122
Robin Goldansky
Aug 07, 2022
12,121
Joëlle GUEUGNON
Aug 07, 2022
12,120
Denis Bagaric
Aug 07, 2022
12,119
CW Cox
Aug 07, 2022
12,118
Terri Smoke
Aug 07, 2022
12,117
Joseph Gardner
Aug 07, 2022
12,116
Andreas Richter
Aug 07, 2022
12,115
Luz Wade
Aug 07, 2022
12,114
Gladys Blackburn
Aug 07, 2022
12,113
Gina Geisel
Aug 07, 2022
12,112
Lisa Russell
Please don't just slap this idiot's hand and then let him go on his way! He needs the worst consequences available for what he did to that innocent animal!
Aug 07, 2022
12,111
Janice Gargus
Aug 07, 2022
12,110
Jan Gerstlauer
Aug 07, 2022
12,109
Zeinab Kamali
Aug 07, 2022
12,108
Rita Delfing
Aug 07, 2022
12,107
Tyler Reid
Aug 07, 2022
12,106
Femil Odrapuza
Aug 07, 2022
12,105
Kathy Raggio
Please take this puppy away from this monster, before he kills him, and give him a few weeks in jail, and a large fine to go to the ASPCA.
Aug 07, 2022
12,104
Karla Morales
Aug 07, 2022
12,103
Julia Ivanova
Aug 07, 2022
12,102
Paula Berry
He tried to cover it up but God was there to help that sweet puppy! I hope and pray he's not only convicted, but never able to own a pet again!!
Aug 07, 2022
12,101
Elizabeth Fleming
He's a worthless POS. Put him in jail, do the same to him for a few hours. No more pets for him!
Aug 07, 2022
12,100
Deborah Fobes
Maximum punishment, no contact with animals ever again. Still not enough. He wanted that puppy to suffer as much as possible and then die. Please do the same to him.
Aug 07, 2022
12,099
Rose Bubello
Aug 07, 2022
12,098
Madeleine Johansson
Aug 07, 2022
12,097
Diana Coles
Aug 07, 2022
12,096
Anonymous
Wrap him in a fur coat with hat and gloves and mouth duct taped… leave him in that garage. Why the hell not?
Aug 07, 2022
12,095
Claire Jones
Aug 07, 2022
12,094
Francoise Raath
Aug 07, 2022
---