Pomona, CA – On the evening of November 15, two men mutilated a friendly cat named Scruffy. The heinous crime was captured on video and now the Pomona Police are hopeful that someone will come forward with information about the sickening act in order to help them make arrests.
A surveillance video provides critical details about this animal cruelty case. A white car can be seen parking in front of a business at 560 Union Avenue around 9:30 p.m.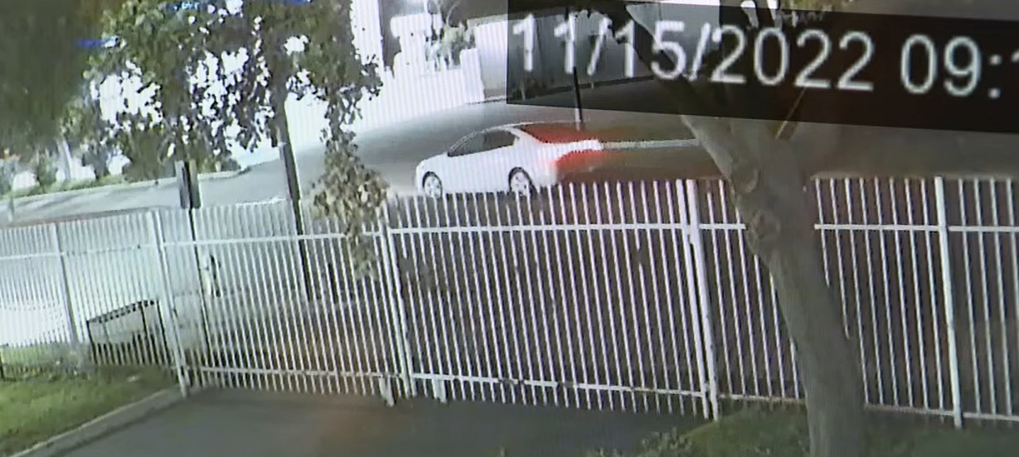 Then, the cat is shot and can be seen flailing in the parking lot.

The men proceed to jump over the fence and walk up to the cat; one man removes a "sharp object" believed to be a knife. The man slices open Scruffy's body with the object while the other man records the appalling act with his cell phone.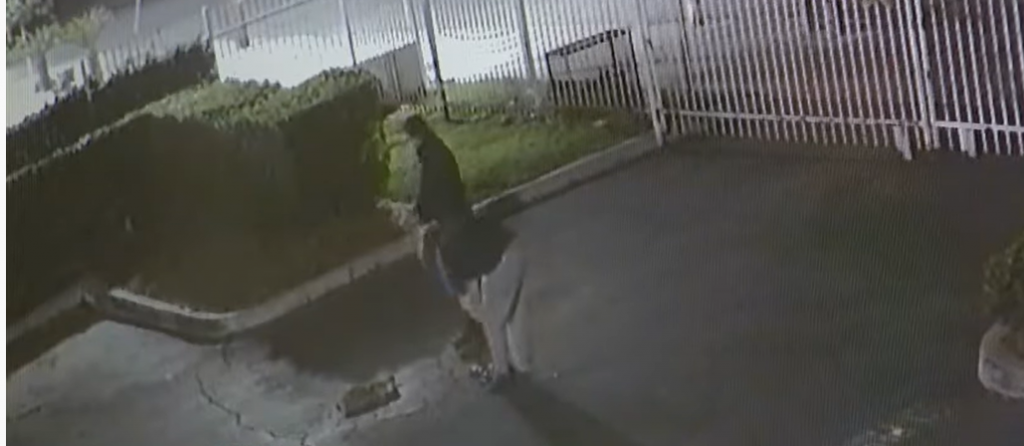 Scruffy's mutilated body was found the next morning and the Pomona Police, and Inland Valley Humane Society were notified. Employees at CFR Patio have said that Scruffy was one of several homeless cats that they help care for.
Scruffy was just about to be adopted…but her happily-ever-after was cruelly stolen before she was able to enjoy it. Those who knew her are disgusted that her life was cut short in such a brutal manner, and they hope that the men responsible for her death will be found and held accountable.
Animal Victory wants these psychopaths to be found, arrested, and charged! We are hoping to raise funds to help provide a $500 reward for information leading to the identification, arrest, and conviction of the men responsible for this disgusting act.
According to the U.S. Department of Justice, "FBI research indicates that most serial killers, school shooters, and mass murderers tortured animals as children. Another form of abuse, dogfighting, is also tied to criminal behavior beyond the harm to the animals."
Please add your name to the petition today and share this petition with the hope that it will bring forward the information needed to arrest these monsters before they kill again.
News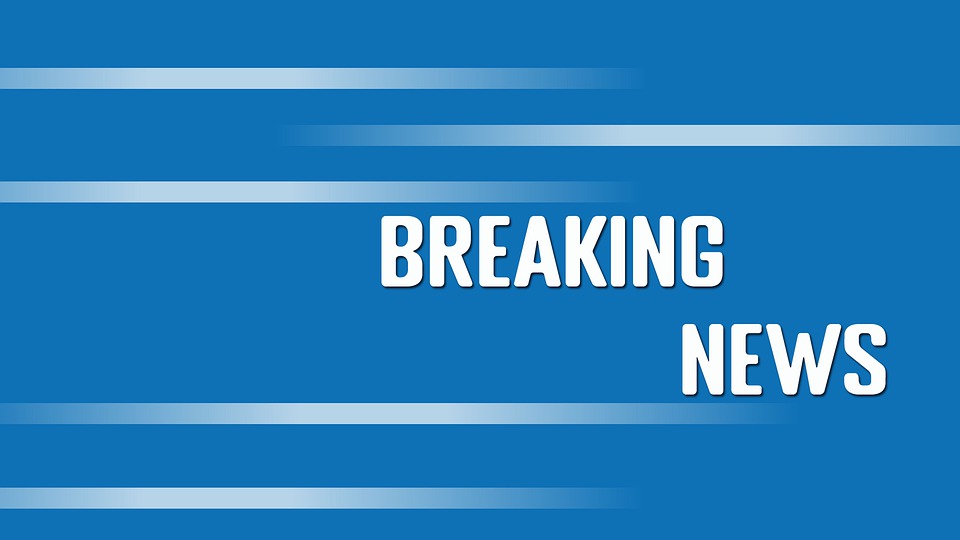 Update 11/22/2022: Suspects have been arrested! The Pomona Police said two arrests were made. One of the men had an active warrant for his arrest and he was taken into custody during a traffic stop. Upon further investigation, police learned that the suspect "had committed similar animal cruelty acts on other animals." The identity of the men has not been released publicly. 
Thank you to everyone who signed and supported the petition to find the abusers. Animal Victory is now assisting to help Scruffy's sweet companion Tiger, pictured below, get adopted.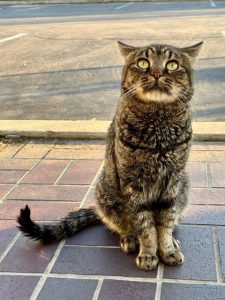 Tiger's caretakers from CFR Patio describe him as loveable, loyal, affectionate, and obedient. Tiger is in Pomona, CA. If you are interested in learning more about adopting Tiger, please contact Michelle from our office at Courtinfo@animalvictory.org for more information. We will assist with transporting Tiger to where you live.
Animal Victory Will Now Fight For The Maximum Sentencing.
Please Continue To Sign And Share The Petition
Update February 20, 2022: This case is still under investigation. There are a few things that need to be checked before the final review to move forward and receive a case number. The District Attorney on the case is Caesar Rodriguez.
Friendly Cat Mutilated By Two Men - Police Searching For Suspects
17,756
signatures = 89% of goal
17,756
Cheryle Lefort
Mar 26, 2023
17,755
Patti Molero
Mar 24, 2023
17,754
Francis Servaege
Mar 24, 2023
17,753
Sharon Ryan
Mar 23, 2023
17,752
Anna Dahlberg
Barbaric! Find this cruel perpetrator and give him the maximum sentence!
Mar 22, 2023
17,751
Anita Dewease
Better get them off of the street and help before they do something horrible to a child or person!!
Mar 22, 2023
17,750
Nina Moore
Mar 22, 2023
17,749
James Wall
This is disgusting. Imagine your reaction if you replaced this in your mind with a human equivalent. Humans are animals. This animal did nothing wrong, and straight up torture needs to be stopped!
Mar 22, 2023
17,748
Christine Elie
Make an example out of them so the public knows animal abuse will not be tolerated and that ALL LIVES MATTER!
Mar 22, 2023
17,747
Harriet Kramer
Mar 19, 2023
17,746
Jan Joyce
Cowardly bast**ds! Serial animal abusers why am I not surprised. Psychopaths should be shot.
Mar 19, 2023
17,745
Mary Avakian
Mar 19, 2023
17,744
Cynthia Wennemark
Mar 18, 2023
17,743
Louis BALLY
Mar 18, 2023
17,742
Lucette BALLY
Mar 18, 2023
17,741
Debbie Hays
Mar 18, 2023
17,740
Donna Losch
Horrible cruel act, these men are sick and need to be arrested.
Mar 17, 2023
17,739
Donna Young
Mar 17, 2023
17,738
Susan Tombarello
Mar 17, 2023
17,737
Timothy White
Mar 17, 2023
17,736
Judy Orr
I hope these sickos are found and punished to the max - which won't be enough and they'll just get a slap on the wrist and keep hurting animals and maybe humans next.
Mar 17, 2023
17,735
Anna Nelson
Mar 17, 2023
17,734
Tina Harbour
Mar 17, 2023
17,733
Dana Radell
It's not just important for protecting animals from harm, it's important for people too as dangerous killers almost always start torturing & killing animals first.
Mar 16, 2023
17,732
Patricia Funai
They need to be jail!!!
Mar 16, 2023
17,731
Susan Bazel
Please make an effort to find these two pieces of sadistic garbage!
Mar 16, 2023
17,730
Sheridan Youngman
Mar 16, 2023
17,729
Lisa Framiglio
These POS's should get the maximum sentence and be jailed. They have proven that they continue to harm innocent animals. Stop them before they begin this on humans!
Mar 16, 2023
17,728
Laura T
Mar 16, 2023
17,727
Kaitlyn Jones
Mar 16, 2023
---