Pomona, CA – On the evening of November 15, two men mutilated a friendly cat named Scruffy. The heinous crime was captured on video and now the Pomona Police are hopeful that someone will come forward with information about the sickening act in order to help them make arrests.
A surveillance video provides critical details about this animal cruelty case. A white car can be seen parking in front of a business at 560 Union Avenue around 9:30 p.m.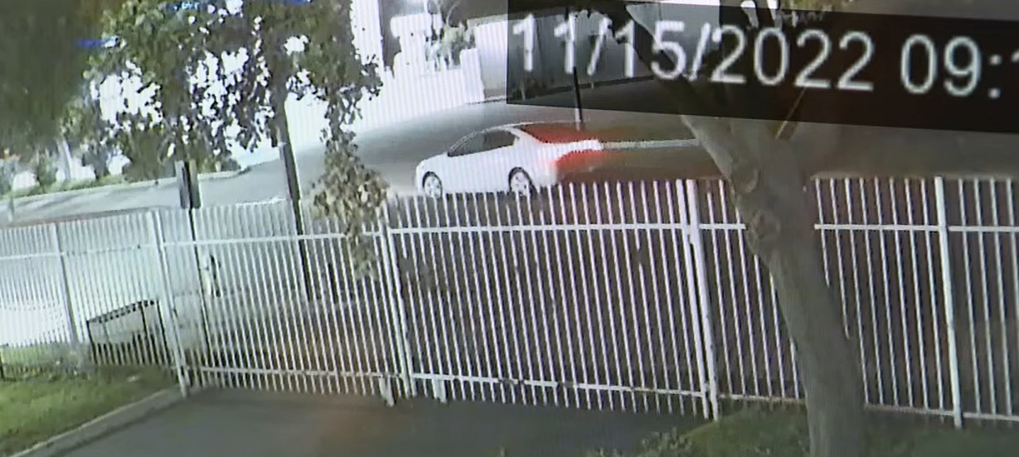 Then, the cat is shot and can be seen flailing in the parking lot.

The men proceed to jump over the fence and walk up to the cat; one man removes a "sharp object" believed to be a knife. The man slices open Scruffy's body with the object while the other man records the appalling act with his cell phone.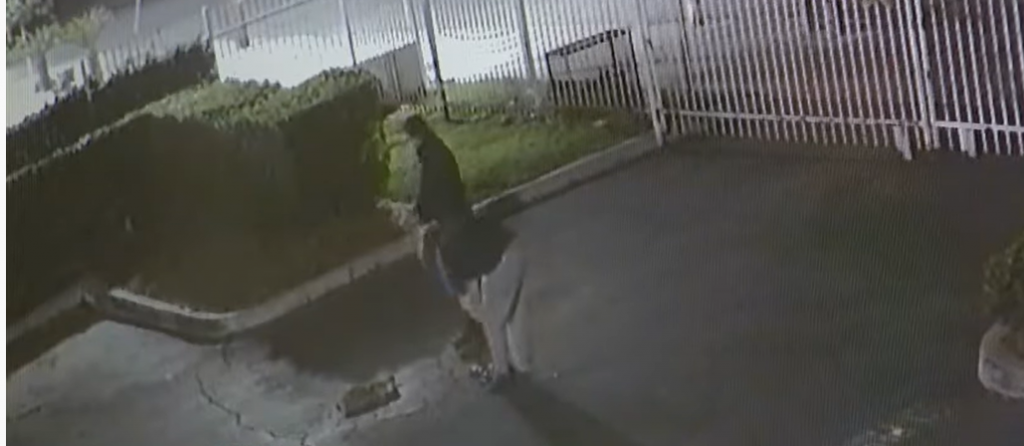 Scruffy's mutilated body was found the next morning and the Pomona Police, and Inland Valley Humane Society were notified. Employees at CFR Patio have said that Scruffy was one of several homeless cats that they help care for.

Scruffy was just about to be adopted…but her happily-ever-after was cruelly stolen before she was able to enjoy it. Those who knew her are disgusted that her life was cut short in such a brutal manner, and they hope that the men responsible for her death will be found and held accountable.
Animal Victory wants these psychopaths to be found, arrested, and charged! We are hoping to raise funds to help provide a $500 reward for information leading to the identification, arrest, and conviction of the men responsible for this disgusting act.
According to the U.S. Department of Justice, "FBI research indicates that most serial killers, school shooters, and mass murderers tortured animals as children. Another form of abuse, dogfighting, is also tied to criminal behavior beyond the harm to the animals."
Please add your name to the petition today and share this petition with the hope that it will bring forward the information needed to arrest these monsters before they kill again.
News
Friendly Cat Mutilated By Two Men - Police Searching For Suspects
15,776
signatures = 79% of goal
15,776
Iris Martin
I wonder how many photos/videos these 2 monsters have on their phone? I hope they get the max sentence.
Dec 01, 2022
15,775
Haley Marino
Dec 01, 2022
15,774
Gloria Fernández
Dec 01, 2022
15,773
Christine Pennington
How horrible
Dec 01, 2022
15,772
Michelle Iorio
Please find these evil bastards and just kill them! They are psychopaths who deserve to rot in hell!!!!!!!!!!! I'm crying over this. My heart breaks for Scruffy!!!!
Dec 01, 2022
15,771
Sabine Klemann
Dec 01, 2022
15,770
SUZANNE WAINWILLER
Dec 01, 2022
15,769
Louise Cassel
Dec 01, 2022
15,768
Pilar Hernandez
Dec 01, 2022
15,767
Sherry Armistead
Dec 01, 2022
15,766
Cary Payne
Dec 01, 2022
15,765
MARIA WESELOH
Dec 01, 2022
15,764
Antonia Omirou
Dec 01, 2022
15,763
Nadine Goloubinoff
Dec 01, 2022
15,762
Trina Garcia
Dec 01, 2022
15,761
Elva Woodward
Dec 01, 2022
15,760
ROSIE LOPEZ
Dec 01, 2022
15,759
vangie Merrill
Dec 01, 2022
15,758
Michael Ward
Dec 01, 2022
15,757
Anahi Falcon
Dec 01, 2022
15,756
Sally Sugita
The people that did this to an innocent animal are pure evil.
Dec 01, 2022
15,755
Shelley A Richins
Pathetic wastes of air, how about an eye for an eye here.
Dec 01, 2022
15,754
Anjali Maharana
Dec 01, 2022
15,753
Gérard gerard
Dec 01, 2022
15,752
Gérard Goulette
Dec 01, 2022
15,751
Ann Kimbrough
Dec 01, 2022
15,750
Tracie B
Law enforcement, Prosecutors and judges : please Do your job well and get these bad guys. Max punishment allowable by law. This craziness has to stop!!
Dec 01, 2022
15,749
Martine cuisenaire
Dec 01, 2022
15,748
Karen Rynbrandt
Dec 01, 2022
15,747
Sherry Eisenhuth
Years of prison time and a hefty fine along with 10 years probation. Set an example with these two idiots lowlifes.
Dec 01, 2022
---