Former Vet Tech Found In House Of Horrors With 19 Dead Dogs And 27 Neglected
Published: May 17, 2022 at 05:51 PM Author:
PENNY EIMS
Sciotoville, Ohio – On May 12, officers with the Portsmouth Police Department went to a house on Sycamore Street after receiving a tip from a neighbor concerned about a foul smell coming from the residence. Inside the home, they found 29-year-old Samantha Damron, a former veterinary technician, and 19 dead dogs.

Officers also found 27 dogs who were still alive, but in poor condition after being badly neglected. Portsmouth City Health Department animal control officer Wendy Payton commented on the horrible scene, describing it as one of the worst she had ever seen.

Responding officers said that Damron was in a bedroom with two dead dogs when they arrived…she was literally sleeping next to the bodies of dogs who did not survive. The incident report revealed the dismal conditions in the home; describing animal feces and urine smeared on floors, with trash and rotting food littering the home's interior like an episode from the Hoarder's television series. Conditions were deemed bad enough inside that the home had to be condemned.
As officers assessed the situation, they noted that Damron showed no emotion.
Thanks to a search warrant, officers were able to analyze Damron's technological devices. The incident report states that her posts on social media indicate that she, "has interest or a fetish in dead or skeleton-related 'arts' of dead animals."
Damron was booked into the Scioto County Jail on over 33 counts of cruelty to animals; the surviving dogs were taken to the Scioto County Dog Shelter for care.

According to the shelter facility, the dogs, all German shepherds or German shepherd mixes, are being held as evidence and they are not available for adoption at this time.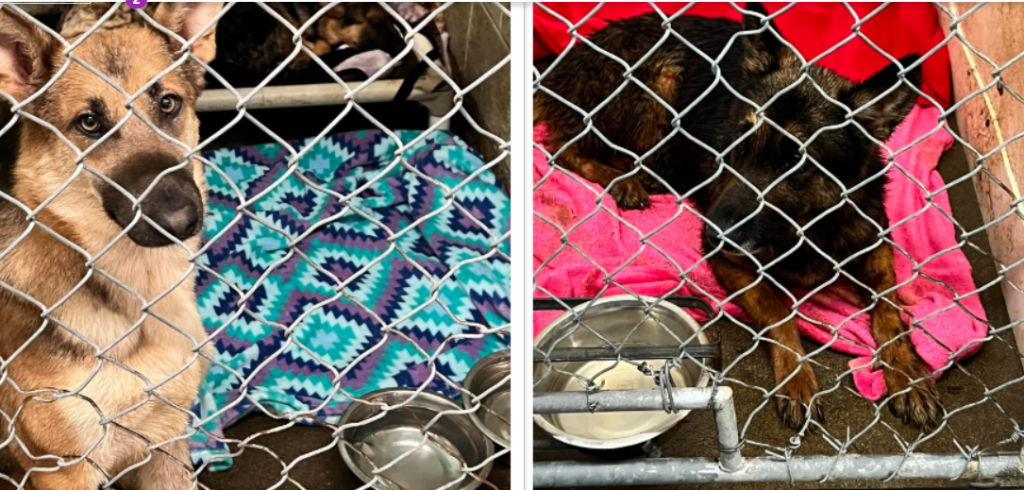 What happened inside Damron's home is unconscionable. Please add your name to the petition today to ensure that this woman is held fully accountable for her actions!
We the undersigned demand that Samantha Damron is held responsible for her abhorrent treatment of the dogs who were in her care. We are petitioning for Damron to receive the maximum punishment allowable by law and to be prohibited from owning or residing with animals in the future.
Note: Individuals are presumed innocent until being found guilty in a court of law. Animal Victory relies upon the authorities and the court system to determine guilt or innocence.
News:
Final Update: On April 21, 2023, the court sentenced Damron to three years of community control, the court ordered that CTS 1,2, and 3 are to run consecutive to one another, CTS 4 through 10 are to run concurrent to one another, and concurrent to count 1.  The court further orders Damron to be sentenced on count 1 to 75 days in the custody of the Scioto County Jail with 8 days of jail time credit.  (SEE ENTRY FOR COMPLETE LIST OF SANCTIONS) VIOLATION OF ANY OF THIS SENTENCE SHALL LEAD TO A MORE RESTRICTIVE SANCTION, A LONGER SANCTION, OR A PRISON TERM OF 33 MONTHS. Damron is ordered to pay the cost of this prosecution, probation fees of $40/month, and any fees permitted. Restitution in the amount of $6765 made payable to the Scioto County Dog Shelter.
ALL COUNTS NOT SPECIFICALLY RESOLVED IN THIS ENTRY ARE HEREBY DISMISSED. AT THE
REQUEST OF THE DEFT, THROUGH COUNSEL, A STAY OF EXECUTION OF JAIL SENTENCE IS HEREBY GRANTED UNTIL APRIL 19, 2023 AT 9:00 AM, AT WHICH TIME THE DEFT IS ORDERED TO REPORT TO THE PROBATION DEPT TO BEGIN SENTENCE.
Update 3/13/2023: Animal Victory sent cover letter and petition to the judge. 
Update 3/27/2023: Sentencing is set for 04/12/2023 at 10:00 a.m.
Update January 11, 2023: Animal Victory has learned that the defendant changed her plea to guilty and the case has been passed over for pre-sentencing; the date has not been set.
Update 11/18/2022: Animal Victory has learned that the next hearing date is scheduled for 12/02/2022 at 11:30 a.m.
Update 8/28/2022: The defendant sent in a written plea of insanity. She was granted a competency hearing, which was held August 24, 2022. The next court for pre-trial begins September 12, 2022. 
Update 6/22/2022: Animal Victory has sent 11,402 signatures to Scioto County prosecutor Shane Andrew Tieman. Court dates have not been updated from the 6/13 pretrial hearing.
Update 5/20/2022: According to the Portsmouth Municipal Court, Damron was permitted to sign her own personal recognizance bond. She waived her preliminary hearing in municipal court and will be indicted by the Scioto County prosecutor in the Scioto County Common Pleas Court. Damron has surrendered her pets and will not be permitted to own animals.
Prior Signatures 11,784