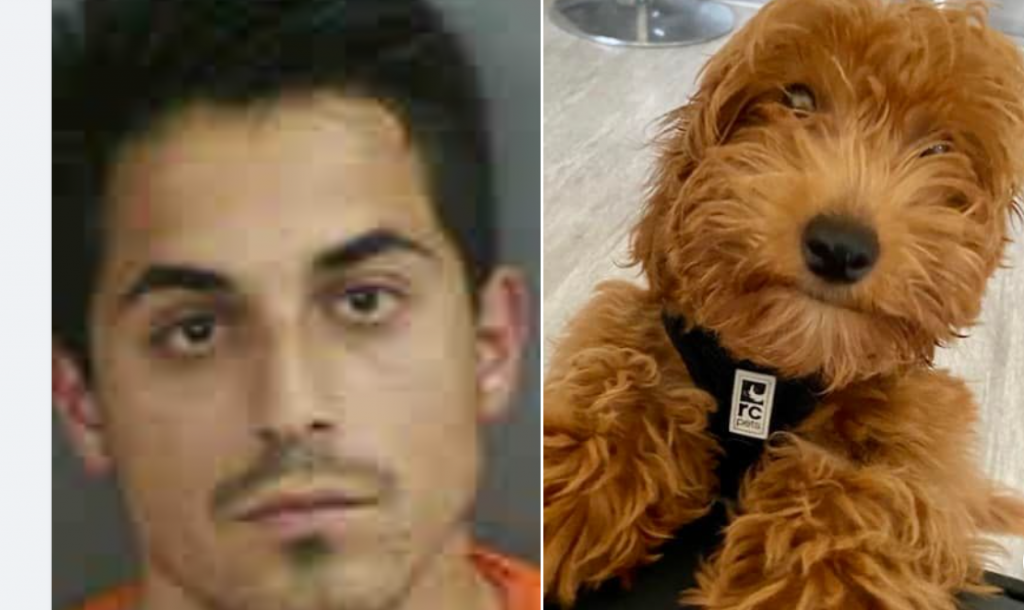 Naples, Florida – A 23-year-old Naples man is accused of beating his Goldendoodle puppy, Buzz Lightyear, so severely that the puppy died. According to the Collier County Sheriff's Office, Robert William Garon beat the five-month-old puppy on July 29, and then he and his girlfriend took the puppy to an emergency veterinarian.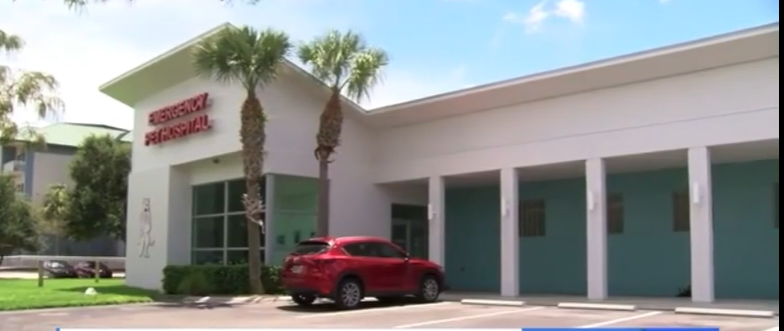 The news release from the authorities outlines the puppy's pitiful condition upon arrival at the veterinary hospital:
"The puppy was wet, disoriented, and unable to breathe normally. The dog was unable to stand or pick its head up. A veterinarian examination revealed possible head trauma, bruising to the right ear and mouth, and muscle damage throughout the body."
Buzz Lightyear died at the emergency veterinary hospital – his injuries were too severe for his survival. Dr. John Morton performed a necropsy on the puppy at Humane Society Naples. The necropsy report included the following: "This dog's death was caused by non-accidental, blunt force trauma to the head and body with secondary internal hemorrhage. I believe he suffered significantly from his injuries before death."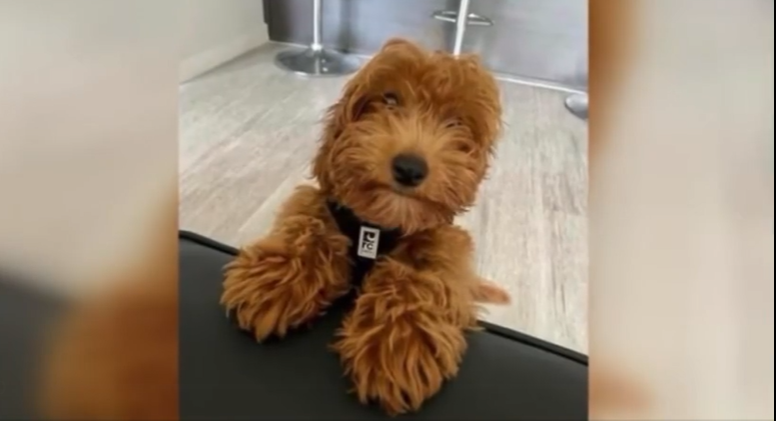 Witnesses have stated that Garon locked himself in a room with Buzz and proceeded to pummel the puppy. Yelps and cries could be heard from the puppy for several minutes…then silence.
The authorities are appalled by the brutality of this incident. Sheriff Rambosk said, "This is one of the worst cases of animal abuse we've seen. No animal should ever have to suffer such a death."
As if this puppy's death was not bad enough, the authorities say this is the second dog in five months to die in his care.
There is no excuse for what happened to this puppy – no excuse. Please add your name to the petition and help us fight for justice!
We the undersigned demand that Robert William Garon is held responsible for the abhorrent cruelty inflicted on his puppy, Buzz Lightyear. We are petitioning for Garon to receive the maximum punishment allowable by law for his charge of cruelty to animals. We want to see Garon prohibited from ever owning or residing with an animal in the future.
Garon was booked into the Collier County Jail; bail was set at $150,000.
Note: Individuals are presumed innocent until they have been found guilty in a court of law. Animal Victory relies upon the authorities and the court system to determine guilt or innocence.
News:
Detectives with the Collier County Sheriff
Update 9/9/2022: Robert Garon entered a plea of not guilty this week. It has been reported that he was given a polygraph test through the Naples-based John Hisler & Associates and according to his attorney, the results were negative. Recently, his friends and family have spoken out against the abuse allegations – insisting that Garon could never do what he is accused of. Animal Victory is continuing to follow the case closely.
Update 9/5/2022: Animal Victory has sent 18,564 signatures along with our petition to Solicitor Laura Marie Farrell.
Update 8/28/2022: The arraignment is scheduled for September 6, 2022, at 8:15 a.m. 
Florida Man Viciously Beat His Goldendoodle Puppy 'Buzz Lightyear' To Death
18,826
signatures = 94% of goal
18,826
Danielle Piso
Sep 25, 2022
18,825
Daniel Perkins
"An Eye For An Eye!" Evil people should get what they give!
Sep 24, 2022
18,824
benedicta wegeng
Sep 23, 2022
18,823
Perrie'Lee Prouty
Witnesses said the jerk locked himself in the room with dog & witnesses said they could hear the dog crying & then silence. Throw the book at this sicko NEVER to be able to own or be around animals. STOP these deranged jerks from killing more helpless creatures.
Sep 23, 2022
18,822
Andrea Sebastian
Sep 23, 2022
18,821
Joanne M
Sep 22, 2022
18,820
Richard Bentley
Sep 22, 2022
18,819
Diane Sprouse
Hope you go to prison and rot there. I also hope some big guy beats you to death.
Sep 22, 2022
18,818
Holly Rebecca Burkhart
It is inconceivable that someone could do this to an innocent and precious animal. Maximum penalty!!!!
Sep 22, 2022
18,817
Brenda Brewster
Sep 21, 2022
18,816
Daiza Fogle
Sep 21, 2022
18,815
Jessica Swaysland
Sep 21, 2022
18,814
Kathy Blaul
This scumbag should be beat to death the same way he did this baby
Sep 21, 2022
18,813
Jessica Lukaszczyk
Sep 20, 2022
18,812
KK Sill
Sep 20, 2022
18,811
gracie donahue
Sep 20, 2022
18,810
Eleonora Bacchini
Sep 20, 2022
18,809
Bonnie Smith
Sep 19, 2022
18,808
Kerri Flowers
Sep 19, 2022
18,807
Donald Henz
Sep 19, 2022
18,806
Bill Mendez
Sep 19, 2022
18,805
Kate Cat
Sep 19, 2022
18,804
Janet Smith
Sep 19, 2022
18,803
Janice Perez
Sep 19, 2022
18,802
Lilli Hamilton
Sep 19, 2022
18,801
Natalie Sipe
Sep 19, 2022
18,800
Monique Scheurer
Sep 19, 2022
18,799
Monique Scheurer
Sep 19, 2022
18,798
Linda Teague
Sep 19, 2022
18,797
Greg Van Pukeston
Sep 19, 2022
---