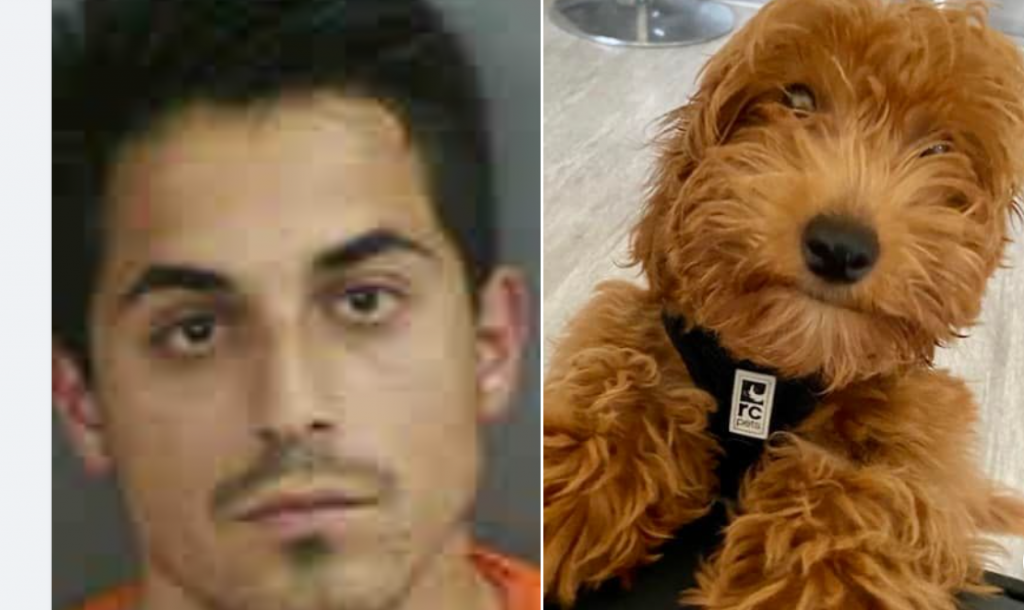 Naples, Florida – A 23-year-old Naples man is accused of beating his Goldendoodle puppy, Buzz Lightyear, so severely that the puppy died. According to the Collier County Sheriff's Office, Robert William Garon beat the five-month-old puppy on July 29, 2022, and then he and his girlfriend took the puppy to an emergency veterinarian.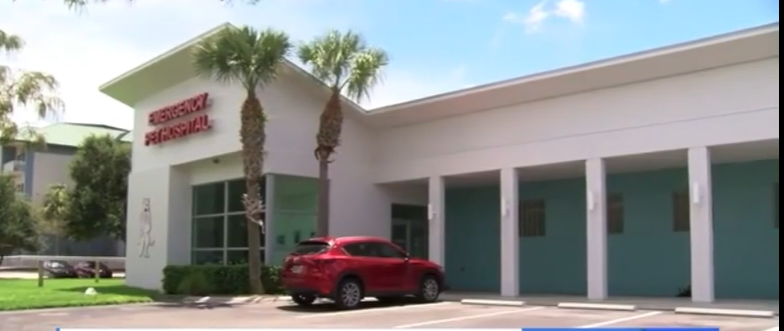 The news release from the authorities outlines the puppy's pitiful condition upon arrival at the veterinary hospital:
"The puppy was wet, disoriented, and unable to breathe normally. The dog was unable to stand or pick its head up. A veterinarian examination revealed possible head trauma, bruising to the right ear and mouth, and muscle damage throughout the body."
Buzz Lightyear died at the emergency veterinary hospital – his injuries were too severe for his survival. Dr. John Morton performed a necropsy on the puppy at Humane Society Naples. The necropsy report included the following: "This dog's death was caused by non-accidental, blunt force trauma to the head and body with secondary internal hemorrhage. I believe he suffered significantly from his injuries before death."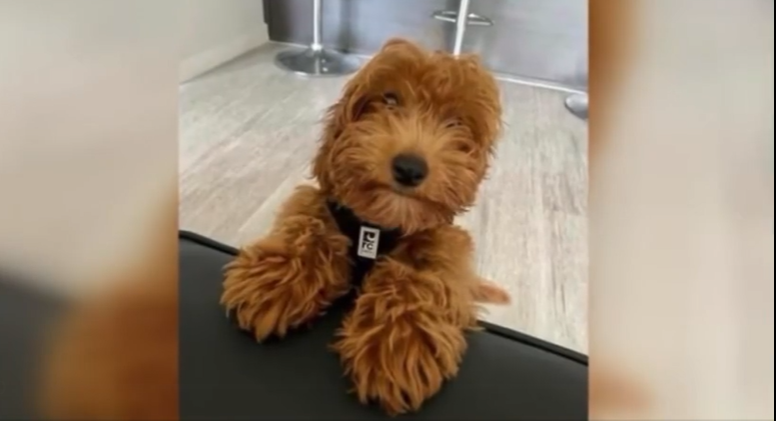 Witnesses have stated that Garon locked himself in a room with Buzz and proceeded to pummel the puppy. Yelps and cries could be heard from the puppy for several minutes…then silence.
The authorities are appalled by the brutality of this incident. Sheriff Rambosk said, "This is one of the worst cases of animal abuse we've seen. No animal should ever have to suffer such a death."
As if this puppy's death was not bad enough, the authorities say this is the second dog in five months to die in his care.
There is no excuse for what happened to this puppy – no excuse. Please add your name to the petition and help us fight for justice!
We the undersigned demand that Robert William Garon is held responsible for the abhorrent cruelty inflicted on his puppy, Buzz Lightyear. We are petitioning for Garon to receive the maximum punishment allowable by law for his charge of cruelty to animals. We want to see Garon prohibited from ever owning or residing with an animal in the future.
Garon was booked into the Collier County Jail; bail was set at $150,000.
Note: Individuals are presumed innocent until they have been found guilty in a court of law. Animal Victory relies upon the authorities and the court system to determine guilt or innocence.
News:
Detectives with the Collier County Sheriff
Update 8/01/2023  This case is still in progress.
One year later: Read the new court dates below.
09/19/2023 10:30 a.m. Pre-Trial (Private Attorney) Naples JOM
10/03/2023 9:00 a.m. Calendar Call Naples JOM
10/09/2023 9:00 a.m. Jury Trial Naples JOM
Read the court case summary here: Garon
Update 3/6/2023: Animal Victory sent a cover letter and petition to the judge.
Update 12/14/2022: Collier Circuit Judge John McGowan ruled in favor of releasing Buzz's veterinary records for July 29 — the day he died — and Aug. 3. The judge also ruled that Garon will NOT be allowed to have contact with his family's pets.
Update 11/18/2022: Animal Victory has learned that the next court date is scheduled to take place on 12/05/2022 at 9:00 a.m. Hearing Motion To Allow Travel And Allow Contact With Family Pet (To Be Heard At 10:00 a.m.), next court date 12/08/2022 at 1:30 p.m. (hearing), and Case Management meeting on 12/22/2022 at 1:30 p.m.
Update 10/20/2022: The uploaded court doc explains the vet records subpoena, court has been scheduled for 10/30/2022 at 10:30 am
Update 9/9/2022: Robert Garon entered a plea of not guilty this week. It has been reported that he was given a polygraph test through the Naples-based John Hisler & Associates and according to his attorney, the results were negative. Recently, his friends and family have spoken out against the abuse allegations – insisting that Garon could never do what he is accused of. Animal Victory is continuing to follow the case closely.
Update 9/5/2022: Animal Victory has sent 18,564 signatures along with our petition to Solicitor Laura Marie Farrell.
Update 8/28/2022: The arraignment is scheduled for September 6, 2022, at 8:15 a.m. 
Florida Man Viciously Beat His Goldendoodle Puppy 'Buzz Lightyear' To Death
25,964
signatures = 130% of goal
25,964
Jami Myles-Wells
Oct 02, 2023
25,963
Maureen Byers
Do the same thing that he did to his animal to him beat him to death in a locked room.
Oct 01, 2023
25,962
Jennifer Fullem
Sep 30, 2023
25,961
Sherrie Darce
Sep 30, 2023
25,960
Laurence Berger
Sep 28, 2023
25,959
Debra Delyle
Sep 26, 2023
25,958
Laurie Campisano
Sep 24, 2023
25,957
Barbara Fey
Sep 24, 2023
25,956
Valerie Louden
I hope the judge will see Garon for what he is a habitual killer of animals with no remorse, needs mental health help, and a very long prison sentence for the torture and murder of Buzz, he will just kill again.
Sep 24, 2023
25,955
Sally Wood
Erm, hang on, "witnesses heard him pummelling the dog for some time and yelps of pain" what kind of insect would stand by and do nothing?!! Buzz blood totally on their hands as well as the demented thug who murdered him. For shame on all of you, may you have miserable lives, you pathetic cowards
Sep 23, 2023
25,954
Sylvia Young
Put this animal murderer away for life…..
Sep 22, 2023
25,953
Denise Webb
Sep 21, 2023
25,952
veronica costa
Sep 21, 2023
25,951
Sherry Mainquist
Why is it taking a year to prosecute this animal??? The witness told their story as to what happened. Isn't this enough??? 2 dogs have died being around him!!! Lock him up!!! Before some1 else gets hurt!
Sep 13, 2023
25,950
mari smeti
Sep 13, 2023
25,949
KERRY FEDERER
My heart breaks for DOGGIE Buzz-Lightyear — Ensure SICKO Robert William Garon PAYS dearly for depraved horror to Doggie — LOCK UP Idiot WITHOUT release — We want NO REPEATS of such crimes —
Sep 13, 2023
25,948
karen Wible
Sep 13, 2023
25,947
Cindy Hanson
Sep 12, 2023
25,946
stephanie sharpe
Sep 11, 2023
25,945
Kathy DelDona
They need to pay for hurting a innocent animal
Sep 11, 2023
25,944
Jane Walters
Sep 10, 2023
25,943
Sarah Jones
Sep 10, 2023
25,942
Alfredo CASELLO
Sep 10, 2023
25,941
Beverley Durant
We have demons among us. Purge the demons
Sep 10, 2023
25,940
Amanda Walters
Sep 09, 2023
25,939
Janet Sweeney
Well his family are going to defend him arnt they. Yet the pups injury prove what he did with no doubt. They are probably of the same mind set and the only reason you've heard nothing about them is because they haven't been caught. Disgusting filth. Maybe take him Into a locked room and give him a taste of his own medicine. Low life crap beating not one but 2 pups to death...
Sep 09, 2023
25,938
Anonymous
Sep 08, 2023
25,937
Sammi Lewis
Sep 07, 2023
25,936
Ginny Hamilton
Sep 06, 2023
25,935
Kenneth Green
In this wokey country where criminals are given therapy in lieu of punishment, I have to wonder: What's the next target of his rage? A CHILD?
Sep 06, 2023
---