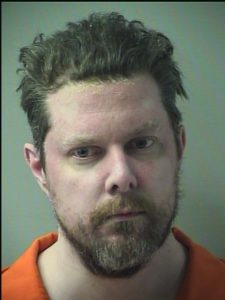 OKALOOSA COUNTY, FLORIDA – A Florida man is accused of an egregious act of animal cruelty which claimed the life of an innocent kitten in late November. According to the Okaloosa County Sheriff's Office (OCSO) 40-year old James Thomas Miller intentionally stepped on a woman's kitten because it was crying.
In a news release, the authorities stated:
A Fort Walton Beach man is charged with stepping on a woman's new kitten and killing it because he "was unhappy with it."
According to the OCSO release, the woman told the authorities that on November 24, Miller told her that he was going to kill her kitten because it "kept crying."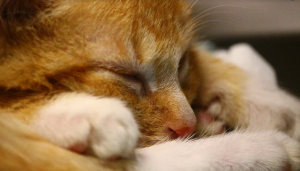 The release details what the woman said happened next:
She says she later heard a loud noise coming from upstairs and went to see what it was. She says Miller said "What did I do?" and she saw the kitten was severely injured and having convulsions.
OCSO deputies say Miller intentionally, forcefully, and unnecessarily killed the kitten, which results in a third-degree felony charge of animal cruelty.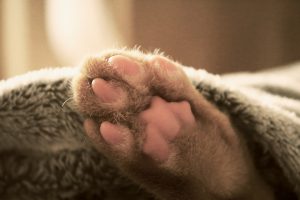 Please add your name to the petition today. What James Thomas Miller is accused of doing is horrific and we need your help to ensure that he gets the maximum sentence for his crime. A slap-on-the-wrist plea deal is not good enough and we want the court to know that this kitten's life mattered, and what Miller did is inexcusable!
*Individuals are presumed innocent until being found guilty in a court of law.
News:
Animal-Protection-Laws-of-Florida-2020-Animal-Legal-Defense-Fund
Link to news release from OCSO on Facebook here.
Update 8/17/2022: The next court date is scheduled for September 20, 2022, at 9 a.m. for a pre-trial. Animal Victory has sent 15,267 signatures to attorney Tayler D. Sharpless.
Read Millers case docket here Miller_ James Thomas
Update 4/13/2022: Animal Victory has learned that a pretrial conference is scheduled on 05/09/2022 at 9:00 am in the FWB Courthouse Annex Extension.
Update 2/07/2022: Animal Victory has sent 14,480 signatures to Prosecuting attorney Tayler D. Sharpless. James will appear at a pre-trial conference on March 14, 2022. 2021 CF 003131 F – STATE OF FLORIDA vs. MILLER_ JAMES THOMAS
Florida Man Faces Felony For Intentionally Stepping On, And Killing, Woman's Crying Kitten
15,291
signatures = 76% of goal
15,291
Dr. Architekt Letay
Sep 18, 2022
15,290
Guisselle Martinez
Sep 17, 2022
15,289
Shambhavi Ojha
Sep 14, 2022
15,288
Carmen Verdugo
Sep 11, 2022
15,287
Kelly A Kalish
Sep 10, 2022
15,286
Craig Davis
Sep 10, 2022
15,285
Mike Davis
Make him pay and lock him up for maximum sentence
Sep 10, 2022
15,284
Jammie Davis
Sep 10, 2022
15,283
Michelle Krueger
Sep 09, 2022
15,282
Kristi Dishner
Sep 07, 2022
15,281
Shanelle Manzanares
Sep 06, 2022
15,280
Jeffrey Clouatre
Sep 04, 2022
15,279
Tina Woods
Sep 03, 2022
15,278
Nancy Coupe
Sep 03, 2022
15,277
LEO MENDEZ
BASTARD!!!! GET A BUNCH OF GUYS AND STOMP ON HIM TILL HE DIES!!! PUT HIM AWAY AND THROW THE KEY! LET HIM ROT IN JAIL!!
Sep 02, 2022
15,276
MARIE BOTEILHO
YOU SICK LOW LIFE POS BASTARD TO KILL AN INNOCENT KITTEN!!! PUT THIS PUNK AWAY IN PRISON FOR LIFE AND STOMP ON HIM WHILE HE'S TIED DOWN!!
Sep 02, 2022
15,275
Jo Agosto
Aug 30, 2022
15,274
Ellison Johnson
Why is he so crusty. No plea deal max penalty.
Aug 26, 2022
15,273
Christine Trapasso
Aug 24, 2022
15,272
Kira Thompson
Aug 22, 2022
15,271
Kristen Tirado
Hope that scumbag dies a horrific dead
Aug 21, 2022
15,270
Elizabeth Sanchez
Aug 21, 2022
15,269
Daria Bucklin
Aug 20, 2022
15,268
Martine VATANT
Aug 18, 2022
15,267
Monique Barela
This man needs to pay for what he has done! This is discussing, he is obviously a boy not a man!!! Only a boy would hurt such a little being!!
Aug 16, 2022
15,266
Karen Sexauer
Aug 15, 2022
15,265
Rose Miras
Aug 15, 2022
15,264
Sarah Stansill
Aug 14, 2022
15,263
Jan Gerstlauer
Aug 14, 2022
15,262
Suzanne Oakes
Aug 14, 2022
---