Find Cruel Person Who Tethered Dog And Poured Glue In His Ears
Published: March 23, 2020 at 05:42 AM Author:
PENNY EIMS

Creek County, Oklahoma – A dog found this week in Creek County, Oklahoma, was subjected to unimaginable cruelty. The mixed breed dog, dubbed Atlas, was found abandoned in a field – someone had tethered his back legs together, put glue in his ears and poured some type of chemical on his face.
There is a $10,000 reward being offered for information leading to the arrest and conviction of whoever is responsible for this heinous crime. The purpose of this petition is to raise awareness to find the person responsible, and when that individual is arrested, your signatures will be presented to the prosecutor to help secure a strong sentence.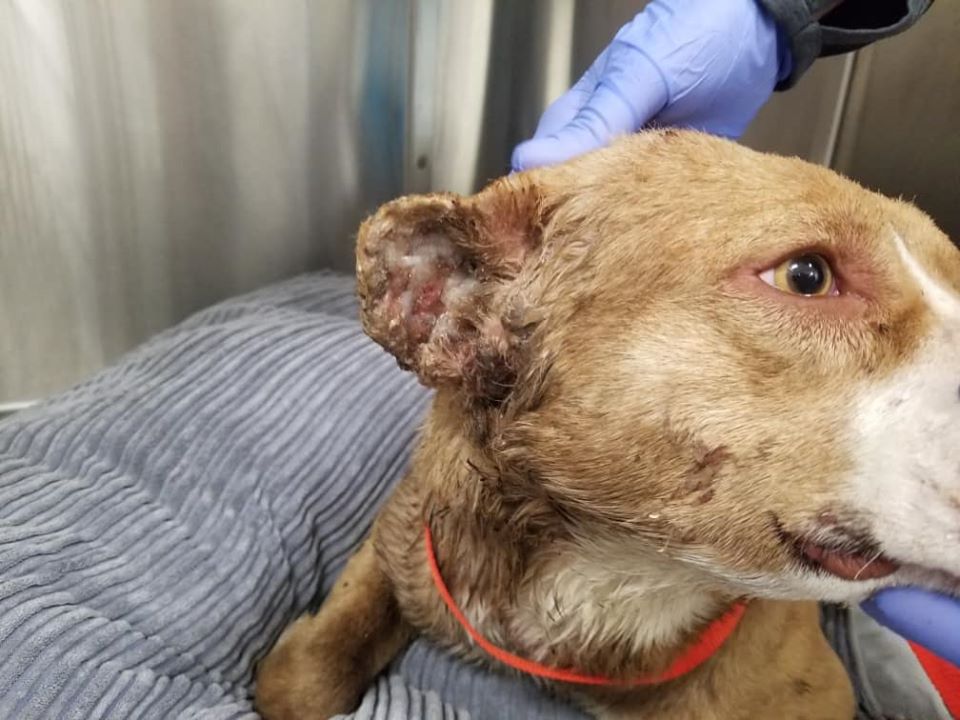 On February 27, the Humane Society of Tulsa detailed the abuse that Atlas survived, writing:
Not only was he dumped in a field with his back legs STRAPPED together, GLUE (yes glue) had been poured into his ears and then fast food wrappers had been shoved into the ears and stuck into the glue. One ear canal is so bad it looks like he will need surgery. Some type of chemical had been dumped on his face/ears and it appears his ears have been partially burned or cut off. As if this wasn't bad enough, his xrays showed a BB Lodged inside of him, so he'd been shot at with a BB gun too.
Whoever is responsible for this abuse must be found and punished! Please sign this petition to help spread the word about this cruel crime. Your signatures will help get a strong jail sentence for the person who committed this atrocious act.
Anyone with information is asked to contact the Creek County Sheriff's Office – find the website here
Find the Humane Society of Tulsa on Facebook here.
Breaking news update 3/10/2020: Arrest made!! The Creek County Sheriff's Office has arrested 18-year-old Daniel Williams, of Tulsa, for animal cruelty. During questioning, Williams confessed.  It has been determined that the crime was committed on tribal land – the Creek County Sheriff's Office has contacted the Light Horse Police and Williams was transferred to their custody.
Update 3/4/2020: The Humane Society of Tulsa has provided a promising update about Atlas, writing:
It was great news that Atlas was strong enough yesterday for his Neuter surgery. He's been progressing beautifully in his recovery so we were excited when the team of Doctors caring for him at VCA Woodland Central Animal Hospital said it is time for this procedure.
The veterinary team was also able to successfully remove painful, fractured teeth from Atlas' mouth. After performing a urine test, it was revealed that Atlas has a bad urinary tract infection which is now being treated as well. He remains hospitalized as he recovers and is receiving pain medication and antibiotics. The reward is still being offered to find whoever is responsible for hurting Atlas!
03/12/2020: READ OUR LETTER HERE
* Individuals are presumed innocent until proven guilty in a court of law.
Prior Signatures 10,548