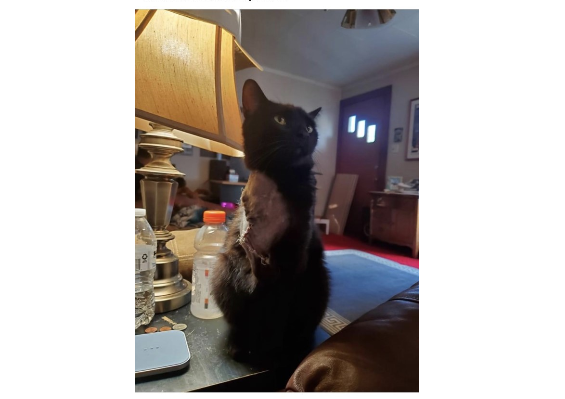 A cat in Spencer, North Carolina, is missing a leg after being shot. The man believed to be responsible for the atrocious act of cruelty is identified as 32-year-old Jeremy Michael Pless.
Pless allegedly shot his neighbor's cat, named Cool Breeze, while the feline was in the woods, hunting salamanders.
The authorities are searching for Pless, who is wanted for felony animal cruelty. Please sign and share this petition to help raise awareness of this cruel incident, and to encourage the prosecutor to pursue the maximum punishment for his crime!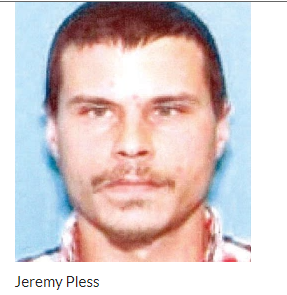 The man wanted by the authorities is described as having brown hair, hazel eyes, weighing 160 pounds and 5 feet 8 inches tall. He is wanted for discharging a firearm in the city limits and felony animal cruelty.
This man's actions were dangerous and exceedingly cruel. He must be located, arrested and punished! Please stand with us and we fight for justice for Cool Breeze. Animal cruelty cannot be tolerated!
Anyone with information about Jeremy Pless' whereabouts is asked to contact the Spencer Police Department at (704) 633-3574, or reach out to Salisbury Rowan Crime Stoppers at 1-866-639-5245 at any time of the day. When you call you are assigned a secret code. Please do not reveal your identity.
Or you can go to tips.salisburyrowancrimestoppers.org and report your information anonymously there.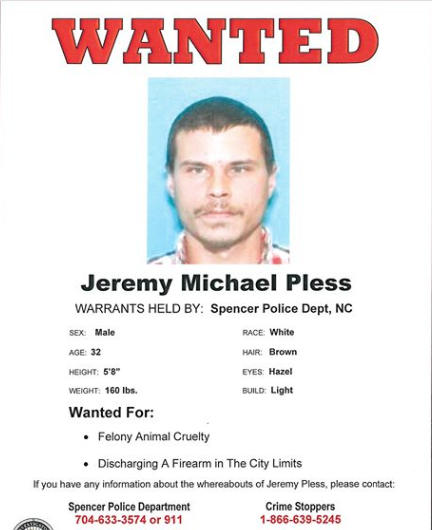 News:
https://salisburypost.com/2020/05/28/spencer-police-looking-for-a-man-accused-of-shooting-neighbors-cat/
Update 8/26/2021: Animal Victory has learned that Pless was indicted on Aug 2; the case was bound over to a grand Jury in Superior court, and a date has not been set as of yet. Information received from Rowan County Court.
Update 7/5/2021: Animal Victory has learned that the next court date is scheduled for 8/18/2021 in court room 0003
Update 5/3/2021: Animal Victory has sent 17,731 signatures and comments to DA Gold today along with our petition letter.
Update 4/26/2021: Court has been rescheduled to May 5, 2021
Update 1/4/2021: Court has been moved to January 27
Update 12/4/20: Court for Jeremy Pless has been moved to 12/16/2020
Update 8/19/2020: Jeremy Pless has been found and arrested! He is charged with felony animal cruelty as well as a misdemeanor charge of shooting firearms within town limits. He was booked into the Rowan County Detention Center.
Update 7/23/2020: Pless has not been served, and the authorities are still looking for him. The officer on the case said Pless is lying low and that he knows he's in trouble. It will be a class H felony carrying 10-20 mos. Any tips on his whereabouts are needed.
* Individuals are presumed innocent until proven guilty in a court of law.
PRIOR SIGNATURES : 18832
Find And Punish Man Who Shot Neighbor's Cat
33
signatures = 0% of goal
33
Sabine Fontaine
Sep 18, 2021
32
Kit Dugan
Sep 18, 2021
31
Jaqueline Dillman
Sep 18, 2021
30
Teri Paszotta
We need tougher laws, more judges with balls to hand down stiffer sentences & justice to those affected by sick abusers of animals in our communities. It's going on in your city and those that prey on the most vulnerable are WEAK COWARDS & THE LOWEST, POOREST EXCUSE OF BEINGS WALKING THIS EARTH!
Sep 17, 2021
29
Ann Freeman
Sep 15, 2021
28
Kennedy Roop
Sep 12, 2021
27
Sophie Emlek
Sep 09, 2021
26
Stefanie E.
Sep 09, 2021
25
Ilana Karapetyan
Sep 08, 2021
24
Jan Anderson
Sep 08, 2021
23
Melissa Curtis
Sep 07, 2021
22
Damiano Giustina
Sep 07, 2021
21
Kelly Lagace
Sep 03, 2021
18
Mary Autwell
Sep 01, 2021
17
Brittany Rathburn
Sep 01, 2021
16
Kim HUGHES
Aug 30, 2021
15
Cecilia Lalinde
Aug 29, 2021
14
lara balser
Aug 29, 2021
13
Daniel Pawlowski
Aug 28, 2021
12
Corinne Brown
Aug 27, 2021
11
Marina Ris
Aug 27, 2021
10
Teresa Corner
Aug 24, 2021
9
Chinanan K.
Aug 24, 2021
8
laura raforth
Aug 23, 2021
6
Brad Bowers
Aug 22, 2021
4
Gisele Mcloughlin
Aug 22, 2021
PRIOR SIGNATURES : 18832
---