Lee County, Florida – A father and son duo is facing multiple dogfighting-related felony charges after the authorities discovered 16 bloodied and injured dogs at two properties in Lee County on March 30.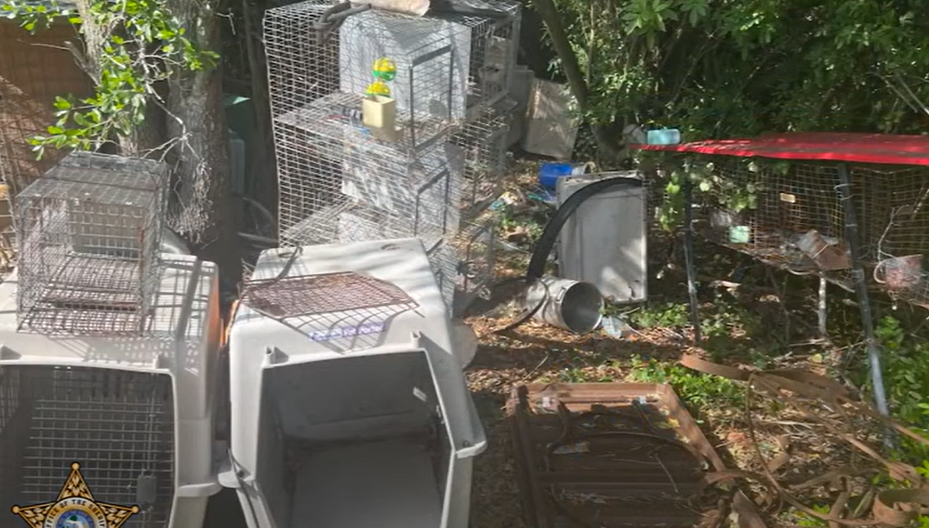 According to a release from the Lee County Sheriff's Office, Anthony Pew Sr. and Anthony Pew Jr. were running a dogfighting operation from properties at Aspen Avenue S. and W. 9th Street in Lehigh Acres.
Lee County Sheriff Carmine Marceno commented on the case, which is one of the largest dogfighting busts in the count, describing the conditions the dogs were found in:
"These dogs were being kept in deplorable conditions, locked in cages filled with urine and feces. Many were found malnourished and had open wounds."
Individuals who participate in the dark underworld of dogfighting do it for one reason – the love of money, at any cost. Dogs are forced to maim and kill, and if they fail in their mission, they are typically destroyed. The bodies of the dogs found at these properties reveal the brutality that they were subjected to.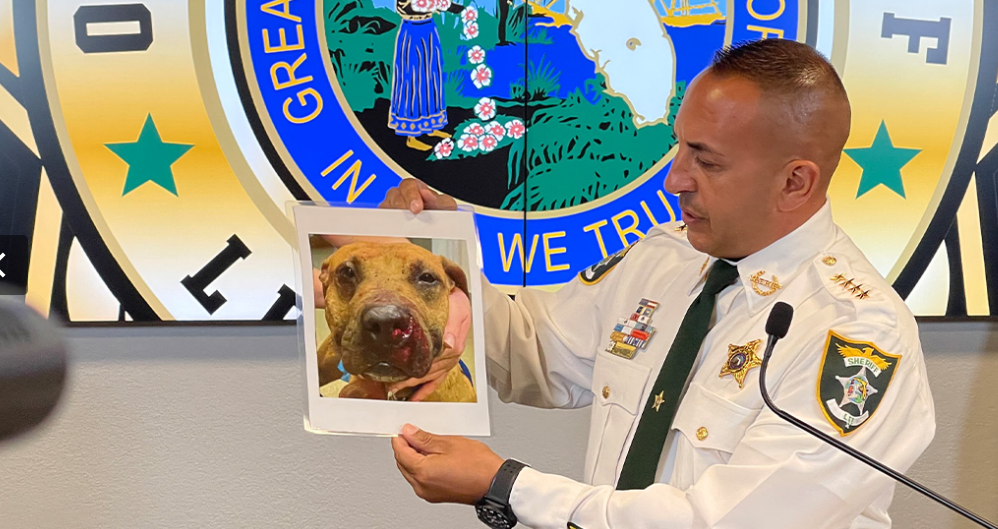 According to the authorities, the dogs received veterinary care at the local animal control agency, and some of them still require "constant medical care."
Anthony Pew Sr. and Anthony Pew Jr. are facing a slew of felony charges. Pew Sr. is charged with seven cases of dogfighting or baiting, and one count of animal torture causing serious physical injury or death. Pew Jr. is charged with five counts of dogfighting or baiting. According to the Lehigh County Citizen, Pew Sr. is no stranger to dogfighting…he was arrested for dogfighting/baiting back in 2006.

We need your support to bring an end to this brutal madness. These men must receive a sentence that is significant enough to STOP them from doing this again. Please add your name to the petition today and help us fight for justice!
We the undersigned demand that Anthony Pew Sr. and Anthony Pew Jr. are held responsible for their participation in dogfighting/dog baiting. We are petitioning for the Pews to receive the maximum punishment allowable by law and to be prohibited from owning or residing with animals in the future.
Note: Individuals are presumed innocent until being found guilty in a court of law. Animal Victory relies upon the authorities and the court system to determine guilt or innocence.
News:
Animal-Protection-Laws-of-Florida-2020-Animal-Legal-Defense-Fund (1)
Father And Son Facing Multiple Felony Dogfighting Charges After Bloodied Dogs Found In Deplorable Conditions
15,374
signatures = 77% of goal
15,374
Ashley Jacobson
May 24, 2022
15,373
sara habis
May 24, 2022
15,372
Elena Rudyak
May 24, 2022
15,371
Joanne Garbato
May 23, 2022
15,370
Rosemary Theroux
May 23, 2022
15,369
Dana Payton
May 23, 2022
15,368
Jennifer McDowell
May 23, 2022
15,367
Colette Anna Pepin
Put these jerks in jail for life. They do not deserve to be in this world free. They must be locked up for life.
May 23, 2022
15,366
Angélique MÉRANT
May 23, 2022
15,365
Nikki OBrien
May 23, 2022
15,364
Sasha Hjerpe
MAXIMUM SENTENCES!! Show the World we're not fooling around any more & ANIMAL ABUSE WILL NO LONGER BE TOLERATED!
May 23, 2022
15,363
stéphanie rossenu
May 23, 2022
15,362
Elizabeth Ross
He did not learn when arrested before, this time...significant JAIL time required, and forbidden from owning/keeping any animal every again!
May 23, 2022
15,361
Marion Hohensheldt
May 23, 2022
15,360
Farzana Shahul
May 23, 2022
15,359
Marie-Laurence Yans
May 23, 2022
15,358
carol williams
This makes me sick. Do the same to them how cruel.
May 23, 2022
15,357
Nikki Burkett
May 23, 2022
15,356
Erin Sleeth
May 23, 2022
15,355
Shana Garcia
May 23, 2022
15,354
Aurora Kurth
May 23, 2022
15,353
Yeniffer Quijano
May 22, 2022
15,352
Anonymous
May 22, 2022
15,351
Christine Sullenberger
May 22, 2022
15,350
Jena Campbell
May 22, 2022
15,349
Christina Little
May 22, 2022
15,348
Michelle Machamer
May 22, 2022
15,347
Roberta Furlan
May 22, 2022
15,346
Jeanny Pontin
The only way to protect innocent lives is by putting abusers in jail. Nothing less!!
May 22, 2022
15,345
Anonymous
May 22, 2022
---