Lee County, Florida – A father and son duo is facing multiple dogfighting-related felony charges after the authorities discovered 16 bloodied and injured dogs at two properties in Lee County on March 30.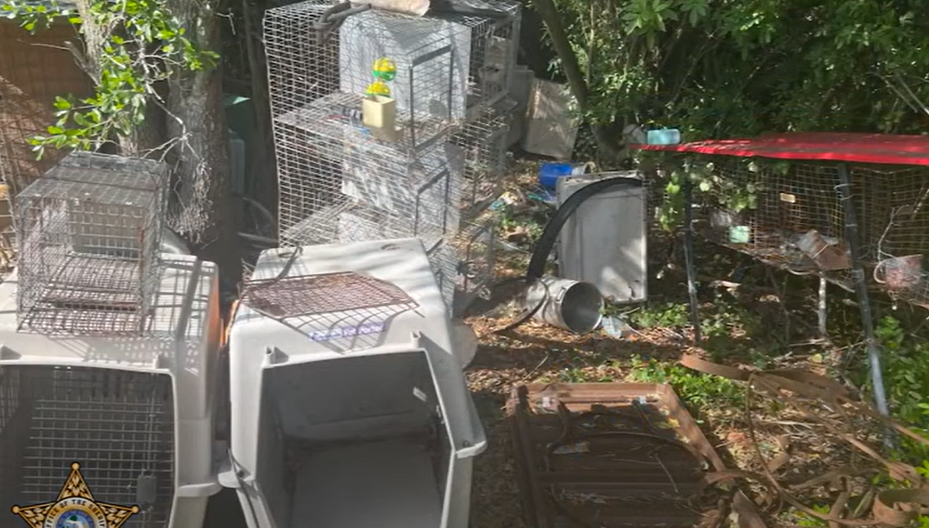 According to a release from the Lee County Sheriff's Office, Anthony Pew Sr. and Anthony Pew Jr. were running a dogfighting operation from properties at Aspen Avenue S. and W. 9th Street in Lehigh Acres.
Lee County Sheriff Carmine Marceno commented on the case, which is one of the largest dogfighting busts in the count, describing the conditions the dogs were found in:
"These dogs were being kept in deplorable conditions, locked in cages filled with urine and feces. Many were found malnourished and had open wounds."
Individuals who participate in the dark underworld of dogfighting do it for one reason – the love of money, at any cost. Dogs are forced to maim and kill, and if they fail in their mission, they are typically destroyed. The bodies of the dogs found at these properties reveal the brutality that they were subjected to.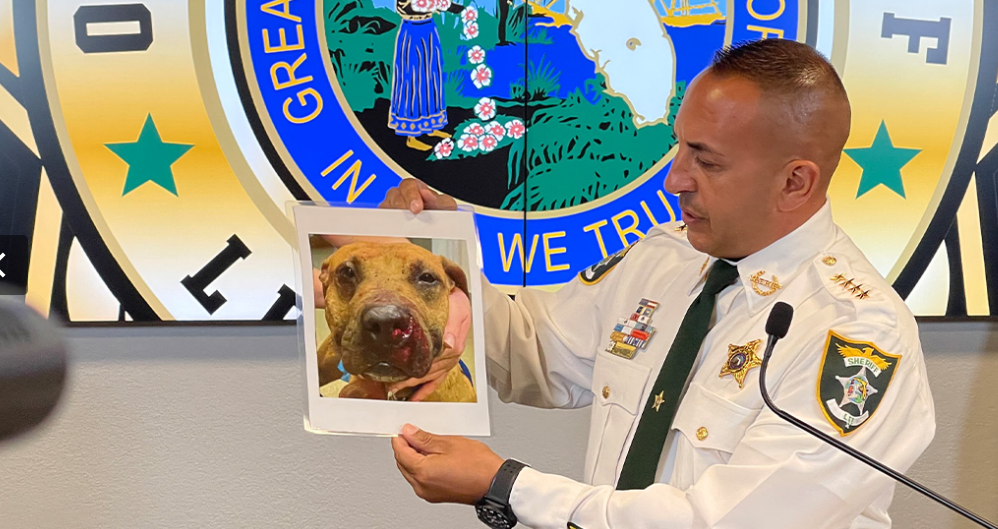 According to the authorities, the dogs received veterinary care at the local animal control agency, and some of them still require "constant medical care."
Anthony Pew Sr. and Anthony Pew Jr. are facing a slew of felony charges. Pew Sr. is charged with seven cases of dogfighting or baiting, and one count of animal torture causing serious physical injury or death. Pew Jr. is charged with five counts of dogfighting or baiting. According to the Lehigh County Citizen, Pew Sr. is no stranger to dogfighting…he was arrested for dogfighting/baiting back in 2006.

We need your support to bring an end to this brutal madness. These men must receive a sentence that is significant enough to STOP them from doing this again. Please add your name to the petition today and help us fight for justice!
We the undersigned demand that Anthony Pew Sr. and Anthony Pew Jr. are held responsible for their participation in dogfighting/dog baiting. We are petitioning for the Pews to receive the maximum punishment allowable by law and to be prohibited from owning or residing with animals in the future.
Note: Individuals are presumed innocent until found guilty in a court of law. Animal Victory relies upon the authorities and the court system to determine guilt or innocence.
News:
Animal-Protection-Laws-of-Florida-2020-Animal-Legal-Defense-Fund (1)
Final Update: Anthony Pew Sr. and Anthony Pew Jr. were both found guilty and sentenced. Pew Sr. was sentenced to 180 days in jail for each count (to be served concurrently) with only 2 days of credit. Probation is to be served 36 months for each count (to be served concurrently) in addition to restitution and fines; he is also banned from having contact with animals during the probation period. We are pleased with the sentencing for Anthony Pew Sr. but disappointed to learn that the State Attorney announced nolle prosse on all counts, which means they chose not to prosecute. Animal Victory thanks everyone who signed this petition and helped this case receive the attention that it deserved!
Update 12/2/2022: The trial is set to begin at 1:00 pm on 01/26/2023 courtroom 7-B for both defendants.
Update 10/20/2022: Both defendants were rescheduled to November 8th at 1:30 pm in courtroom 7-B Pew 91
Update 9/12/2022: Both defendants are scheduled for a pre-trial conference on October 4, 2022, at 1:30 pm in courtroom 7-B.
Update 8/15/2022: Anthony Pew is scheduled for a pre-trial on 8/30/2022 at 1:30 pm in courtroom 7-B.
Update 7/17/2022: The next court date is July 27th at 1:30 pm. 
Update 6/22/2022: Animal Victory has sent 15,572 signatures to the State Attorney's Office. The state office told Animal Victory that they make a strong commitment to prosecuting animal abuse cases and that the appropriate charges have been filed in regard to these allegations.
Update 6/08/2022: Animal Victory has learned that Anthony Pew Sr. and Anthony Pew Jr. are scheduled to appear in court on 6/22/2022 for a case management conference.
Father And Son Facing Multiple Felony Dogfighting Charges After Bloodied Dogs Found In Deplorable Conditions
16,104
signatures = 81% of goal
16,104
Vivian Gutierrez
Jun 18, 2023
16,103
Marisa Martinez
Pure evil!
Jun 17, 2023
16,102
Sarah Reynolds
Jun 13, 2023
16,101
Lee Rain
Jun 13, 2023
16,100
Jeff Morrison
Jun 13, 2023
16,099
Kermit Reynolds
Jun 13, 2023
16,098
Mary Reynolds
Jun 13, 2023
16,097
Jennifer Reyn
Jun 13, 2023
16,096
Jennifer Reynolds
Jun 13, 2023
16,095
Catherine Fitzgibbon
Jun 11, 2023
16,094
Quade Prescott
Jun 04, 2023
16,093
Allan Rubin
Jun 03, 2023
16,092
Rebecca White
Jun 01, 2023
16,091
Mary BERNARDINI
May 31, 2023
16,090
Karla Rangel
May 28, 2023
16,089
Joelle ADAM
May 19, 2023
16,088
Stacey Bailey
May 11, 2023
16,087
Marilyn Buscho
May 10, 2023
16,086
Judy Beck
May 07, 2023
16,085
Shelley Smith
May 06, 2023
16,084
Pamela Diggs
May 04, 2023
16,083
Krista Sanders
May 01, 2023
16,082
Kathy Hamilton
May 01, 2023
16,081
R Blooom
Apr 29, 2023
16,080
Roberta Huddy
What evil cruelty pair. Dogfighting is one of the crueliest act to an animal. These monsters should be charged as felons and get the fullest extent of punishment as well to be imprisoned for along time. #StopAnimalCruelty
Apr 29, 2023
16,079
Loretta Cuesta
Apr 15, 2023
16,078
Gabriela Barberio
Apr 14, 2023
16,077
Janet Holm
Make them suffer
Apr 09, 2023
16,076
janet durazo
Apr 09, 2023
16,075
Carol Noel
They both deserve the fullest hardest punishment that the law can give,in my opinion they should never see day light again
Apr 06, 2023
---