Lee County, Florida – A father and son duo is facing multiple dogfighting-related felony charges after the authorities discovered 16 bloodied and injured dogs at two properties in Lee County on March 30.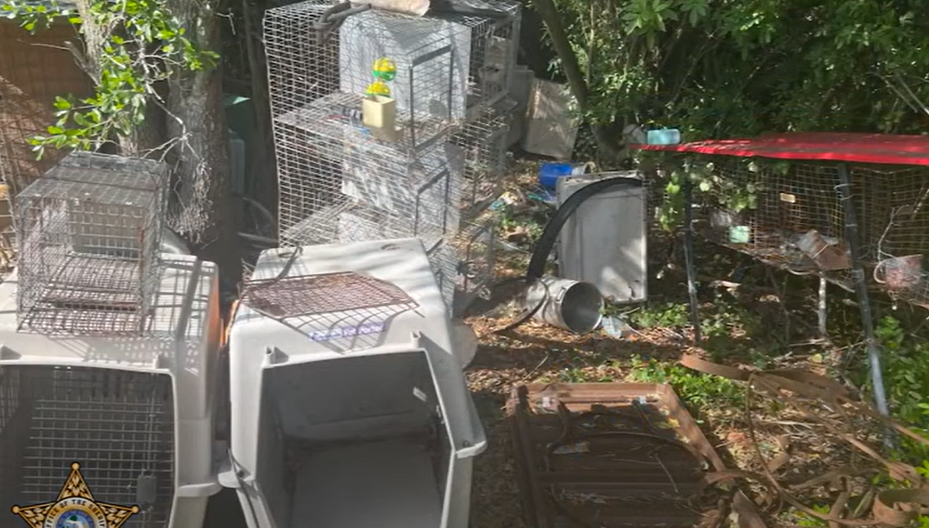 According to a release from the Lee County Sheriff's Office, Anthony Pew Sr. and Anthony Pew Jr. were running a dogfighting operation from properties at Aspen Avenue S. and W. 9th Street in Lehigh Acres.
Lee County Sheriff Carmine Marceno commented on the case, which is one of the largest dogfighting busts in the count, describing the conditions the dogs were found in:
"These dogs were being kept in deplorable conditions, locked in cages filled with urine and feces. Many were found malnourished and had open wounds."
Individuals who participate in the dark underworld of dogfighting do it for one reason – the love of money, at any cost. Dogs are forced to maim and kill, and if they fail in their mission, they are typically destroyed. The bodies of the dogs found at these properties reveal the brutality that they were subjected to.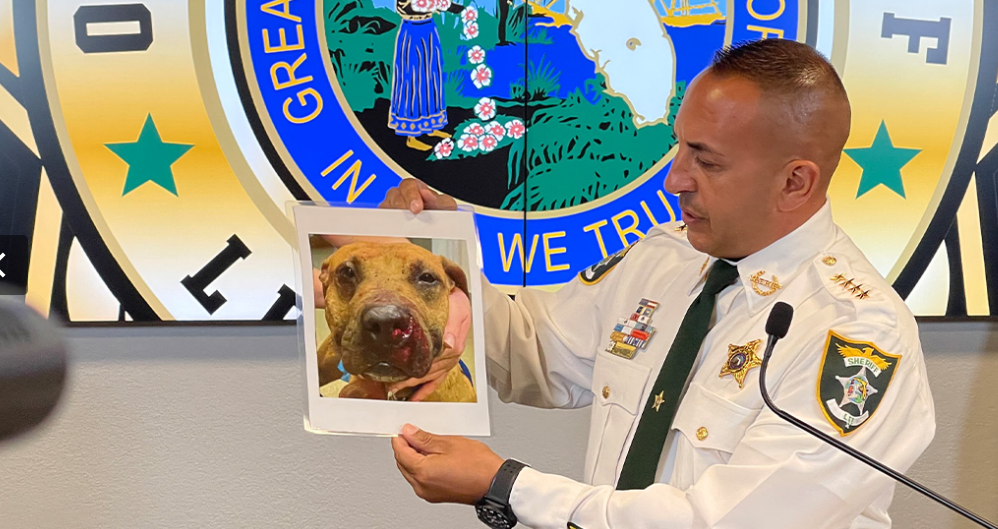 According to the authorities, the dogs received veterinary care at the local animal control agency, and some of them still require "constant medical care."
Anthony Pew Sr. and Anthony Pew Jr. are facing a slew of felony charges. Pew Sr. is charged with seven cases of dogfighting or baiting, and one count of animal torture causing serious physical injury or death. Pew Jr. is charged with five counts of dogfighting or baiting. According to the Lehigh County Citizen, Pew Sr. is no stranger to dogfighting…he was arrested for dogfighting/baiting back in 2006.

We need your support to bring an end to this brutal madness. These men must receive a sentence that is significant enough to STOP them from doing this again. Please add your name to the petition today and help us fight for justice!
We the undersigned demand that Anthony Pew Sr. and Anthony Pew Jr. are held responsible for their participation in dogfighting/dog baiting. We are petitioning for the Pews to receive the maximum punishment allowable by law and to be prohibited from owning or residing with animals in the future.
Note: Individuals are presumed innocent until being found guilty in a court of law. Animal Victory relies upon the authorities and the court system to determine guilt or innocence.
News:
Animal-Protection-Laws-of-Florida-2020-Animal-Legal-Defense-Fund (1)
Update 9/12/2022: Both defendants are scheduled for a pre-trial conference on October 4, 2022, at 1:30 pm in courtroom 7-B.
Update 8/15/2022: Anthony Pew is scheduled for a pre-trial on 8/30/2022 at 1:30 pm in courtroom 7-B.
Update 7/17/2022: The next court date is July 27th at 1:30 pm. 
Update 6/22/2022: Animal Victory has sent 15,572 signatures to the State Attorney's Office. The state office told Animal Victory that they make a strong commitment to prosecuting animal abuse cases and that the appropriate charges have been filed in regard to these allegations.
Update 6/08/2022: Animal Victory has learned that Anthony Pew Sr. and Anthony Pew Jr. are scheduled to appear in court on 6/22/2022 for a case management conference.
Father And Son Facing Multiple Felony Dogfighting Charges After Bloodied Dogs Found In Deplorable Conditions
15,955
signatures = 80% of goal
15,955
Linda Sommerfeld
Sep 24, 2022
15,954
Christine Marchand
Sep 23, 2022
15,953
Andrea Morris
Sep 23, 2022
15,952
Sandra Wente
Sep 23, 2022
15,951
Diane Andrews
Sep 22, 2022
15,950
Elizabeth Tennison
I hope both of these men suffer as much as the dogs they tortured did.
Sep 21, 2022
15,949
Debra Robinson
Sep 21, 2022
15,948
norah button
Sep 21, 2022
15,947
Jessica Swaysland
Sep 21, 2022
15,946
Deborah Martin
These men are the lowest of the low. I wish they could be executed. I hope they never see the light of day again. I know that will not happen because the public does not demand that they be punished to fit the crime.
Sep 21, 2022
15,945
Ronda Mershob
Sep 20, 2022
15,944
Judy Orr
No amount of $ would make me stoop so low as these torturing murderers. Unfortunately, animal cruelty does not offer enough punishment for such heinous acts. These 2 "inhumanes" need to get the harshest punishment available.
Sep 20, 2022
15,943
susie adkins
Sep 20, 2022
15,942
Jill Suttle
Sep 20, 2022
15,941
Janet Smith
Sep 19, 2022
15,940
Isotta Perfumo
Sep 19, 2022
15,939
Miruna Beda
Sep 19, 2022
15,938
Shelley Rollins
Sep 19, 2022
15,937
Duchet Lydie
Sep 19, 2022
15,936
Alain Segers
Sep 19, 2022
15,935
Mona Gibson
Sep 19, 2022
15,934
Valérie Paillard
Sep 19, 2022
15,933
Laura Sealey
Sep 19, 2022
15,932
Sandrine Sandrine no
Sep 19, 2022
15,931
Frederick Catrice
Défense et protection animale
Sep 19, 2022
15,930
Cheryle Lefort
Sep 19, 2022
15,929
Elena Paris
Prison a vie pour ces ordures
Sep 19, 2022
15,928
Carole Denurra
Faut arrêté ça c'est abject et eux pas prison ça me dégoûte !!!!
Sep 19, 2022
15,927
Eve TERRIER
Sep 19, 2022
15,926
Nevaeh Lumiere
These pieces of crap don't deserve to breathe the same air as the rest of us. Greedy bastards don't care about anybody else's life but their own and making money. I hope someone gives them a taste of what they put those poor dogs through…Including the poor bait animals... ohhh yes!
Sep 19, 2022
---