Sarasota, FL – A Florida man, and his daughter, have been arrested and charged following an intensive investigation by the Sarasota Sheriff's Office Agricultural Unit that began on August 11;  the day that a Snapchat video of a raccoon being burned alive in a dumpster began circulating online.
On Sept. 2, the sheriff's office announced the arrest of 30-year-old Alicia Kincheloe and her father, 63-year-old Roddy Kincheloe. In a press conference led by Sheriff Kurt Hoffman, the grim details that took place on August 11 were recounted. According to Sheriff Hoffman, Roddy Kincheloe initially stabbed the raccoon with a pitchfork and left the animal for dead in a dumpster. He and his daughter went to lunch and when they returned, the raccoon was still alive. At this point, a flammable liquid was poured into the dumpster, on the raccoon who was still alive, and set on fire.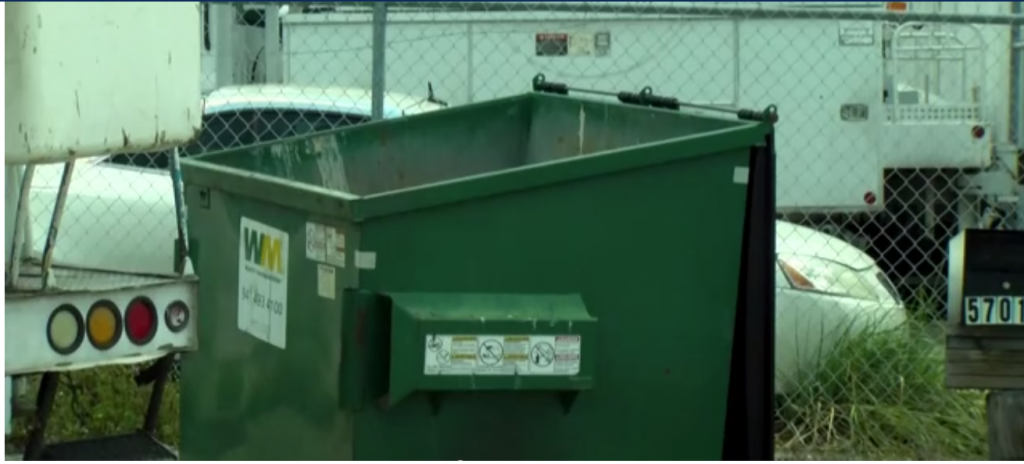 Alicia gleefully recorded the raccoon being burned to death and when it was over, she appeared to be jubilant, proudly stating that "We just toasted his a**." Adding, "Who's hungry?"
She proceeds to use the pitchfork to remove the raccoon's charred body from the dumpster and disposes of it off camera. Sheriff Hoffman explained that her actions secured a charge of  Tampering with Physical Evidence, in addition to Aggravated Animal Cruelty.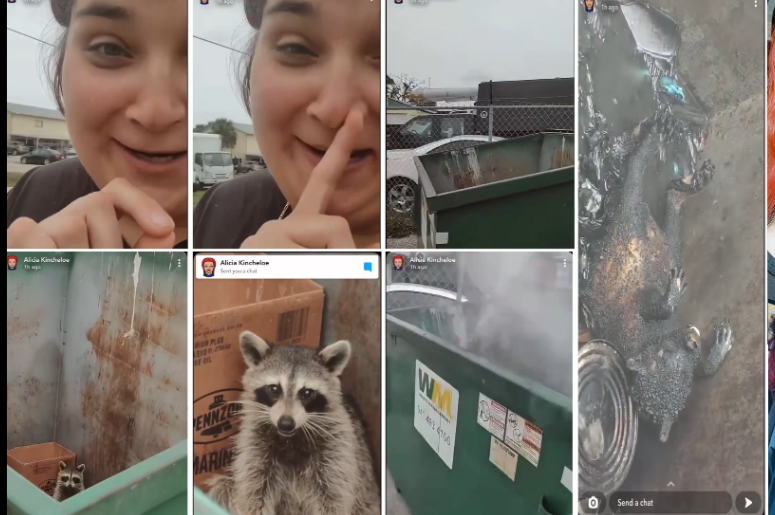 Alicia's father, Roddy, is also facing a felony charge of Aggravated Cruelty to Animals, and according to Sheriff Hoffman, this adds to his growing criminal history, which includes charges in the past for prostitution, domestic violence, drugs, and contempt of court. As Sheriff Hoffman stated in the press conference, Roddy's extensive criminal history is "what you would expect from a scumbag" who could commit a disgusting act of animal cruelty like this.
Please add your name to the petition today! What Alicia and Roddy did to this raccoon is reprehensible and they must be held accountable for their appalling behavior. This case has garnered attention from across the nation and we want to ensure that court officials are aware of the public's support for putting these two individuals behind bars for as long as possible.
We the undersigned demand that Alicia and Roddy Kincheloe are held responsible for cruelly burning a raccoon alive. We are petitioning for Alicia and Roddy to receive the maximum punishment allowable by law for their felony charges of Aggravated Cruelty to Animals and Alicia's charge of Tampering With Physical Evidence. 
*Alicia and Roddy have already been released from jail on bond.
Note: Individuals are presumed innocent until they have been found guilty in a court of law. Animal Victory relies upon the authorities and the court system to determine guilt or innocence.
News:
Sarasota Sheriff's Office press release
Father And Daughter Arrested For Burning Raccoon Alive In Dumpster
15,985
signatures = 80% of goal
15,985
Danielle Piso
Sep 25, 2022
15,984
Chantal KOLLAR
Sep 25, 2022
15,983
Cindy McCrory
Sep 24, 2022
15,982
Erica Brinker
Sep 24, 2022
15,981
Ann M Smithhisler
Sep 24, 2022
15,980
Kristina A.
PUNISH THEM!!!
Sep 24, 2022
15,979
Madeleine Fields
Sep 24, 2022
15,978
Shelly Whitehair
Sep 24, 2022
15,977
Cassie Pheonix
Sep 24, 2022
15,976
Maureen Dale
Sep 24, 2022
15,975
Noelle Wilkinson
Sep 23, 2022
15,974
benedicta wegeng
Sep 23, 2022
15,973
Steffanie Schmidt
Sep 23, 2022
15,972
AGNES A MOREAU
Sep 23, 2022
15,971
Elizabeth Welch
They both need to receive the Maximum!!!!!
Sep 23, 2022
15,970
Donna Fitzpatrick
Sep 22, 2022
15,969
Elia Gilles
Please punish these two scum to the fullest extent of the law. This raccoon died a horrific death.
Sep 22, 2022
15,968
Andrea McHatton
Sep 22, 2022
15,967
Aiden McHatron
Sep 22, 2022
15,966
Mason McHatton
Sep 22, 2022
15,965
Diane Kee
Sep 22, 2022
15,964
Diane Darnell
Sep 22, 2022
15,963
Janice Knight
Sep 22, 2022
15,962
Jill Schafebook
Sep 22, 2022
15,961
Darla Edgington
Sep 22, 2022
15,960
Natsumi Petri
Sep 22, 2022
15,959
johan van dijk
These evil ugly people belong in hell ASAP!!!! The Kincheloes are barbaric devils and they must pay!!!!!!
Sep 22, 2022
15,958
James Wozniak
Sep 22, 2022
15,957
Sienna Mills
Sep 22, 2022
15,956
ELIZABETH ALLANCORTE
LIGHT THEM UP!
Sep 22, 2022
---