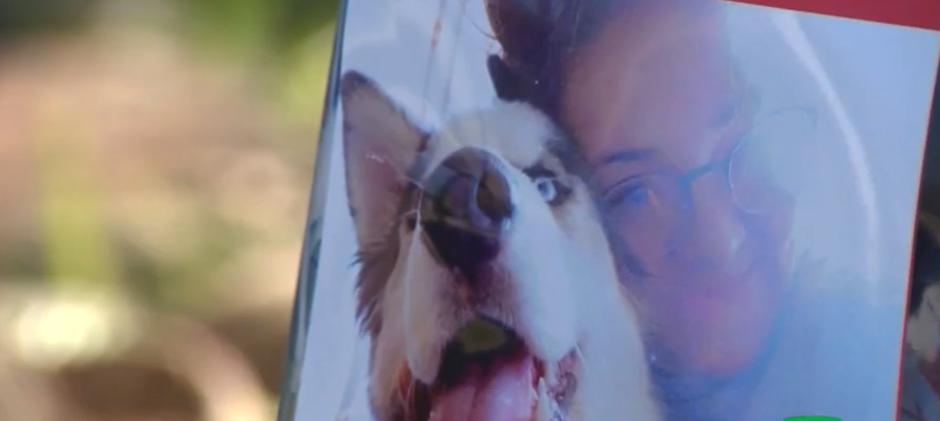 Lodi, CA – A family's beloved dog is dead after he was repeatedly tased and dragged by Lodi police officers on the afternoon of January 24. His name was Enzo, and the two-year-old Husky was running free because a door was accidentally left unlatched at his home, allowing him to escape.
Video uploaded to social media captures Enzo's last moments alive…and the footage is brutal to watch. Enzo can be seen standing in the street when an officer approaches and discharges a taser gun. Enzo falls to his side, briefly regains his footing, and then falls over once again.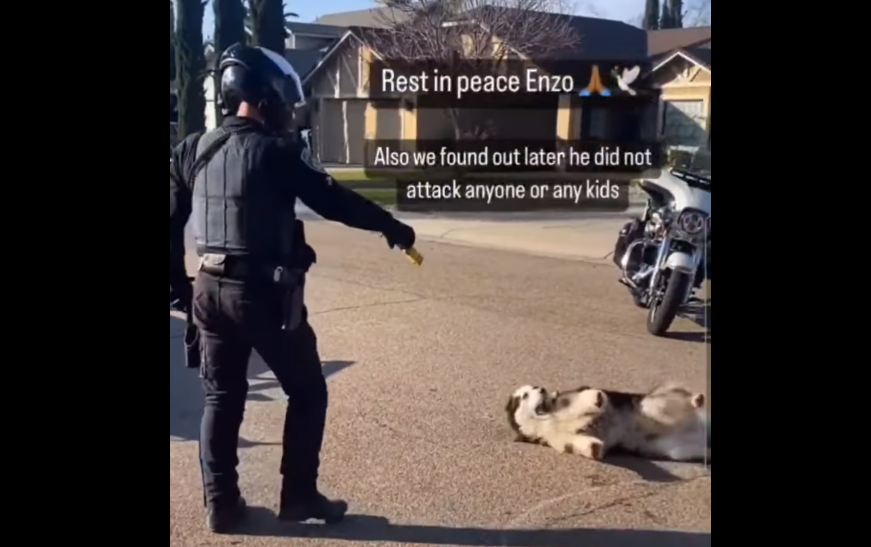 While Enzo is being tased, an animal control officer secures a catchpole snare around his neck.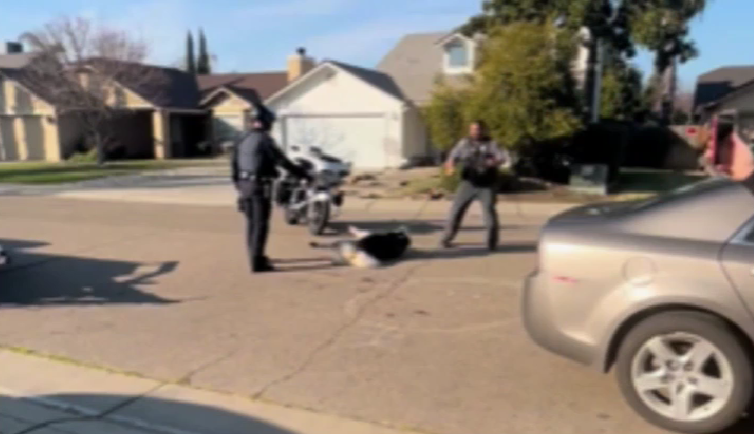 ---
The first officer CONTINUES to deploy the taser as Enzo is dragged across the pavement to an animal control vehicle.
---

The non-stop deployment of the taser, in addition to being dragged with a snare around his neck, causes Enzo to die. His last moments alive were filled with pain and terror.

On the video, a stunned witness can be heard questioning one of the officers about why Enzo was tased and dragged. The man can be heard stating that Enzo had been standing there with him and his girlfriend, allowing them to pet him before the police showed up.
Why was Enzo tased THE ENTIRE TIME that he was being dragged by his neck? Why was he tased at all if he had been standing there, letting strangers pet him? Why was he dragged by his neck?
Suffice it to say, Enzo's death has caused outrage among nearly everyone who has viewed the shocking video. And his owners, Anna Marquez, and Aline Galeno are rightfully devastated by Enzo's untimely and cruel demise.
The police claim that Enzo had been trying to attack kids before they were called; a claim that is disputed. In fact, it has been alleged that the claim of Enzo acting aggressively was a lie created to save the officers who were involved from being held accountable for Enzo's death.
The individuals identified as being involved in Enzo's death are Officers Timothy Ivey, Chris Delgado, and animal control officer Jordan Kranich.
If you are appalled by this incident and want these officers to be held accountable for Enzo's death, please add your name to the petition today! We need your support to show officials that Enzo's life mattered.
We the undersigned demand that the Lodi Police Department conduct a full investigation into this deadly incident. We demand that the body cam footage be released and that the statement from whoever was allegedly frightened of Enzo be made public. If the investigation shows that these officers were in the wrong, as it appears they were, we want them to be held accountable for this dog's death. Officers who abuse their power should not be allowed to continue being part of law enforcement.
Video footage of Enzo's last moments alive can be viewed to the right side of this petition if you are viewing from a computer. It is difficult to watch, especially knowing the devastating outcome.
(All images via screengrab from news agencies/Facebook)
Individuals are presumed innocent until found guilty in a court of law. Animal Victory relies upon the authorities and the court system to determine guilt or innocence.
News
Family's Dog Tased And Dragged To Death By Police After He Accidentally Escaped From His Home
21,117
signatures = 106% of goal
21,117
Desiree Medellin
This is absolutely absurd and should be investigated and reprimanded considering how many witnesses there were.
Mar 26, 2023
21,116
yvette eberhardt
PROSECUTE TO THE FULLEST EXTENT OF THE LAW
Mar 26, 2023
21,115
Deborah Snyder
Mar 26, 2023
21,114
Donna Campbell
Mar 26, 2023
21,113
Jody Santos
Stop the injustice to these poor Animals just because they wear a badge does NOT give them the Authority to abuse or kill an animal they belong to people they are family .We need Justice cause ENOUGH is Enough
Mar 26, 2023
21,112
Cheryle Lefort
YOU SHOULD BE IN PRISON,UR A DISCRACE TO YOUR ASSOCIATE.NON OF THAT WAS NEEDED.FIRE THESE CREEPS
Mar 25, 2023
21,111
Brenda Gonzalez
Mar 25, 2023
21,110
Kim Carter
Mar 25, 2023
21,109
Sharon Basham
Mar 25, 2023
21,108
Betty Edelman
Mar 24, 2023
21,107
M. Eichhof
How horrible and totally unacceptable
Mar 24, 2023
21,106
KM Eichhof
Mar 24, 2023
21,105
Laura Allen
Mar 24, 2023
21,104
Julie Cowburn
Mar 24, 2023
21,103
Frances Lollar
Fire them.
Mar 24, 2023
21,102
CHRIS MCMICKLE
Mar 24, 2023
21,101
Hilary Harris
Horrifying..disgusting....cruel and tragic! Heartwrenching.....
Mar 24, 2023
21,100
MARTHA Waltien
Murder was committed.
Mar 24, 2023
21,099
julie weigl
Mar 24, 2023
21,098
el crotser
Mar 24, 2023
21,097
peter vanner
Mar 24, 2023
21,096
ben syms
Mar 24, 2023
21,095
gene nielsen
Mar 24, 2023
21,094
abby potts
Mar 24, 2023
21,093
MOE SULLY
Mar 24, 2023
21,092
JO MUNZ
Make Killer-Officers pay for horrific crime to DOG Enzo — Officers are held to a higher standard -- what kind of society allows for Police to behave like depraved PSYCHOS — Enzo did nothing to deserve brutality — Officers should be jailed — WHO do they think they are — STOP death & injustice of Animals
Mar 24, 2023
21,091
MARI Smetan
Mar 24, 2023
21,090
Ashlyn Hilyer
Mar 23, 2023
21,089
Madison Lewis
Mar 23, 2023
21,088
Theresa Kline
That poor dog & his family! So sad & tragic! Why is brutality an initial response!
Mar 23, 2023
---