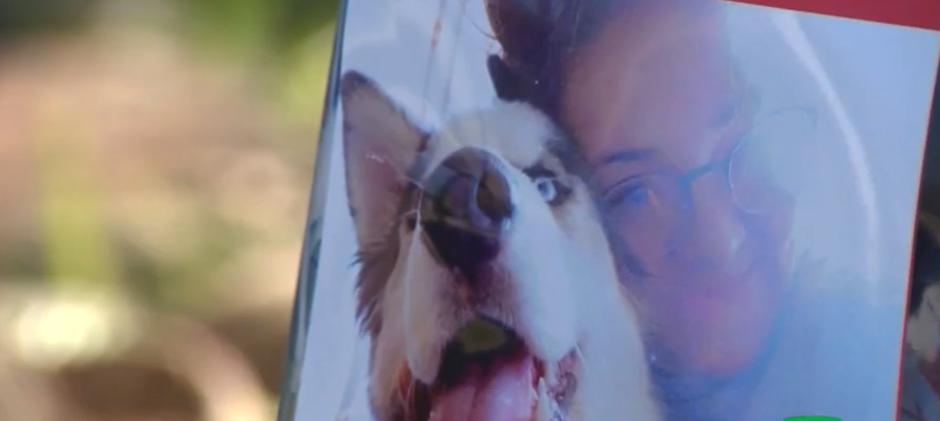 Lodi, CA – A family's beloved dog is dead after he was repeatedly tased and dragged by Lodi police officers on the afternoon of January 24. His name was Enzo, and the two-year-old Husky was running free because a door was accidentally left unlatched at his home, allowing him to escape.
Video uploaded to social media captures Enzo's last moments alive…and the footage is brutal to watch. Enzo can be seen standing in the street when an officer approaches and discharges a taser gun. Enzo falls to his side, briefly regains his footing, and then falls over once again.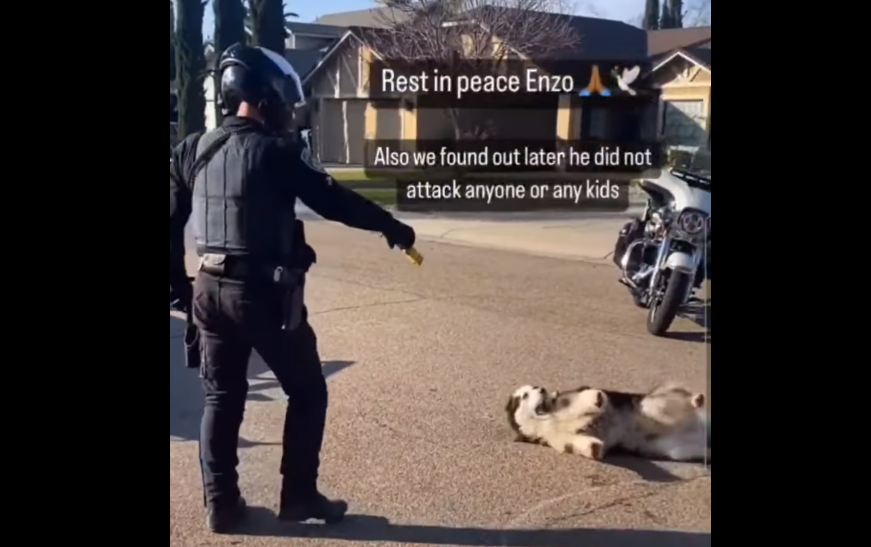 While Enzo is being tased, an animal control officer secures a catchpole snare around his neck.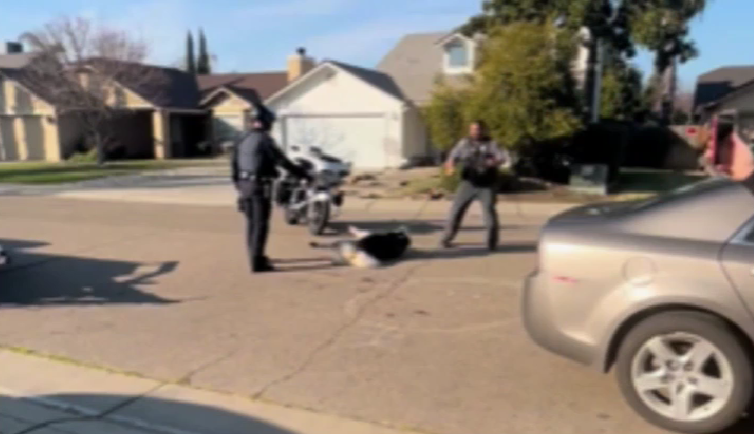 ---
The first officer CONTINUES to deploy the taser as Enzo is dragged across the pavement to an animal control vehicle.
---

The non-stop deployment of the taser, in addition to being dragged with a snare around his neck, causes Enzo to die. His last moments alive were filled with pain and terror.

On the video, a stunned witness can be heard questioning one of the officers about why Enzo was tased and dragged. The man can be heard stating that Enzo had been standing there with him and his girlfriend, allowing them to pet him before the police showed up.
Why was Enzo tased THE ENTIRE TIME that he was being dragged by his neck? Why was he tased at all if he had been standing there, letting strangers pet him? Why was he dragged by his neck?
Suffice it to say, Enzo's death has caused outrage among nearly everyone who has viewed the shocking video. And his owners, Anna Marquez, and Aline Galeno are rightfully devastated by Enzo's untimely and cruel demise.
The police claim that Enzo had been trying to attack kids before they were called; a claim that is disputed. In fact, it has been alleged that the claim of Enzo acting aggressively was a lie created to save the officers who were involved from being held accountable for Enzo's death.
The individuals identified as being involved in Enzo's death are Officers Timothy Ivey, Chris Delgado, and animal control officer Jordan Kranich.
If you are appalled by this incident and want these officers to be held accountable for Enzo's death, please add your name to the petition today! We need your support to show officials that Enzo's life mattered.
We the undersigned demand that the Lodi Police Department conduct a full investigation into this deadly incident. We demand that the body cam footage be released and that the statement from whoever was allegedly frightened of Enzo be made public. If the investigation shows that these officers were in the wrong, as it appears they were, we want them to be held accountable for this dog's death. Officers who abuse their power should not be allowed to continue being part of law enforcement.
Video footage of Enzo's last moments alive can be viewed to the right side of this petition if you are viewing from a computer. It is difficult to watch, especially knowing the devastating outcome.
(All images via screengrab from news agencies/Facebook)
Individuals are presumed innocent until found guilty in a court of law. Animal Victory relies upon the authorities and the court system to determine guilt or innocence.
News
Family's Dog Tased And Dragged To Death By Police After He Accidentally Escaped From His Home
21,387
signatures = 107% of goal
21,387
Linda Werner
Fired from jobs, major compensation to owners of Enzo, prison time of at least 5 years. Positive these people of authority have lied before and enjoyed every moment of abuse they handed out. This is one of the reasons people do not trust police or other authority figures. Set an example and punish severely, Enzo could have been a person.
Sep 23, 2023
21,386
Jessica Dockter
Sep 23, 2023
21,385
Sally Wood
Shocking incompetance and dereliction of duty. They are not fit to be on the force, just pathetic spinless abusers
Sep 23, 2023
21,384
Nina Carey
Sep 16, 2023
21,383
Loretta Cuesta
Sep 16, 2023
21,382
karen Wible
Sep 12, 2023
21,381
Ruth Tonkin
Please stop these mentally ill monsters that hurt animals!!!
Sep 12, 2023
21,380
Anonymous
These sadistic cops should be fired from the force and prosecuted for what the did to this poor animal. Then lied about it. If you can't trust the police who are supposed to protect all...who can you trust?
Sep 12, 2023
21,379
RUGGERO BONAZZA
Justice for Enzo
Sep 08, 2023
21,378
Krisha Ballard
This is exactly the type of law enforcement we want OFF THE FORCE! People with that mindset, don't belong policing our streets. We will never be able to trust our law enforcement if they keep killing our pets and family members! I am so disgusted! REFORM is needed so bad in the USA.
Sep 05, 2023
21,377
Tara McCann
Sep 04, 2023
21,376
Kay Kurz
We are relying on these IDIOT cops and I don't mean all cops to protect and serve and this is the things that we're witnessing! Our country is failing and so is our justice system!
Aug 29, 2023
21,375
Anonymous
Aug 27, 2023
21,374
Kimberly Bellefontaine
Aug 27, 2023
21,373
Lorraine Andersen
Aug 24, 2023
21,372
Susanne Kraft
Aug 23, 2023
21,371
Jenni Audette
Aug 23, 2023
21,370
Emily Richardson
Punish this officer by banning from service, take all his firearms, list him as animal killer with federal authorities, ban him from living with or being near all animals. Fine him and put in prison.
Aug 22, 2023
21,369
Dawn Chamberlain
Aug 21, 2023
21,368
Connie Scalfaro
Aug 20, 2023
21,367
sonia Ayala
EXIGIMOS JUSTICIA Y PENA DE MUERTE A ESTOS DEPREDADORES INHUMANOS, PSICOPATAS,ENFERMOS MENTALES Y ASESINOS DE NUESTROS ANIMALES INDEFENSOS, SON UN VERDADERO PELIGRO PARA LA SOCIEDAD ANIMAL Y EN GENERAL AL PLANETA
Aug 20, 2023
21,366
Anonymous
Aug 18, 2023
21,365
Amelia Aceves
Aug 15, 2023
21,364
Suzanne Wiegand
Aug 10, 2023
21,363
Allan Rubin
Police should be convicted of animal abuse, just as civilians are. However, the police should receive a stiffer sentence, aren't they supposed to know better? To protect and serve, does NOT mean kill a dog that attacked no one and the only crime it committed was escaping his yard which was his human's fault!! Punish all those officers to the fullest extent of the law!!!
Aug 09, 2023
21,362
Sheryl Myhan
Aug 08, 2023
21,361
Evelia Melendez
This is heart breaking
Aug 08, 2023
21,360
Megan Sherwood
Aug 02, 2023
21,359
Arlene Millar
Jul 27, 2023
21,358
Brianna Preblich
Jul 27, 2023
---