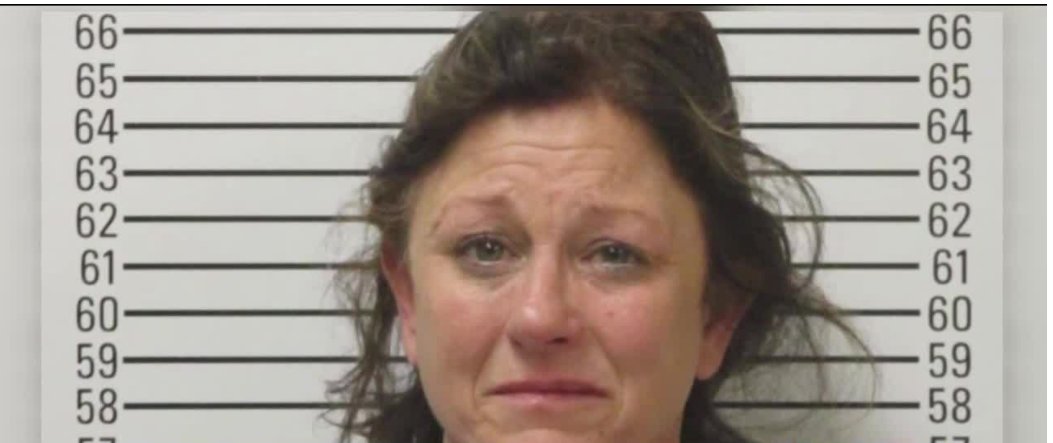 Stephens County, Oklahoma – An estimated 200 dogs were discovered at a Stephens County, Oklahoma, residence when police went to the home in mid-February to investigate a murder. Evidence at the home led Stephen's County Sheriff's Office deputies to arrest 49-year-old Karen Jean Prichard on suspicion of second-degree murder, and dismal conditions at her Marlow property prompted further investigation resulting in 113 counts of cruelty to animals.

As reported by the Marlow Review, deputies described conditions at the property as "deplorable." The Humane Society of Tulsa, which took in many of the dogs and puppies, stated, "Dogs were living in horrific conditions without basic needs. They have multiple medical issues that need immediate care."
This woman is also accused of murdering 31-year-old Ashley Nicole Anderson, whose body was found in a metal shipping container that was secured with a pad lock. Officers found the woman wrapped in a blue tarp which was secured with a rope, reports Yahoo News.
We need your support to help convince court officials that she deserves the maximum sentence for all of the charges that she is facing. Karen Jean Prichard must be put behind bars for as long as possible, AND be forbidden from owning any pets in the future!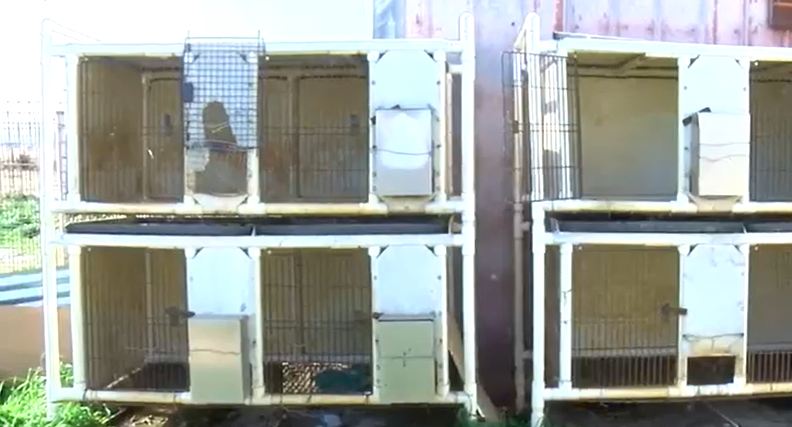 Dogs found at Karen Jean Prichard's property were stuck in filthy cages. Stephens County Humane Society board members told a local news agency that the conditions were "rancid." Board member Kelly Nelson said, "It was the worst thing I've ever seen in my life. We were called by the sheriff's department because of the number of animals and because they had no water, no food and no shelter."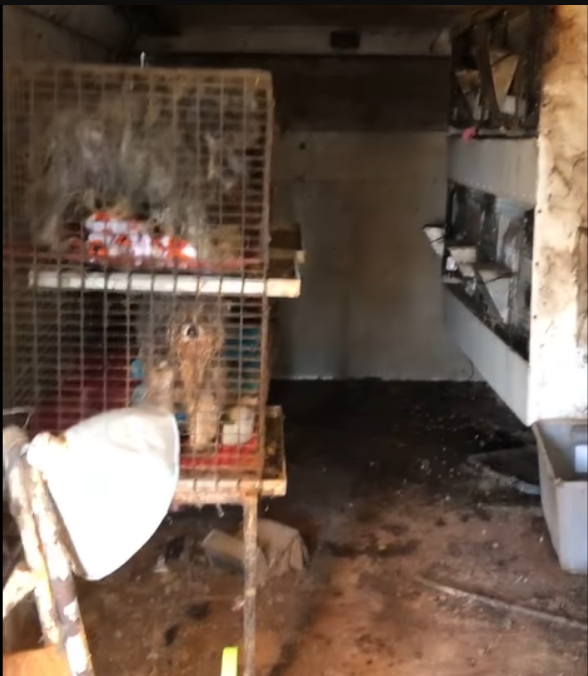 People who run puppy mills do it for the love of money and the welfare of the animals generating that money are of no concern. The amount of suffering this woman caused is staggering, and she needs to pay for the harm that she has inflicted!
Please add your name to the petition today. Karen Jean Prichard deserves the maximum sentence for her charges and a plea deal should not be considered!
News:
Please click here to find applicable Oklahoma laws.
Individuals are presumed innocent until proven guilty in a court of law.
Update April 2023: Animal Victory has learned that the defendant requested for the trial to be pushed from the April jury docket to the September 2023 jury docket. Request approved, call docket set for Aug. 9, 2023, at 9 am.
Update 3/30/2023: Animal Victory sent cover letter and petition to the judge.
Update 1/20/2023: Animal Victory has learned that the next entry is a docket call on 03/08/2023.  The jury trial began on January 17, 2023.
Update 9/22/2022: The defendant waived the right to a speedy trial. The case was then passed to a felony call docket. The bond is continued. The next court date for the docket to be called is December 7, 2022, at 9 a.m. 
Update 6/15/2022: Animal Victory has learned that Pritchard entered a not guilty plea at her last court appearance on 6/09/2022. The next hearing is scheduled to take place on 9/19/2022.
Update 6/03/2022: Animal Victory has learned that the defendant is set for formal arraignment for the charges brought against her on 6/09/2022.
Update 3/3/2022: Animal Victory has learned that court is continued to 5/9/2022.
Update 2/03/2021: Animal Victory has learned that the preliminary hearing conference has been continued to Feb. 9, 2022, at 9 a.m.
Update 8/8/2021: Animal Victory has learned that the preliminary hearing conference has been continued to Aug. 25, 2021 at 9 a.m. The defendant must appear with counsel or bond could be forfeited.
Update 6/10/2021: Animal Victory has sent 15,938 signatures and comments to the prosecuting attorney Cortnie Siess.
Update 4/26/2021: Animal Victory has learned that Karen Jean Prichard managed to post a $1 million dollar bond. The next scheduled court date is on 5/26/2021 at 9:00 a.m.
Update 4/23/21: Today Animal Victory sent 12,614 signatures and comments to prosecutor Cortnie Siess.
Animal-Protection-Laws-of-Oklahoma-2020-Animal-Legal-Defense-Fund
PRIOR SIGNATURES : 15969
Estimated 200 Dogs Found In Filthy Conditions At Puppy Mill When Police Investigated A Murder
3,164
signatures = 21% of goal
3,164
Sherrie Darce
Sep 30, 2023
3,163
Jasminka Brayton
Sep 10, 2023
3,162
Lori Basham
Karen needs to serve maximum penalty for the suffering of animal as well as the murder, then coverup of my niece Ashley. The fact she neglected animals, killed Ashley and locked her in a shed, then had audacity to use my nieces debit card is horrific. How dare she be on bond while animals recouperate and niece buried.
Sep 04, 2023
3,161
Anonymous
Aug 28, 2023
3,160
Ken Dalrymple
Get his predator off the streets Permanently. She has proven no respect for life and Zero boundaries. Predator here, Eliminate her chances at killing by leaving her inside forever.
Aug 27, 2023
3,159
Fatemeh Sadavi
Aug 24, 2023
3,158
Linda Bretzke
Aug 21, 2023
3,157
Barbara Kucala
Aug 20, 2023
3,156
NANCY WRIGHT
Aug 16, 2023
3,155
Helen Jeral
Put this POS in a cage!!!
Aug 15, 2023
3,154
Annette Arnold
Aug 14, 2023
3,153
Ingrid Frassl
Aug 10, 2023
3,152
Sheryl Myhan
Aug 09, 2023
3,151
palussiere estelle
Aug 07, 2023
3,150
Sylvie Delisle
Aug 06, 2023
3,149
Heidi Siebens
Aug 06, 2023
3,148
Lauren Tainsh
Aww.. What are the tears for in the mug shot? Sure you didnt have a concern doing what you were doing until you were caught..
Aug 05, 2023
3,147
Darren Mitton
Aug 05, 2023
3,146
Joanne M
Aug 03, 2023
3,145
Mary Sanfratello
Stop granting this defendant continuances. She's stalling and the court system is letting her. Let's get justice for those poor dogs (and the deceased woman).
Aug 03, 2023
3,144
Camy G
Aug 02, 2023
3,143
Cyndee Gannon
Aug 01, 2023
3,142
Kirsten Pekola
Jul 31, 2023
3,141
BettyAnn Benware
The animal abuse should be prosecuted as if no other charges are in existence. Please pursue maximum charges and maximum and consecutive sentences. Others must be aware that there are sure and serious penalties which will be served. Please see that this woman is prohibited from ever having control over an animal again.
Jul 29, 2023
3,140
Ashley Partridge
Jul 27, 2023
3,139
Lauri Moon
Jul 27, 2023
3,138
charles watt
Jul 27, 2023
3,137
Sandy Walls
Jul 24, 2023
3,136
Lynn Hanusa
Jul 24, 2023
3,135
Moyses Marcos
Jul 24, 2023
PRIOR SIGNATURES : 15969
---