'Dreadhead Cowboy' rode 20-Year-Old Horse To Exhaustion On Expressway During Rush Hour
Published: September 27, 2020 at 07:10 AM Author:
PENNY EIMS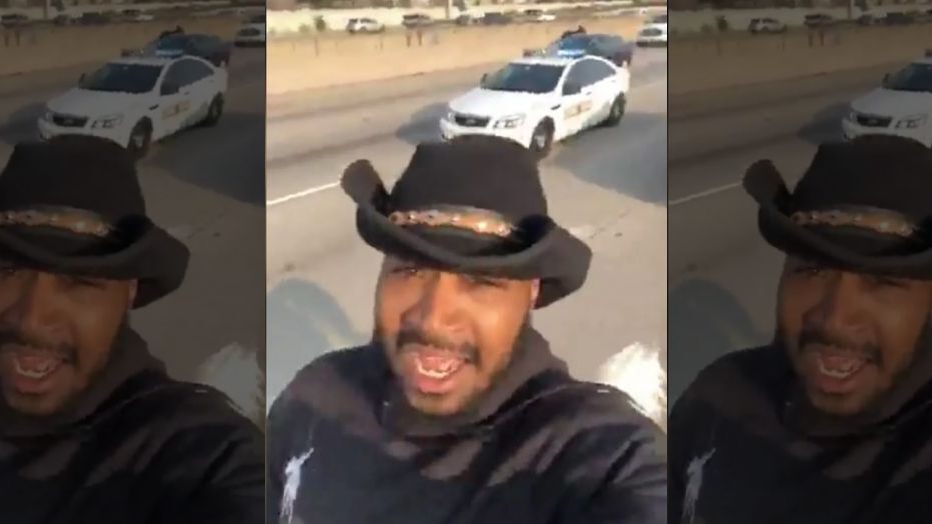 Chicago, Illinois – Adam Hollingsworth, Chicago's so-called "Dreadhead Cowboy," used a 20-year-old horse as a prop while staging a protest on the Dan Ryan Expressway during rush hour. The stunt, which went on for seven miles, left the senior horse so exhausted that she collapsed. Hollingsworth is facing felony animal cruelty charges because his horse, NuNu, was injured badly enough during the incident that it was initially believed that she would have to be euthanized.
This stunt is unacceptable and Hollingsworth needs to pay for the pain and suffering that he inflicted on this horse! Please sign this petition asking for Adam Hollingsworth to receive the maximum sentence for his felony aggravated animal cruelty charge!
Adam Hollingsworth chose to ride the 20-year-old horse, without oroper shoes, for seven agonizing miles on the expressway. By the time the publicity stunt was over, NuNu had collapsed on the pavement in utter exhaustion. Cook County Assistant State's Attorney Kevin Deboni described the horse's condition in a Fox 32 News piece, stating that she was, "overheated, dehydrated, bleeding from the hooves, and with eyes so dilated they resembled 'cartoon eyes.'"
Cook County prosecutors equated what Hollingsworth did to NuNu to forcing an 80-year-old woman run a full marathon.
Hollingsworth could have chosen a humane way to protest. He could have walked the Expressway on his own feet, but instead, he put an ill-fitting saddle on an old horse who wasn't fitted with proper shoes. Witnesses have stated that he whipped NuNu when she was too tired to go on, and he continued riding her until she fell to the ground in utter exhaustion.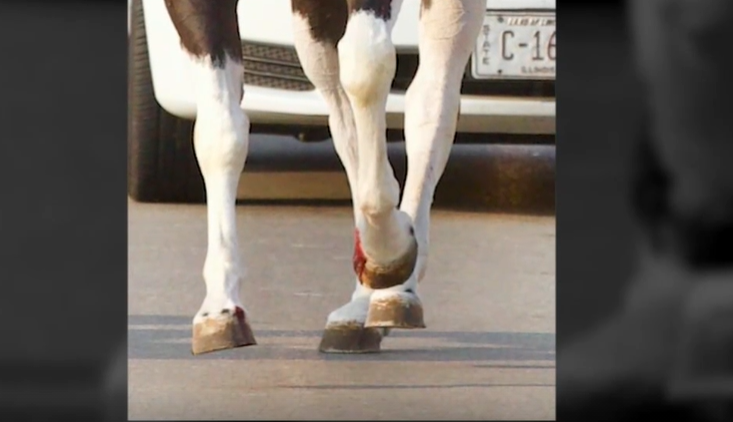 Animal Care workers initially believed that the ailing horse would not survive, but she is still alive and has been moved to an Illinois horse farm where she is recovering from the incident. Though she is reported to be out of critical condition, it has been stated that she was injured badly enough that she can never be ridden again.
Hollingsworth's behavior is unacceptable. Please sign the petition asking for maximum punishment for the felony aggravated animal cruelty charge, and an order for Hollingsworth to be prohibited from owning horses!
* Individuals are presumed innocent until proven guilty in a court of law.
News:
Final update: Hollingsworth was sentenced to one year in jail and that time was served while he awaited trial. We thank everyone who signed the petition and helped Animal Victory fight for justice.
Update 12/01/2021: Animal Victory has learned that Hollingsworth was held in contempt of court on 11/30/2021 and ordered into custody for 90 days. Judge Michael McHale signed the contempt order after "disruptions" from Hollingsworth. In the order, the Judge wrote, "within minutes, this defendant continued to interrupt this court and also gave evasive answers to very direct questions in an effort to distract, confuse and delay the proceedings as he has done regularly throughout these proceedings." The next court date is scheduled to happen in late January.
Update 10/26/2021: Animal Victory has learned that court has been pushed to 10/27/2021.
Update 08/26/2021: Animal Victory has learned that the next court date is scheduled for Aug. 27, 2021.
Update 08/12/2021: Animal Victory has learned that court is scheduled for 8/13/2021.
Update 7/9/2021: Animal Victory has learned that court is rescheduled for 7/14/2021.
Update 6/14/2021: AV sent 22,938 signatures to state attorney Kim Foxx.
Update 3/10/2021:  While in court, Adam Hollingsworth was reprimanded by Judge McHale for posting false information on Facebook in an apparent attempt to deceive and taunt court officials. Hollingsworth posted information indicating that he had violated the terms of his bond. The judge told Hollingsworth that he was "wasting court resources," and warned him that he could be held in contempt of court if he continued to do so. Animal Victory will update the petition when we have the next court date.
Update 12/10/2020: Animal Victory has learned that Cook County Judge Michael McHale has ordered Hollingsworth to turn over his horses to the Cook County Sheriff's Office. The judge is prohibiting Hollingsworth from having contact with his horses until his criminal trial is concluded. NuNu, the horse injured in Hollingsworth's publicity stunt, is still recovering from injuries, but she is expected to survive. Hollingsworth is due in court on Jan. 14.
Update 10.2.2020: Read our letter to State Attorney Kim Foxx here
Animal-Protection-Laws-of-Illinois-2020-Animal-Legal-Defense-Fund
Prior Signatures 22,950