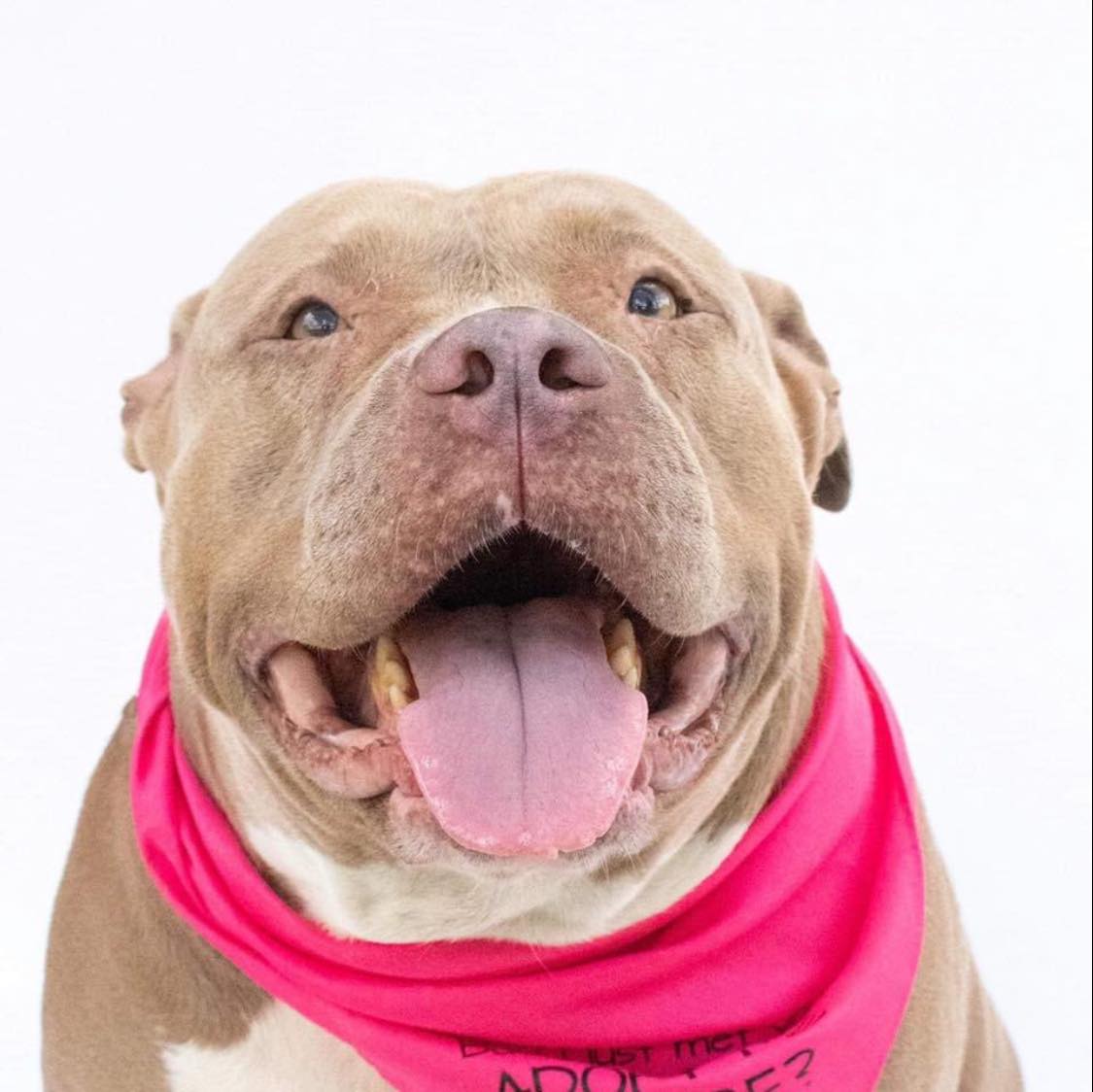 Vernon, FL – In early August, a beautiful dog named Nala went home with a couple who intended to offer her a forever home. The pit bull with the huge smile had been with the Furever Bully Love Rescue for over two years, and those who knew her were excited for her future.
Excitement turned to dismay later the same month when the people hoping to adopt her stopped responding to the rescue organization's requests for updates, and then, the rescue stated that the couple began to make up stories about what had happened to Nala.
The rescue explained: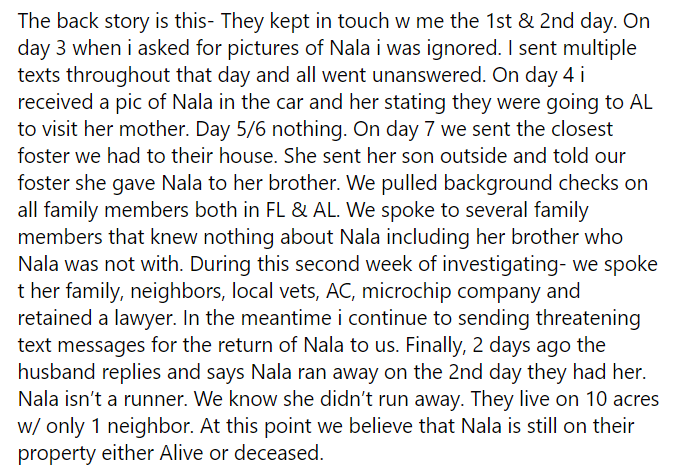 In desperation, the rescue group offered a huge, $5,000 reward for Nala's safe return. But there was no amount of money that was going to bring the dog with the "hippo smile" back. She was already dead.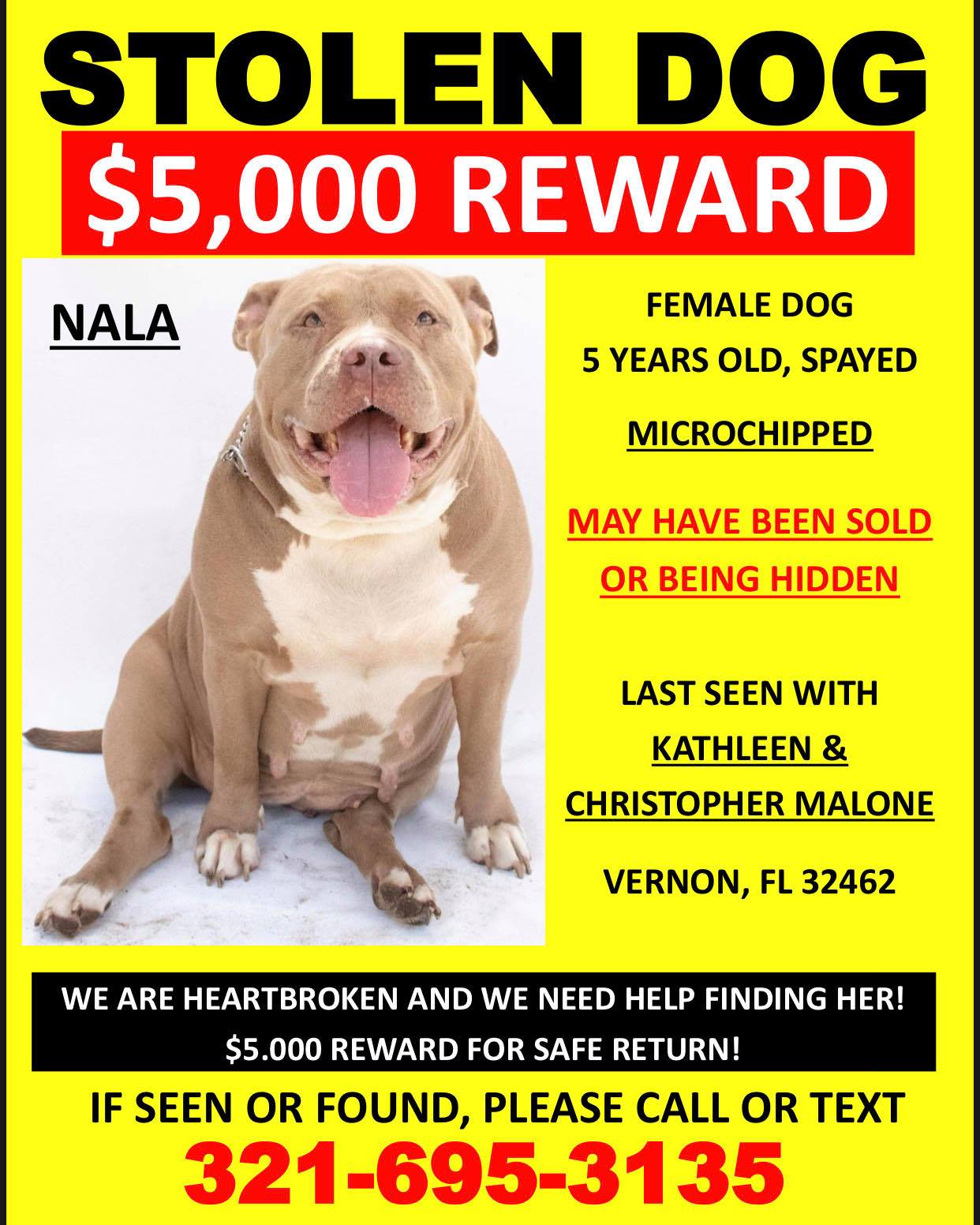 The devastated rescue group shared the news on social media Friday afternoon:
Nala update- The dreaded post that no parent ever wants to make. Part of Nala's body was recovered today. She's been deceased since 8/6 (the day after the Malone's started their adoption trial).
I'm so sorry we failed to do our job and keep you safe as we promised u 2.5 years ago when we rescued you. I'm sorry your last moments u felt scared instead of loved. I'm sorry we weren't there to hold your paw as you crossed over this life. Most of all I'm sorry there is monsters in this world that have no regard for life. YOUR LIFE MATTERED. And your life will continue to matter to us.
The rescue agency tells followers that they did their part. They have stated that they had the couple complete an application and they performed a home check, veterinary check and background check. But they claim that there were no red flags to alert them to the danger that Nala would be in. Now the group wants justice for Nala.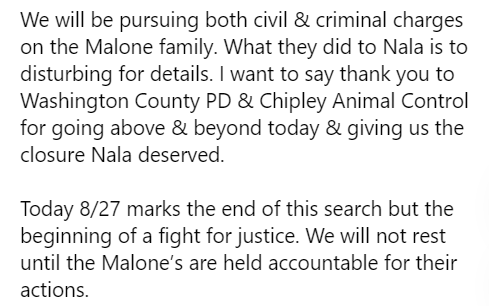 Nearly every reputable rescue agency operates in the same way – if something isn't working out with an adopter, they must contact the rescue group and either determine a way to remedy the situation or return the dog to the rescue group. If something was not going well with Nala, the family should have contacted the rescue agency – not hidden the truth.
On Saturday night, the rescue agency posted an update about what is known, and what is still under investigation.
We have a solid civil case in which an attorney has already been retained for. We are in hopes of a criminal conviction for the Malone's. In order for this to happen we NEED for the caller who gave me detailed information to come forward -or- any other witnesses. We are still offering the 5k reward.
We realize u want answers as much as we do but unfortunately we cant provide u with the answer to WHY bc we honestly don't know why only that person knows why they do things. The Malone's still stick w the lie that Nala ran away. The only thing we know for certain is that she was shot & remains were found on their property.
Furever Bully Love Rescue hopes to see this couple face charges, and if the investigation supports the rescue group's allegations, then Animal Victory does too. Please add your name to this petition, which will be presented to Washington County, Florida, law enforcement, and commissioners, with a request for charges as warranted by the results of a complete investigation.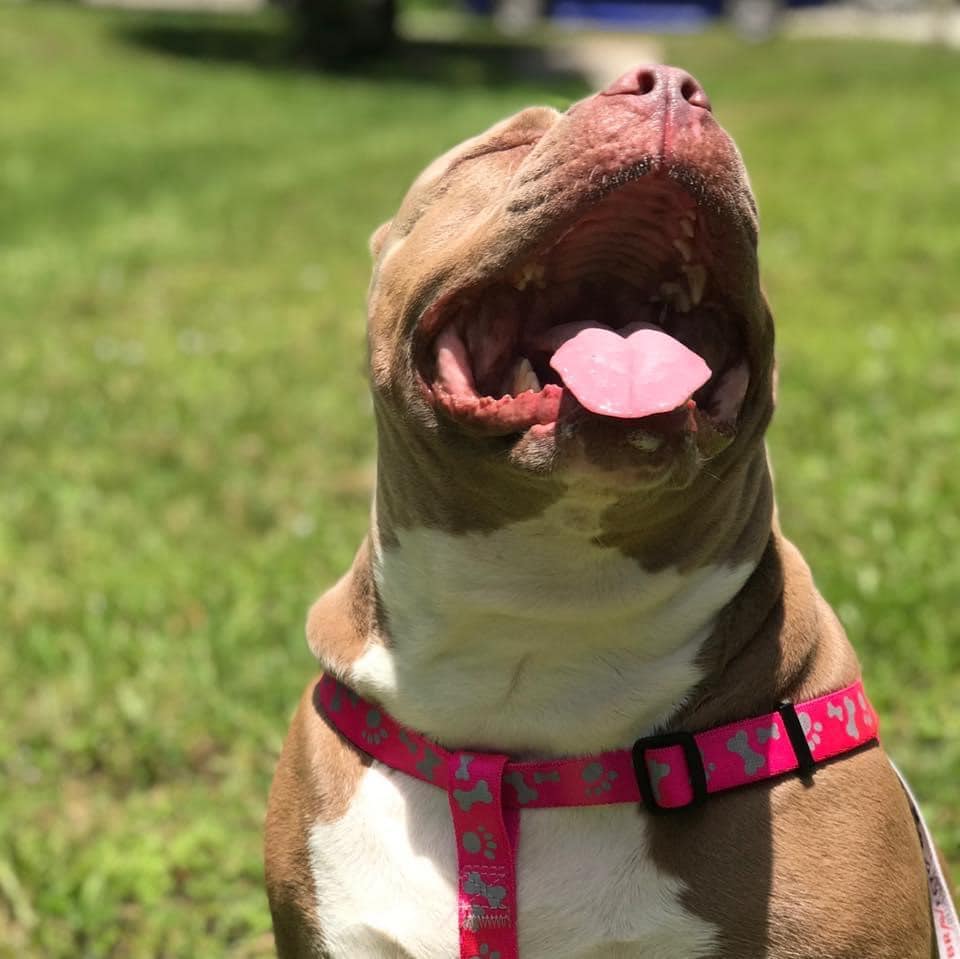 Update 7/25/2022: Animal Victory is moving this petition to the past for the time being. We have learned that the investigation has been closed because the remains that were found are not Nala's. Until her body is found, the police have halted the investigation. When and if the case is reopened, we will make this petition active once again. We thank everyone who added their name to the petition and helped us fight for justice. 
Update 12/16/2021: Animal Victory is still waiting for an update on the investigation and will update the petition as soon as we have more information to share.  Today Animal Victory has sent 81,978 signatures to the Washington County Sheriff's Office.
Update: 9/13/2021: Animal Victory has sent 77,010 signatures along with our petition letter to Washington County Sheriff's Office and Washington County Animal Control)
Individuals are presumed innocent until proven guilty in a court of law. Animal Victory relies upon the authorities and the court system to determine guilt or innocence.
Petition Letter (Directed to Washington County Sheriff's Office and Washington County Animal Control)
Animal-Protection-Laws-of-Florida-2020-Animal-Legal-Defense-Fund
Dog Was Adopted And Dead A Day Later, Now The Devastated Rescue Group Wants Justice!
83,129
signatures = 104% of goal
83,129
Jasna Lasic
Jul 30, 2022
83,128
Isabel Hernandez
As a fellow dog mother this brakes my heart
Jul 30, 2022
83,127
Joy Toney
Nala NEVER deserved the ending she got! :'C
Jul 25, 2022
83,126
Holly Jones
Jul 24, 2022
83,125
Lars Rudnick
Jul 21, 2022
83,124
Anonymous
Jul 21, 2022
83,123
Danielle Spencer
Jul 21, 2022
83,122
Mark Berthold
Bring justice to Nala!
Jul 20, 2022
83,121
Cheryl Widdiss
We must prosecute anyone who hurts or kills our precious pets! They're innocents who depend on us for love and care. NALA was murdered. Those guilty should face felony charges!
Jul 19, 2022
83,120
Giselle Moises
Jul 16, 2022
83,119
kingsley clary
Jul 15, 2022
83,118
Petie Stewart
This is fkng sickening. They adopted her to fkin klll her? GET THEM !!!GET THEM EVER HOW U HAVE TO .THEY MUST PAY IN A UNGODLY WAY. Don't STOP THEY NEED TO HANG
Jul 15, 2022
83,117
Anonymous
Jul 14, 2022
83,116
Lacee Mikkelsen
Jul 13, 2022
83,115
Kim Shepherd
Jul 11, 2022
83,114
Georgia Port
Please find justice for this innocent precious victim that only wanted love in return.
Jul 09, 2022
83,113
Anonymous
Jul 06, 2022
83,112
Lisa Stoneham
Jul 05, 2022
83,111
Anonymous
Jul 05, 2022
83,110
Jessica Bradley
Jul 04, 2022
83,109
Stephanie Smith
Jul 03, 2022
83,108
Kristy Jochum
Do we need to start doing background checks on animal adoptions
Jul 02, 2022
83,107
FUReVeR Fraud
Hey Penny, We've tried several times to ask you to remove this story. We've explained that the libel of this type is a criminal offense - in North Carolina where Animal Victory is, and in Florida, where the Malone's live. Please forward this information to Svetlana & Alexa. Nala ran away and the rescue lied.
Jun 28, 2022
83,106
Anonymous
Jun 28, 2022
83,105
Anonymous
Jun 27, 2022
83,104
Yesenia Ramirez
Jun 27, 2022
83,103
Naomi Charlotte Marquardt penzato
Please don't let people get away with such cruelty. Make sure they are charged and Justice is served.
Jun 27, 2022
83,102
Alex Lloyd
Jun 26, 2022
83,101
Anonymous
Jun 26, 2022
83,100
Anonymous
Jun 26, 2022
---