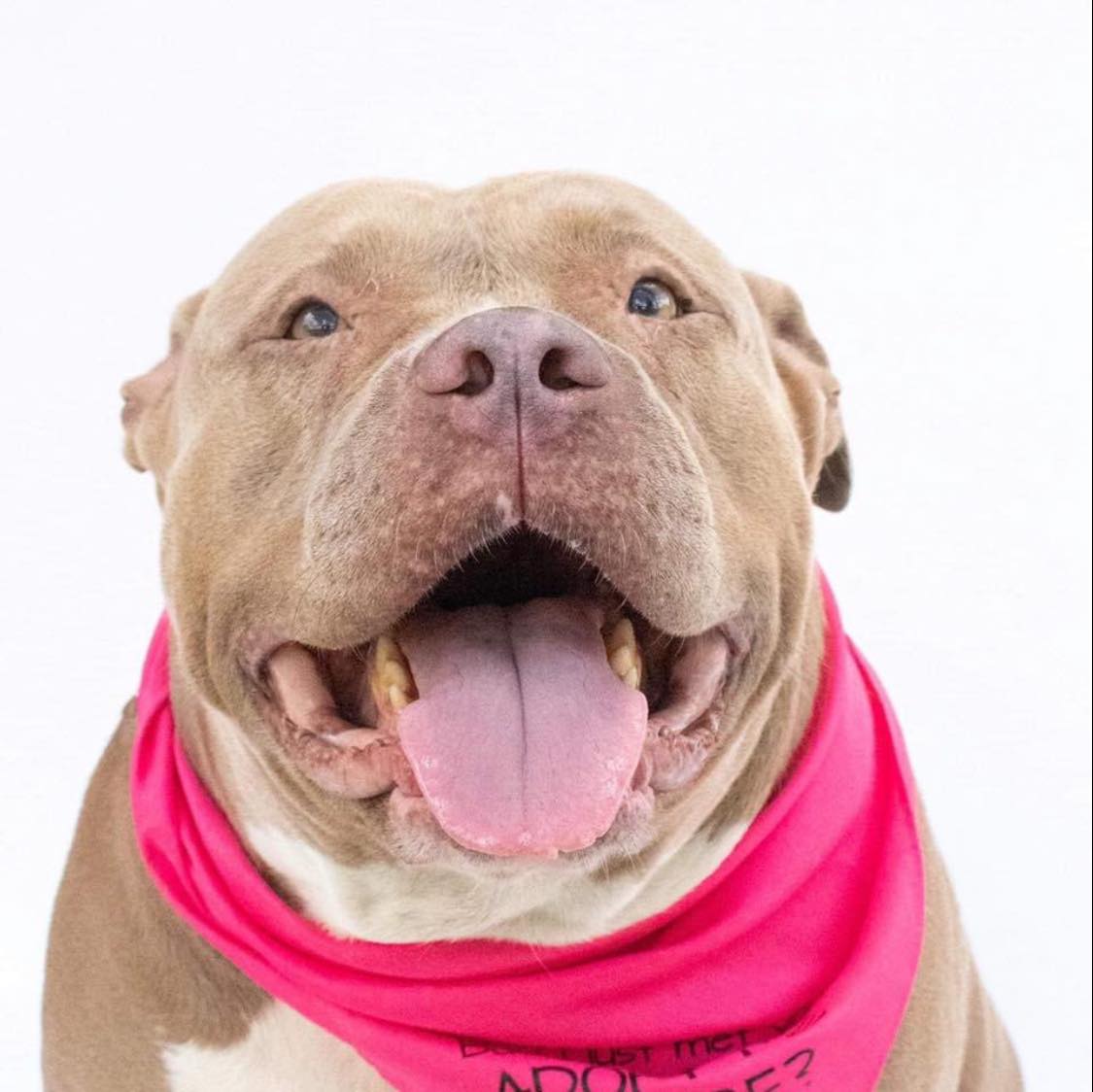 Vernon, FL – In early August, a beautiful dog named Nala went home with a couple who intended to offer her a forever home. The pit bull with the huge smile had been with the Furever Bully Love Rescue for over two years, and those who knew her were excited for her future.
Excitement turned to dismay later the same month when the people hoping to adopt her stopped responding to the rescue organization's requests for updates, and then, the rescue stated that the couple began to make up stories about what had happened to Nala.
The rescue explained: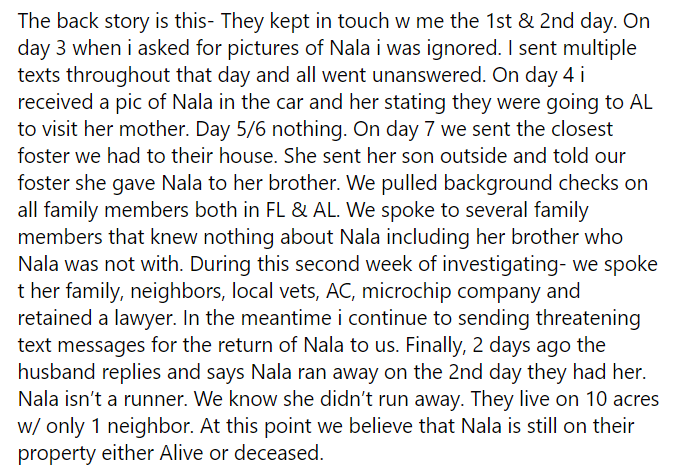 In desperation, the rescue group offered a huge, $5,000 reward for Nala's safe return. But there was no amount of money that was going to bring the dog with the "hippo smile" back. She was already dead.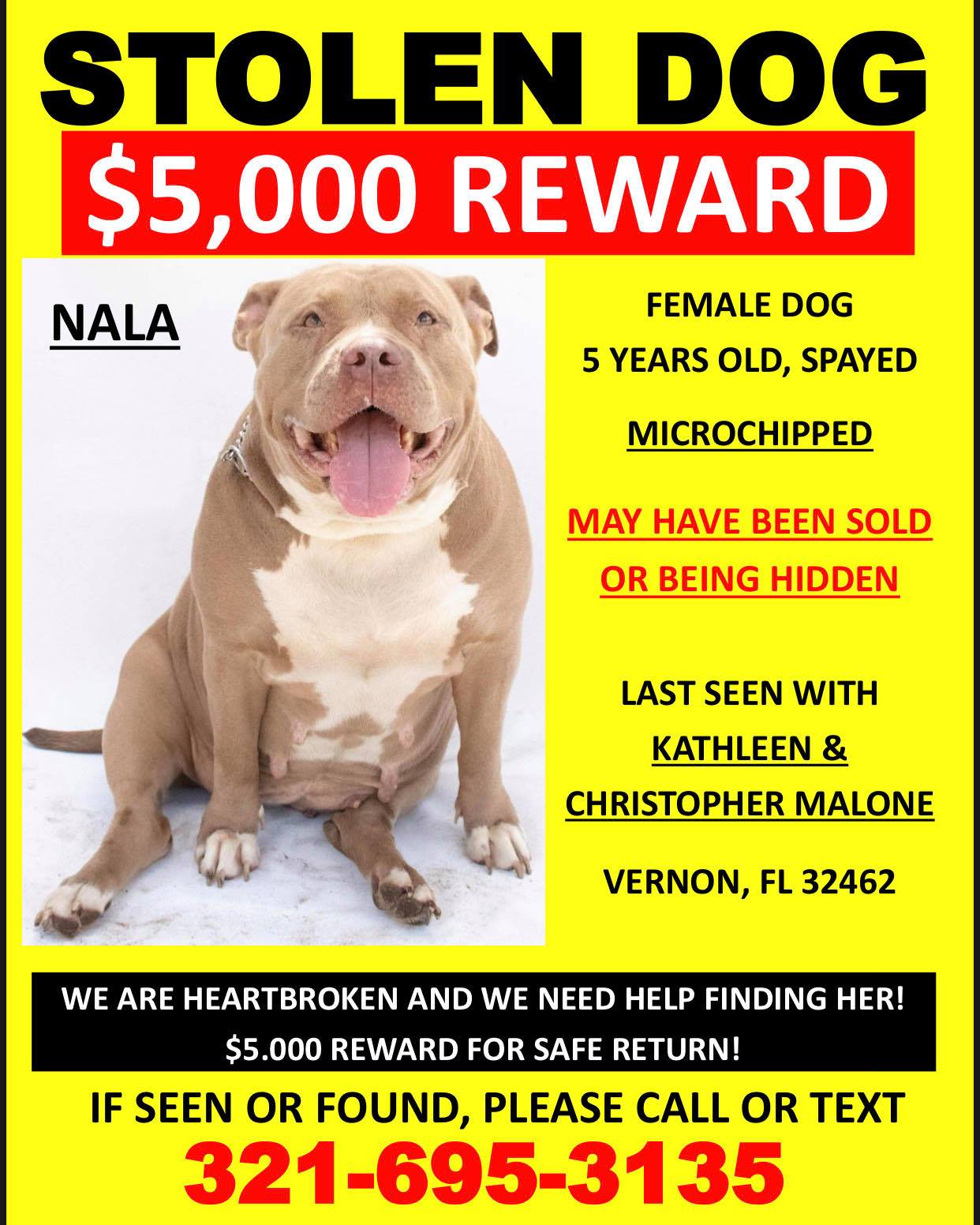 The devastated rescue group shared the news on social media Friday afternoon:
Nala update- The dreaded post that no parent ever wants to make. Part of Nala's body was recovered today. She's been deceased since 8/6 (the day after the Malone's started their adoption trial).
I'm so sorry we failed to do our job and keep you safe as we promised u 2.5 years ago when we rescued you. I'm sorry your last moments u felt scared instead of loved. I'm sorry we weren't there to hold your paw as you crossed over this life. Most of all I'm sorry there is monsters in this world that have no regard for life. YOUR LIFE MATTERED. And your life will continue to matter to us.
The rescue agency tells followers that they did their part. They have stated that they had the couple complete an application and they performed a home check, veterinary check and background check. But they claim that there were no red flags to alert them to the danger that Nala would be in. Now the group wants justice for Nala.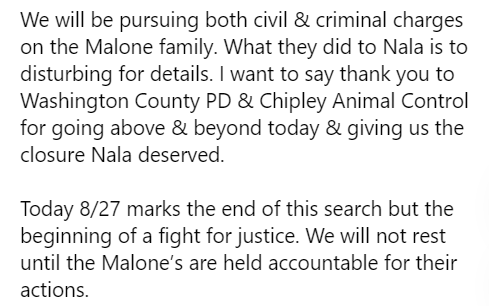 Nearly every reputable rescue agency operates in the same way – if something isn't working out with an adopter, they must contact the rescue group and either determine a way to remedy the situation, or return the dog to the rescue group. If something was not going well with Nala, the family should have contacted the rescue agency – not hidden the truth.
On Saturday night, the rescue agency posted an update about what is known, and what is still under investigation.
We have a solid civil case in which an attorney has already been retained for. We are in hopes of a criminal conviction for the Malone's. In order for this to happen we NEED for the caller who gave me detailed information to come forward -or- any other witnesses. We are still offering the 5k reward.
We realize u want answers as much as we do but unfortunately we cant provide u with the answer to WHY bc we honestly don't know why only that person knows why they do things. The Malone's still stick w the lie that Nala ran away. The only thing we know for certain is that she was shot & remains were found on their property.
Furever Bully Love Rescue hopes to see this couple face charges, and if the investigation supports the rescue group's allegations, then Animal Victory does too. Please add your name to this petition, which will be presented to the Washington County, Florida, law enforcement, and commissioners, with a request for charges as warranted by the results of a complete investigation.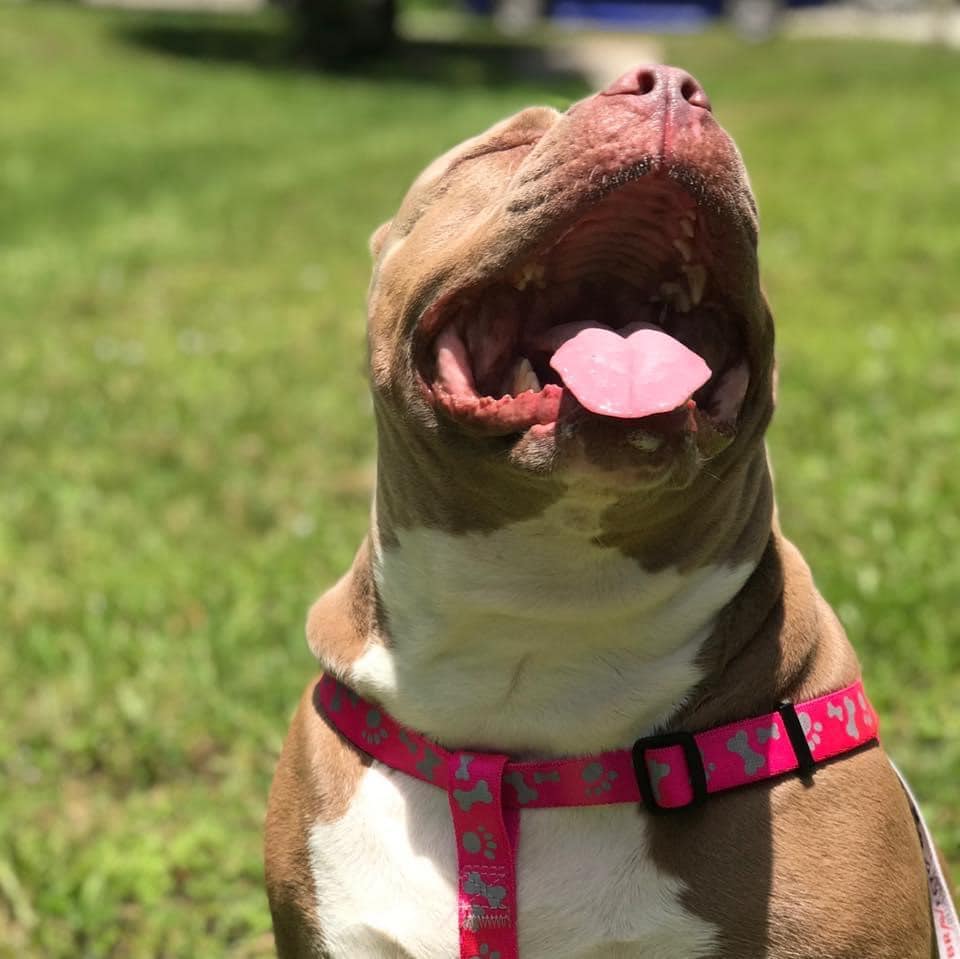 There is strength in numbers and your support is needed today!
Individuals are presumed innocent until proven guilty in a court of law.
Petition Letter (Directed to Washington County Sheriff's Office and Washington County Animal Control)
Dog Was Adopted And Dead A Day Later, Now The Devastated Rescue Group Wants Justice!
79,471
signatures = 99% of goal
79,471
Anonymous
Justice For Nala
Sep 20, 2021
79,470
Thomas Monroe
Rest In Peace sweet girl I hope justice will be served you didn't deserve this
Sep 20, 2021
79,469
Vincent Soy
Sep 20, 2021
79,468
Noah Bartholomy
Sep 20, 2021
79,467
April Guaracha
These people need to kept in prison what kind of sick individuals can do this to a dog obviously there is something wrong with them they need to be put into prison not no mental institution
Sep 20, 2021
79,466
Dakota Rowe
Sep 20, 2021
79,465
Anonymous
This is just pure disgusting. I hope they rot in hell and hope they get pushed to the most severe. They don't deserve any pity for their actions. Disgusting family.
Sep 20, 2021
79,464
Anonymous
Sep 20, 2021
79,463
Lisa Randall
Sep 20, 2021
79,462
Victoria Riley
Sep 20, 2021
79,461
virginia grieve
Sep 20, 2021
79,460
Anonymous
Sep 20, 2021
79,459
Sarah Powell
This poor sweet girl! Justice for Nala!
Sep 20, 2021
79,458
Damien Mazurek
Animals don't deserve these types of things to happen to them. They are all little angels that don't understand what these things mean.
Sep 20, 2021
79,457
Janet Holm
Sep 20, 2021
79,456
Hades P
People who purposely hurt pitbulls disgust me. They're such kind dogs.
Sep 20, 2021
79,455
Jarrett Holst
Sep 20, 2021
79,454
Anonymous
Justice for Nala
Sep 20, 2021
79,453
Jennie Devane
Sep 20, 2021
79,452
Madisson Imbeault
This is beyond messed up. Hope they rot in hell
Sep 20, 2021
79,451
Adam McQuiston
Sep 20, 2021
79,450
Anonymous
Sep 20, 2021
79,449
Robin O'Toole
The country is watching how Florida treats people who brutalized a poor animal this way
Sep 20, 2021
79,448
Alleah Tercher
I hope justice is found for that beautiful creature. The people that did this are disgusting.
Sep 20, 2021
79,447
Maddy Hill
They deserve to rot.
Sep 20, 2021
79,446
Alexis Skaggs
Sep 20, 2021
79,445
Brian Moode
I hope the malones rott in hell
Sep 20, 2021
79,444
Katie Frost
Sep 20, 2021
79,443
Helen Dekhitiar
hell on those people who did that to that beautiful dog, let you have the same ending as she is.
Sep 20, 2021
79,442
Danielle Lombardi
Sep 20, 2021
---