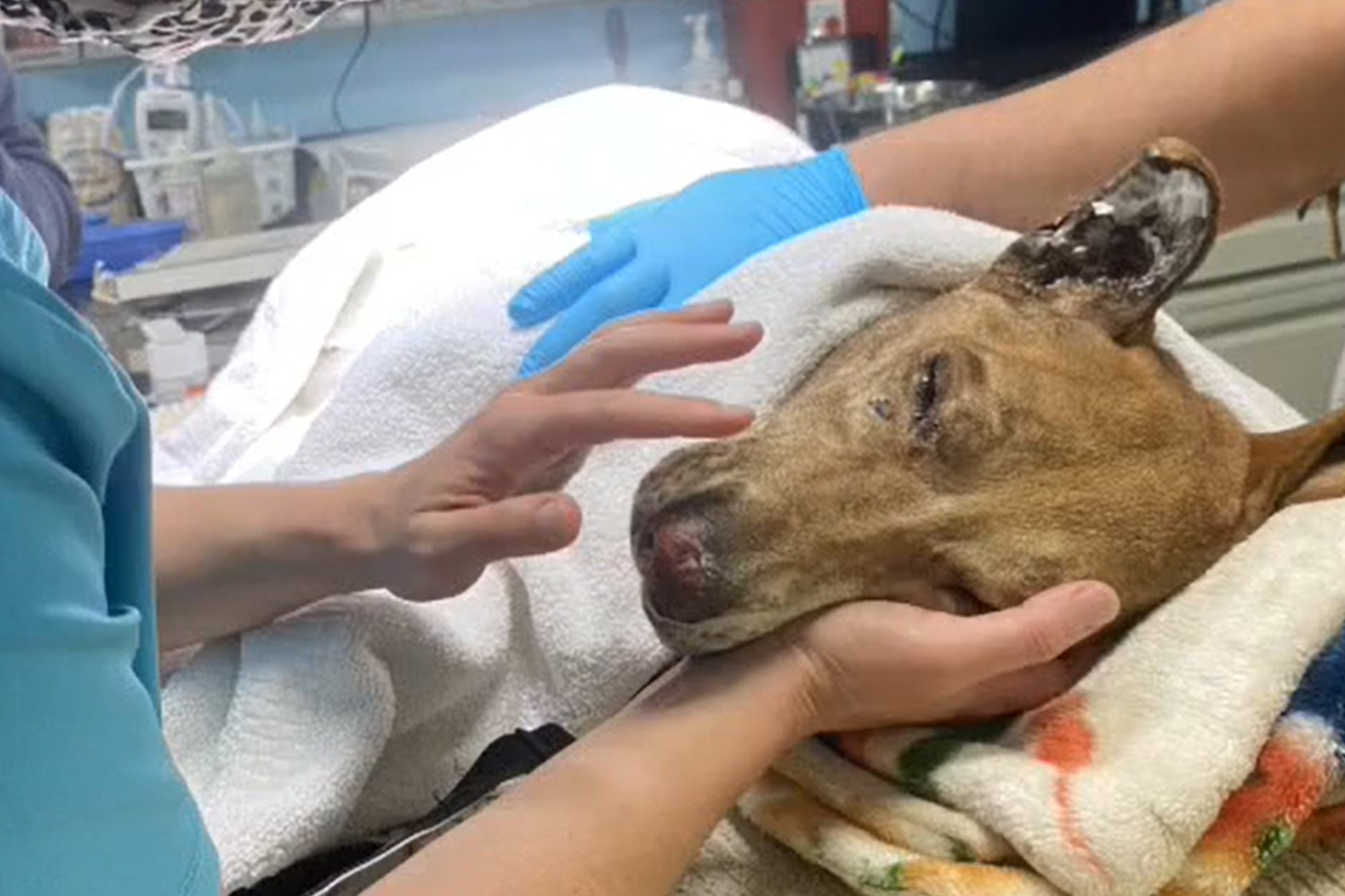 Los Angeles, California – On August 22, a seven-year-old dog named Hennessy was hung from a fence, doused with an accelerant, and set on fire. The authorities have identified 24-year-old Brandon Jerold Smith, the dog's owner, as the killer.
Hennessy's death was not quick, or painless. After spending two days at an animal shelter, A Purposeful Rescue took the grievously injured corgi mix under its wing. Though she received round-the-clock care from an emergency veterinarian, her widespread burns proved to be fatal.
Carrie-Lynn Neales, a volunteer with the rescue group, said, "I've never witnessed something that horrific."
The rescuers who tried to save her life had dubbed the injured dog, Eponine, from the strong female character in the play, Les Miserable. They had hoped she would have the strength to recover from her severe injuries, but their hope was not enough to save her. On September 8, the rescue group vowed to fight for justice, writing:
#justiceforeponine who we now know was named Hennesy.
We will NOT stop fighting for her and other innocent animals who suffer at the hands of individuals like this.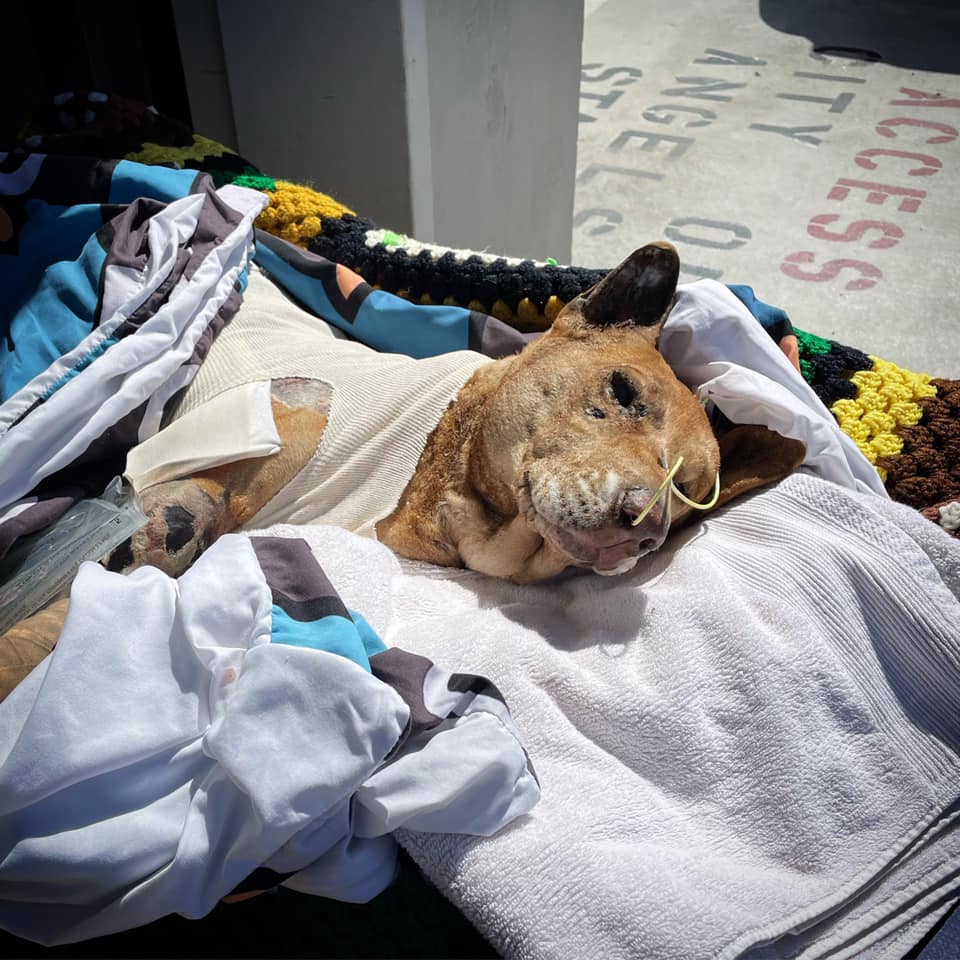 Before Hennessy died, the rescue group explained that she had suffered burns on literally ever portion of her body. They said, "Every single part. Inside her mouth, ears, paws, stomach, back, neck, nose." Suffice to say, this dog suffered greatly before death released her from the unimaginable pain.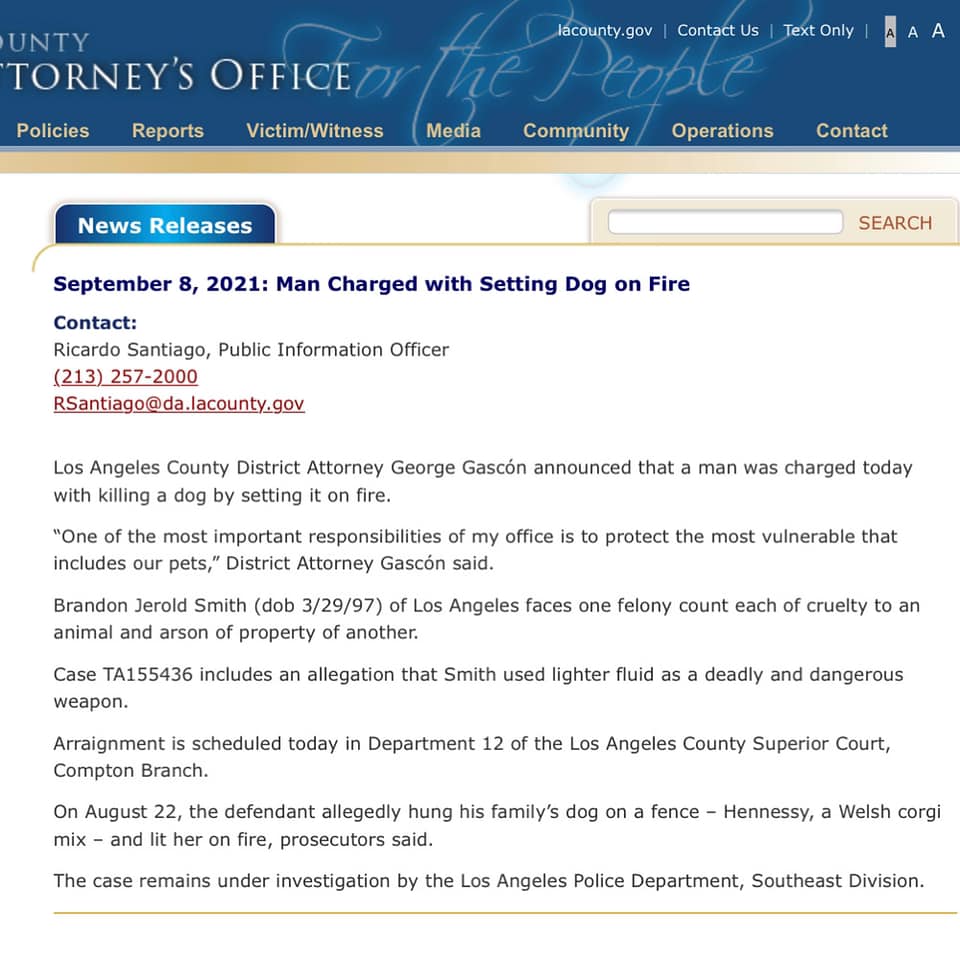 Smith's ex-girlfriend, Serena Prentice, is horrified and disgusted by what happened, but she isn't completely surprised. She alleges that Smith was burning birds alive this summer, and posting video of the cruel acts to social media.
The heartbroken woman expressed sorrow over Smith's act of cruelty to their pet:
"I never thought that he'd do that to her, he would hurt me, but why her?"
Brandon Jerold Smith was arrested and he is facing one felony count each for cruelty to animals and arson of property of another; we need your signature on the petition to help convince the court that this man deserves the maximum sentence for his charges. Hennessy was an innocent victim who did not deserve the cruelty which she was subjected to.
*Individuals are presumed innocent until being found guilty in a court of law.
News:
Update 11/3/2021: Animal Victory has learned that the next scheduled court appearance is on October 6, 2022, at 8:30 a.m. at the Compton Courthouse. This is not a typo. The court date is in October 2022. At this time Animal Victory has sent 23,985 signatures and comments to DA Daniel Gerbo. Please continue to sign as we work on the case.
Dog Hung From Fence, Doused In Accelerant, Set On Fire; Punish Her Killer
24,634
signatures = 123% of goal
24,634
Dan Perdios
Jan 21, 2022
24,633
carol micek
Not only is this evil to do this to a poor animal but if not stopped they may do this to a child.
Jan 21, 2022
24,632
Ricardo elias gomez
Jan 20, 2022
24,631
Charlotte Anne Katherine Winterhalder
Beyond Evil and cruel.Should be locked up for life and still that is not punishment enough!!!for life!!!!!!
Jan 20, 2022
24,630
Kimberly Lehnhardt
Jan 20, 2022
24,629
Sharon Hartle
Jan 20, 2022
24,628
Christina Webster
Jan 20, 2022
24,627
Michael Taylor
Jan 20, 2022
24,626
Caroline Van Haeften
Brandon Jerold Smith is a danger to society, his sadistic, ego driven character must be locked up forever! This poor dog, how cruel, callous can you get? A evil man who tortured birds for social media! Brandon Jerold Smith will do this again & again & again if he is not locked up!
Jan 19, 2022
24,625
Caryn Mizenko
Jan 19, 2022
24,624
Leonardo Reyes Jr
Hang the son of a bitch from the ceiling by his balls!!!!!
Jan 19, 2022
24,623
Cassandra Pecaro
To JAIL, he's a Monster
Jan 19, 2022
24,622
Denise Gustafson
Jan 18, 2022
24,621
Connie Mogull
This person is a monster and well on his way to being a killer of humans, possibly a serial killer. The cruel mind of this person cannot be accepted by anyone--he must receive the utmostpunishment and isolation from decent people and innocent animals.
Jan 17, 2022
24,620
Diane Jenkins
Jan 17, 2022
24,619
Alejandra Sanchez
Do the same to him, burn him in hell.
Jan 16, 2022
24,618
Michely Micheloni
Jan 15, 2022
24,617
Anonymous
Public shaming of these criminals should be posted and mandated as a background check by EVERY EMPLOYER, shelters, rescues for background checks.
Jan 15, 2022
24,616
Florence fassot
Jan 15, 2022
24,615
Steven Vandenabeele
Jan 13, 2022
24,614
Ann Freeman
He belongs in prison for a long time for such sadistic, barbaric cruelty, imagine what he's capable of doing to a person, a child
Jan 13, 2022
24,613
Tanya Barsoumian
Jan 13, 2022
24,612
Weatherby Soraya
Jan 12, 2022
24,611
Cindy Lapan
Jan 12, 2022
24,610
Dawn Skowronski
Jan 12, 2022
24,609
Tom Williams
sad
Jan 12, 2022
24,608
Anonymous
Jan 12, 2022
24,607
Ann Firsova
Jan 12, 2022
24,606
Harry Anchan
May karma make this loser suffer forever.
Jan 11, 2022
24,605
Rose Sanchez
Justice!!!
Jan 11, 2022
---