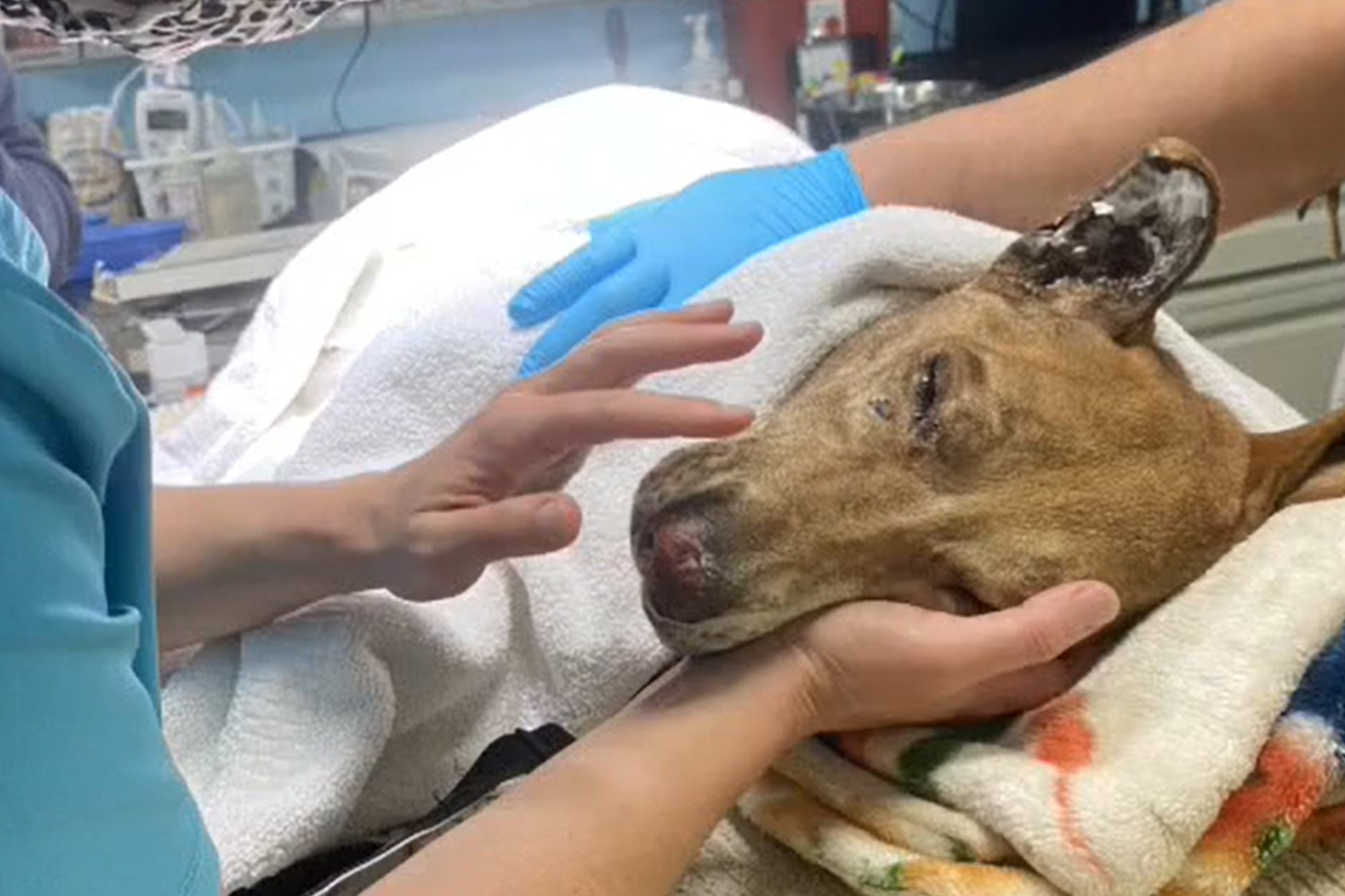 Los Angeles, California – On August 22, a seven-year-old dog named Hennessy was hung from a fence, doused with an accelerant, and set on fire. The authorities have identified 24-year-old Brandon Jerold Smith, the dog's owner, as the killer.
Hennessy's death was not quick, or painless. After spending two days at an animal shelter, A Purposeful Rescue took the grievously injured corgi mix under its wing. Though she received round-the-clock care from an emergency veterinarian, her widespread burns proved to be fatal.
Carrie-Lynn Neales, a volunteer with the rescue group, said, "I've never witnessed something that horrific."
The rescuers who tried to save her life had dubbed the injured dog, Eponine, from the strong female character in the play, Les Miserable. They had hoped she would have the strength to recover from her severe injuries, but their hope was not enough to save her. On September 8, the rescue group vowed to fight for justice, writing:
#justiceforeponine who we now know was named Hennesy.
We will NOT stop fighting for her and other innocent animals who suffer at the hands of individuals like this.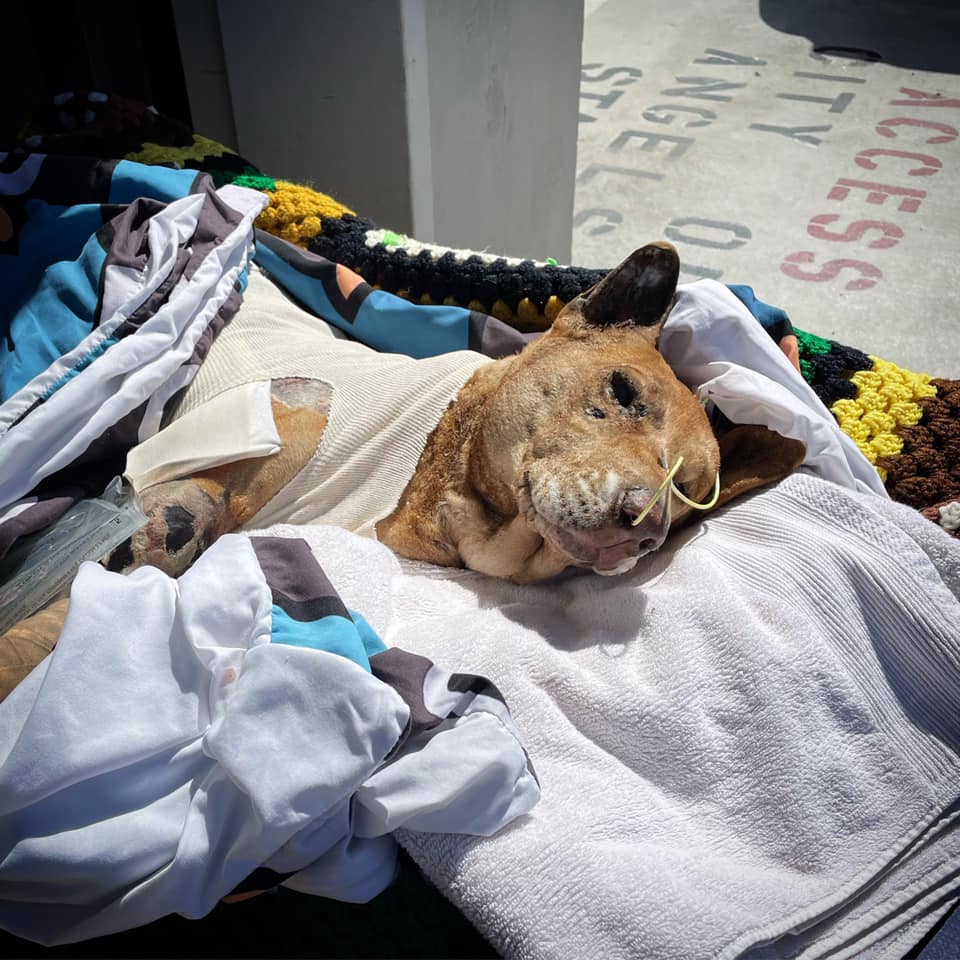 Before Hennessy died, the rescue group explained that she had suffered burns on literally ever portion of her body. They said, "Every single part. Inside her mouth, ears, paws, stomach, back, neck, nose." Suffice to say, this dog suffered greatly before death released her from the unimaginable pain.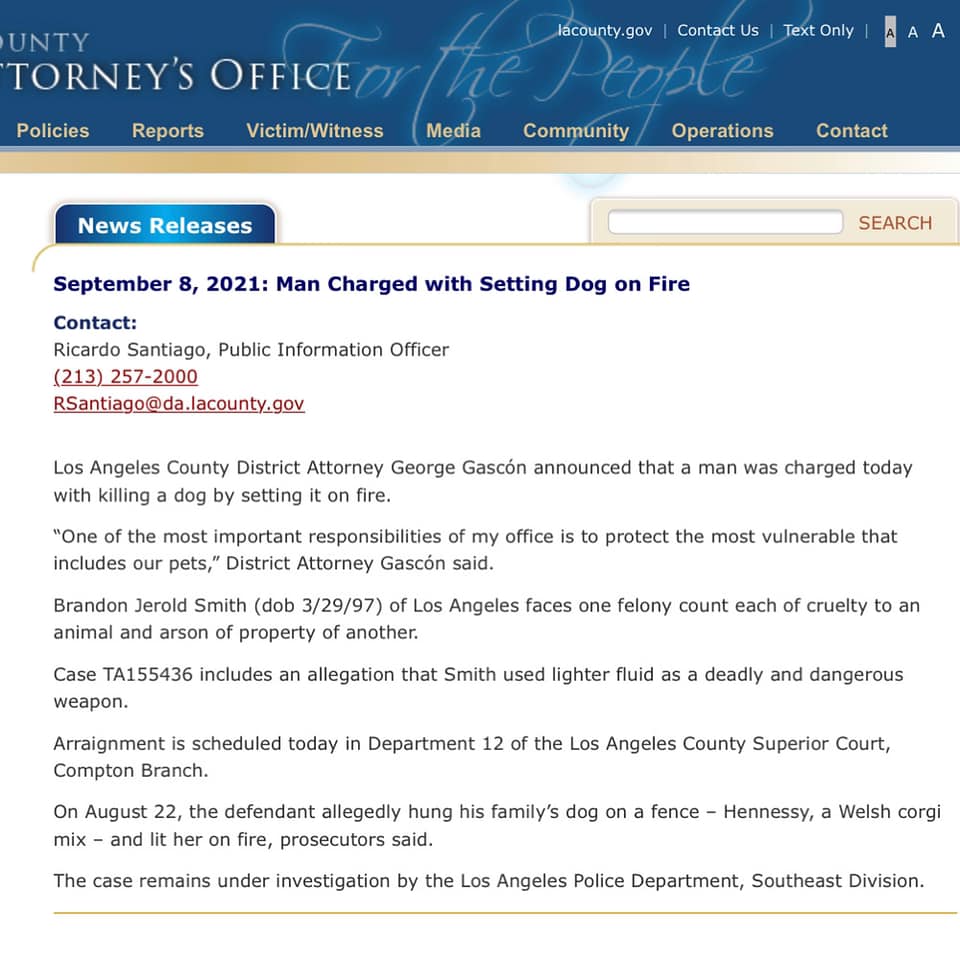 Smith's ex-girlfriend, Serena Prentice, is horrified and disgusted by what happened, but she isn't completely surprised. She alleges that Smith was burning birds alive this summer, and posting video of the cruel acts to social media.
The heartbroken woman expressed sorrow over Smith's act of cruelty to their pet:
"I never thought that he'd do that to her, he would hurt me, but why her?"
Brandon Jerold Smith was arrested and he is facing one felony count each for cruelty to animals and arson of property of another; we need your signature on the petition to help convince the court that this man deserves the maximum sentence for his charges. Hennessy was an innocent victim who did not deserve the cruelty which she was subjected to.
*Individuals are presumed innocent until being found guilty in a court of law.
News:
Update 11/3/2021: Animal Victory has learned that the next scheduled court appearance is on October 6, 2022, at 8:30 a.m. at the Compton Courthouse. This is not a typo. The court date is in October 2022. At this time Animal Victory has sent 23,985 signatures and comments to DA Daniel Gerbo. Please continue to sign as we work on the case.
Animal-Protection-Laws-of-California-2020-Animal-Legal-Defense-Fund
Dog Hung From Fence, Doused In Accelerant, Set On Fire; Punish Her Killer
24,768
signatures = 124% of goal
24,768
Anonymous
May 23, 2022
24,767
Daniel Avichail
May 22, 2022
24,766
eugene henry
May 17, 2022
24,765
Melissa Ruppert
May 16, 2022
24,764
Marion Friedl
May 15, 2022
24,763
Heather Ramsdell
May 14, 2022
24,762
Alessia Di Buono
May 14, 2022
24,761
Ulrich Spauschus
May 14, 2022
24,760
B Hart
May 09, 2022
24,759
Melanie Trujillo
Please hold this monster accountable for what he did to this baby!
May 09, 2022
24,758
Angela Dennis
May 05, 2022
24,757
Andrea Stone
May 04, 2022
24,756
Debra Fox
Punish to fullest extent of the law, hopefully prison!
May 01, 2022
24,755
Helene Lepage
Apply the law of retaliation for that fagget tug
Apr 27, 2022
24,754
Katherine Weesner
Apr 26, 2022
24,752
Anonymous
Apr 22, 2022
24,751
Mary Channell
Apr 22, 2022
24,750
Anonymous
Apr 21, 2022
24,749
Brenda Barnes
IiIi
Apr 21, 2022
24,748
Sharon Hasek
Apr 21, 2022
24,747
Janet Cunningham
Apr 21, 2022
24,746
SANDRA LOFARO
Apr 21, 2022
24,745
Ahista Ramnihorai
Apr 21, 2022
24,744
Dianne MacDonald
Apr 20, 2022
24,743
Patti Molero
Apr 20, 2022
24,742
Raymond Moore
Apr 20, 2022
24,741
Danielle Agresta
BURN THIS SCUMBAG ALIVE...SLOWLY!!!!
Apr 12, 2022
24,740
Mark Malnichuck
Apr 10, 2022
24,739
Angela Dennis
Apr 10, 2022
---