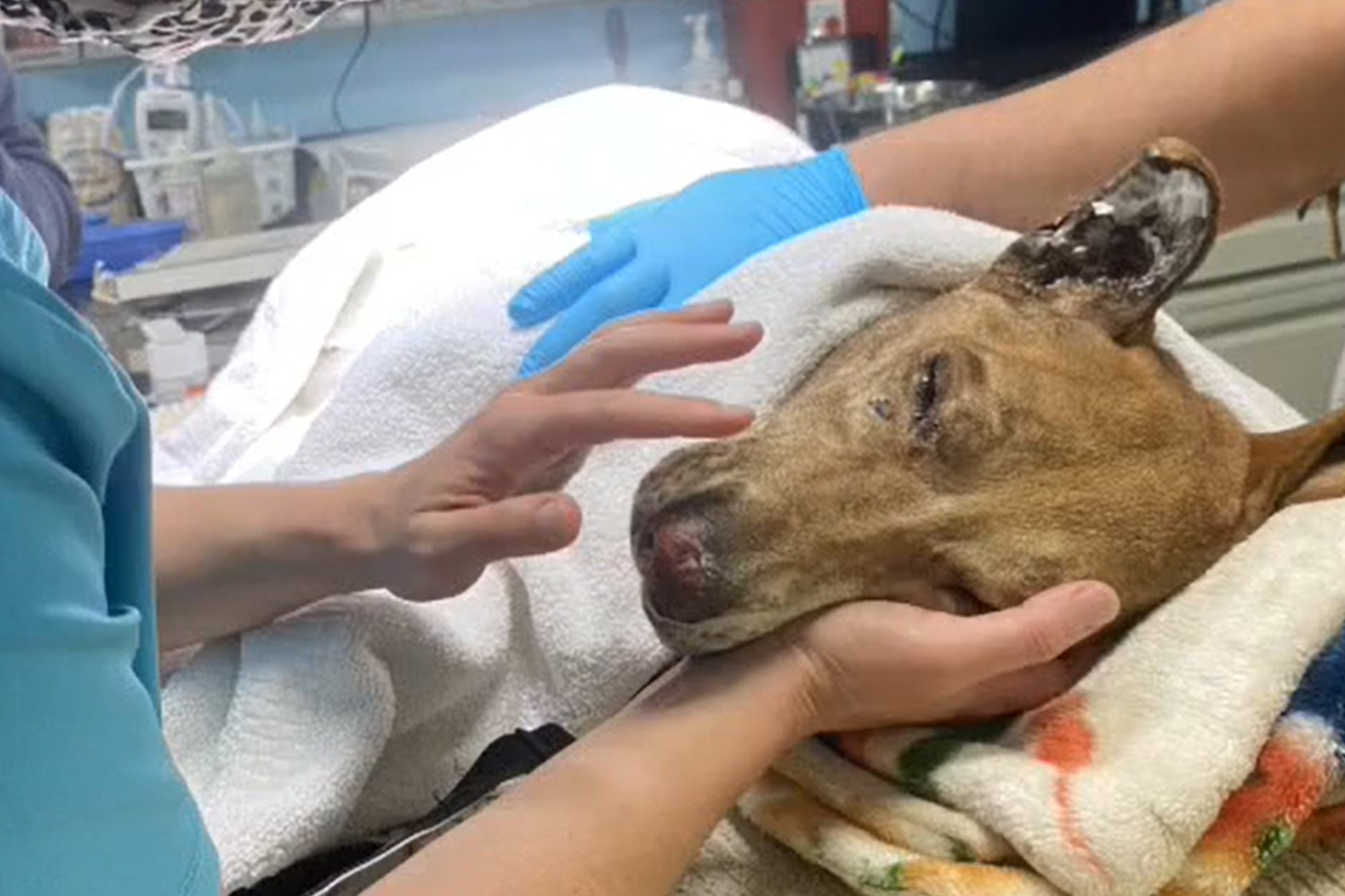 Los Angeles, California – On August 22, a seven-year-old dog named Hennessy was hung from a fence, doused with an accelerant, and set on fire. The authorities have identified 24-year-old Brandon Jerold Smith, the dog's owner, as the killer.
Hennessy's death was not quick, or painless. After spending two days at an animal shelter, A Purposeful Rescue took the grievously injured corgi mix under its wing. Though she received round-the-clock care from an emergency veterinarian, her widespread burns proved to be fatal.
Carrie-Lynn Neales, a volunteer with the rescue group, said, "I've never witnessed something that horrific."
The rescuers who tried to save her life had dubbed the injured dog, Eponine, from the strong female character in the play, Les Miserable. They had hoped she would have the strength to recover from her severe injuries, but their hope was not enough to save her. On September 8, the rescue group vowed to fight for justice, writing:
#justiceforeponine who we now know was named Hennesy.
We will NOT stop fighting for her and other innocent animals who suffer at the hands of individuals like this.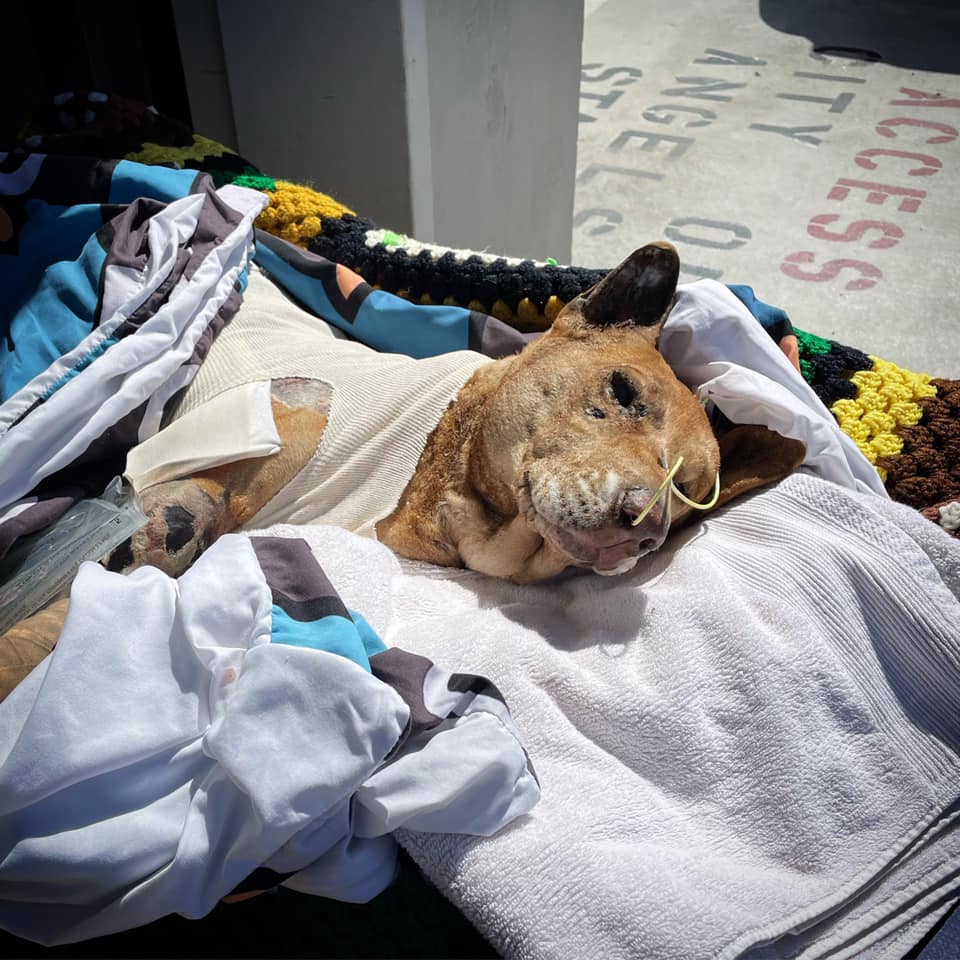 Before Hennessy died, the rescue group explained that she had suffered burns on literally ever portion of her body. They said, "Every single part. Inside her mouth, ears, paws, stomach, back, neck, nose." Suffice to say, this dog suffered greatly before death released her from the unimaginable pain.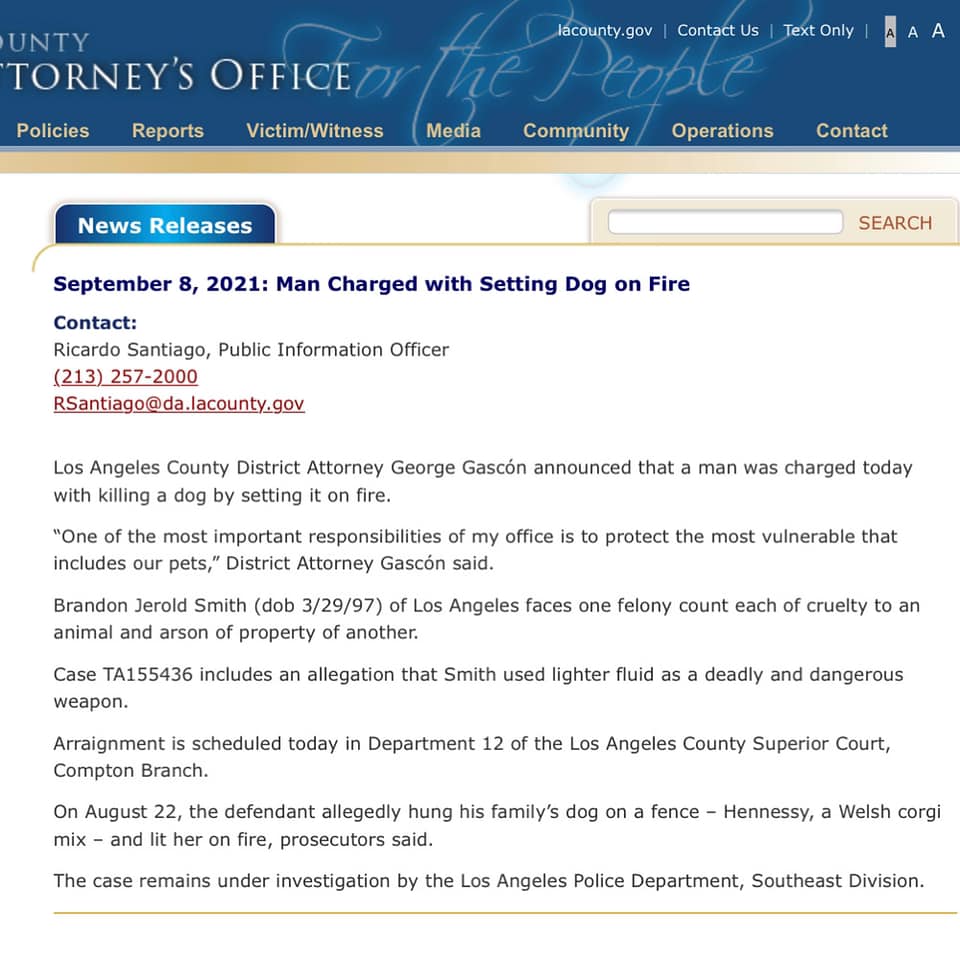 Smith's ex-girlfriend, Serena Prentice, is horrified and disgusted by what happened, but she isn't completely surprised. She alleges that Smith was burning birds alive this summer, and posting video of the cruel acts to social media.
The heartbroken woman expressed sorrow over Smith's act of cruelty to their pet:
"I never thought that he'd do that to her, he would hurt me, but why her?"
Brandon Jerold Smith was arrested and he is facing one felony count each for cruelty to animals and arson of property of another; we need your signature on the petition to help convince the court that this man deserves the maximum sentence for his charges. Hennessy was an innocent victim who did not deserve the cruelty which she was subjected to.
*Individuals are presumed innocent until being found guilty in a court of law.
News:
Dog Hung From Fence, Doused In Accelerant, Set On Fire; Punish Her Killer
23,766
signatures = 119% of goal
23,766
bec marant
Oct 27, 2021
23,765
Gail Szramkowski
Oct 26, 2021
23,764
Kim Fox
Oct 26, 2021
23,763
Maggie Huggins
Oct 26, 2021
23,762
Iris Sinai
Oct 26, 2021
23,761
Barbara Watts
Put him in a mental institution
Oct 26, 2021
23,760
Karrish Mandy
I hope he goes to prison
Oct 26, 2021
23,759
Anonymous
Oct 26, 2021
23,758
Kristine Ceres
Oct 25, 2021
23,757
Kolpaczyk Denise
Burn him or give him life in prison
Oct 25, 2021
23,756
Stephanie Lomax
Oct 25, 2021
23,755
Soma Gurung
Cruel psychopath mental idiot. He have to he badly punished and put in prison for life. Fucking prick mental
Oct 25, 2021
23,754
Anonymous
Oct 25, 2021
23,753
Anonymous
Oct 25, 2021
23,752
Jimena Bains
Oct 25, 2021
23,751
Anonymous
Oct 25, 2021
23,750
Edit Mizsei
Oct 25, 2021
23,749
agnes trivier
Oct 25, 2021
23,748
Anonymous
He is a murderer and should be imprisoned
Oct 25, 2021
23,747
Lisa Sebesta
POS he needs the same treatment!
Oct 24, 2021
23,746
Annette hof
Oct 24, 2021
23,745
Kimberly Guerrieri
He needs to tell the pain he caused this poor innocent soul.
Oct 24, 2021
23,744
linda maguire
take him out in the woods, leave him tied up and tell the world what he did and where they can find him! don't kill him, just bring him to the brink- over and over until he goes mad....
Oct 24, 2021
23,743
Lorena Gonz
Oct 24, 2021
23,742
Beverly Sapphire
Oct 24, 2021
23,741
Stacey Liguori
Oct 24, 2021
23,740
Luisa Grabowsky
Oct 24, 2021
23,739
Mayra Calderon
We need to make sure this guy spends his life in prison! His behavior will escalate to humans someday!
Oct 24, 2021
23,738
Waynick Jamie
Oct 24, 2021
23,737
Gloria Garcia
Oct 24, 2021
---