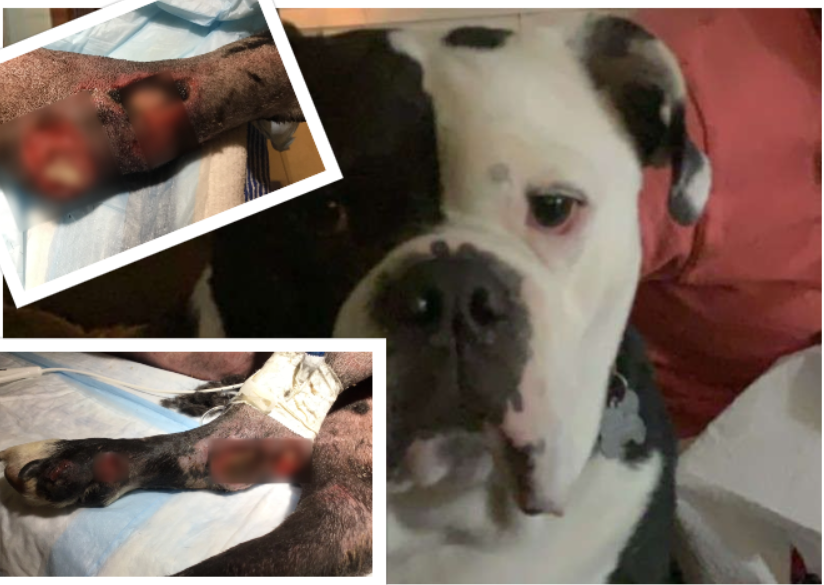 Taylor, Texas – A Texas veterinarian is facing a charge of animal cruelty after a dog had to be euthanized following a seven-day boarding at her animal hospital. The Williamson County Sheriff's Office identifies the owner of the Wellness Veterinary Hospital as Dr. Dana R. Boehm.
The dog who suffered and died is a five-year-old bulldog named Jax, who went into the veterinary hospital as a healthy dog and emerged a week later covered in urine and unable to walk.
Please sign the petition today to help us get the maximum sentence for Dr. Boehm and the revocation of her veterinary license!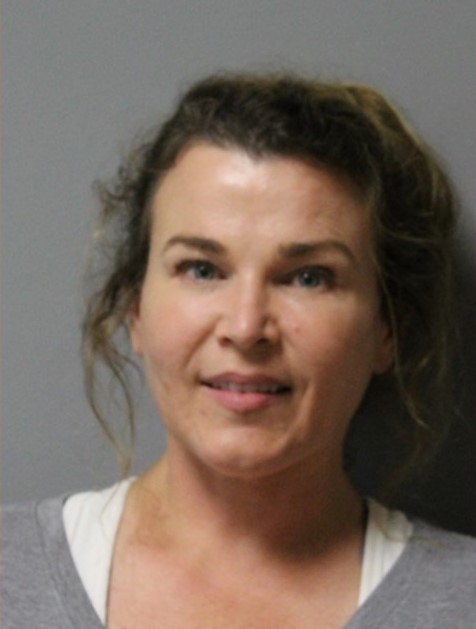 Before Jax was left at the Wellness Veterinary Hospital on March 13, he was a healthy, uninjured dog. Investigators with the Williamson County Sheriff's Office were able to confirm this by watching surveillance video taken at Jax's home on the same day; the footage revealed a healthy, mobile dog.
By the time that Jax's owners picked him up on March 20, he was in dismal condition, unable to walk and covered in wounds and urine. The sheriff's office detailed the dog's injuries in a report:
Four holes in the dog's hind leg and two holes the size of a quarter between the dog's foot and hip.
Jax's skin was noted as completely missing in some areas and exposing either bone, ligaments and or tendons.
A hole was observed on the dog's leg about the size of a dime.
Photos showed what appeared to be another hind limb with a hole the size of a quarter in it and other injuries.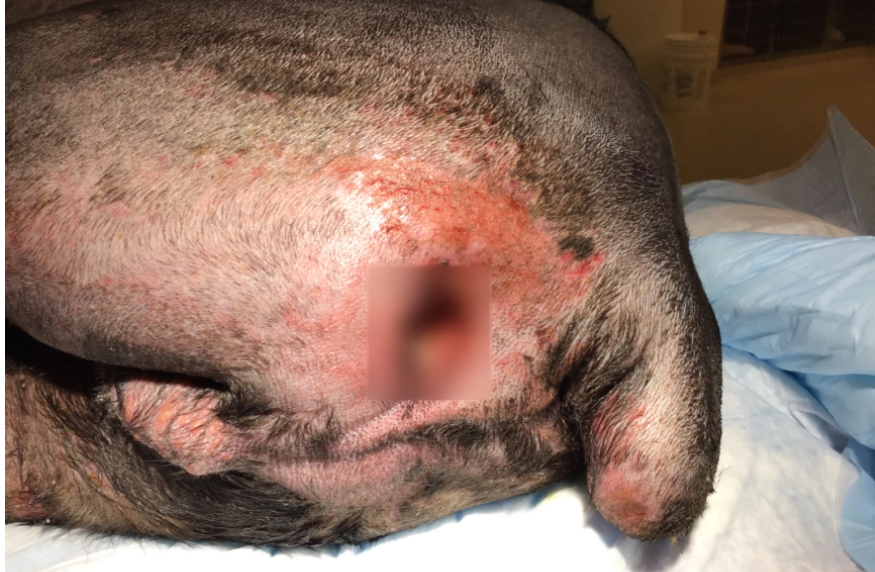 When detectives investigated the veterinary hospital, they found troubling conditions, including:
Unclean, unhealthy conditions in the areas Jax would have been kept and had access.
Strong, foul odors, feces, urine puddles, urine-soaked clothing, uncapped used syringes, and loose medications.
Animals being kenneled and boarded in these conditions, as well as a lack of food and water.
Another veterinary clinic determined that Jax had to be euthanized because he was in such poor condition.
The investigation resulted in a warrant for Dr. Dana R. Boehm's arrest on a misdemeanor charge of animal cruelty.
The following are excerpts from the American Veterinary Medical Association Principles of Veterinary Medical Ethics:
A veterinarian may choose whom he will serve. Once he has undertaken care of a patient he must not neglect him.
The veterinary profession should safeguard the public and itself against veterinarians deficient in moral character or professional competence.
Veterinarians should observe all laws, uphold the honor and dignity of the profession, and accept its self-imposed discipline.
Did Dr. Dana Boehm uphold the veterinary code of ethics? Or did she fail by allowing Jax to be neglected so badly that he had to be put down?
We need your support to ensure that Dr. Boehm receives the maximum punishment for her animal cruelty charge. We also feel that she has failed to fulfill the code of ethics upon which her profession operates.
If she is found guilty of her charge, we want to see her veterinary license revoked – what happened to Jax can never happen to another animal!
Individuals are presumed innocent until proven guilty in a court of law.
We also found more information and another VERY surprising allegation against Dr. Dana Boehm.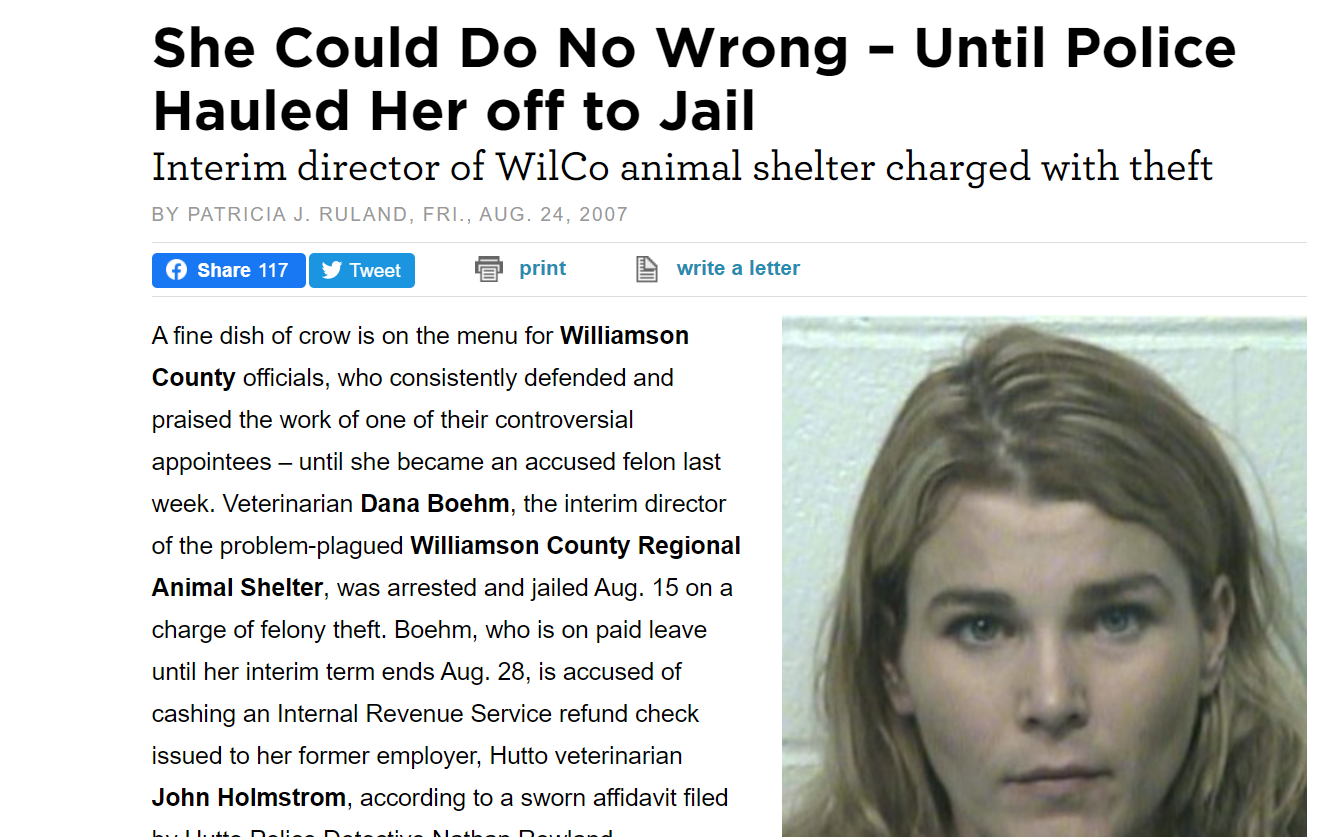 You can read more at these links:
Austin Chronicle (IRS scandal)
Austin Chronicle (Allegations of neglect at shelter where Boehm was the interim director)
News:
Animal-Protection-Laws-of-Texas-2020-Animal-Legal-Defense-Fund
Update 11/18/2022: Animal Victory has learned that court has been rescheduled again; the hearing is now set for 12/20/2022.
Update 9/25/22: The next scheduled court date is October 17, 2022. 
Update 9/7/2022: The next court date is scheduled for September 13, 2022. 
Update 4/27/2022: Animal Victory has learned that Discovery 1st (1:30 PM) has been reset by the court to 06/07/2022.
Update 3/14/2022: Animal Victory has learned that there is a Status Hearing scheduled on 04/14/2022 (Judicial Officer Hallford, Brandy)
Update 01/5/2021: There is no future court date set as of yet. Mariel Puryear, Trial Director with the criminal Division has our petition and has reassured us that their office is taking this animal welfare issue very seriously. Please continue to sign the petition as we will collect signatures up until sentencing.
Update 8/5/2021: Animal Victory has learned that the next court date is scheduled for 10/21/2021 at 2:30 p.m., it is an announcement docket. 
Update 7/27/2021 – The county attorney's office has informed Animal Victory that Mariel Puryear is the prosecutor for this case.
Update 6/28/2021 – Animal Victory has learned that her arraignment is scheduled for July 30, at 9:00 a.m.
PRIOR SIGNATURES : 14922
Dog Had To Be Euthanized After 7 Days At Deplorable Veterinary Hospital
14,230
signatures = 95% of goal
14,230
John Robertson
Nov 30, 2022
14,229
Lisel Sipes
SHUT these scumbags down and jail them!
Nov 19, 2022
14,228
Dana Dykes
Nov 19, 2022
14,227
ELIZABETH ALLANCORTE
OMG! HOW IN SO LITTLE A TIME DID THAT POOR DOG LOOSE HIS FUR & GET HOLES IN HIS BODY?
Nov 15, 2022
14,226
Claire Sefiane
Nov 13, 2022
14,225
brigitte deschaintre
Nov 11, 2022
14,224
Lisa Cairns
Oct 20, 2022
14,223
Shannon Nichols
Oct 07, 2022
14,222
Guisselle Martinez
Sep 17, 2022
14,221
Jennifer Warrow
Sep 15, 2022
14,220
Carmen Verdugo
Sep 11, 2022
14,219
Kelly A Kalish
Sep 10, 2022
14,218
Michelle Krueger
Sep 09, 2022
14,217
Nicolas Mangialomini
Sep 09, 2022
14,216
Tina Woods
Sep 03, 2022
14,215
Nancy Coupe
Sep 03, 2022
14,214
Daria Bucklin
Sep 02, 2022
14,213
LEO MENDEZ
HORRIBLE!!! PUT THIS LOW LIFE PERSON AWAY AND PUNISH HER
Aug 30, 2022
14,212
MARIE BOTEILHO
Shut this so called Vet Hospital down for good! Punish those responsible for this dogs neglect and the neglect of all the other animals!
Aug 30, 2022
14,211
Theresa Mason
Aug 28, 2022
14,210
Anu Dutt
Aug 18, 2022
14,209
Kristi Wise
Aug 13, 2022
14,208
Vickie Barnett
Aug 10, 2022
14,207
Renee Crawford
Aug 10, 2022
14,206
Ana Carolina Casey
Put this monster dictor in prison for ever evil monster revoked her license for ever !
Aug 05, 2022
14,205
Kayla Younkins
Aug 03, 2022
14,204
Carolyn Chamberland
Aug 02, 2022
14,203
Randy Smith
Jul 23, 2022
14,202
Debbie Boomhower
Jul 20, 2022
14,201
kingsley clary
Jul 15, 2022
PRIOR SIGNATURES : 14922
---