Dog Fighting Call Leads To Discovery Of One Dead Dog And 29 Dogs In Cages: Man Faces 60 Felonies
Published: June 03, 2022 at 05:57 PM Author:
PENNY EIMS

Gastonia County, North Carolina – A North Carolina man is facing a slew of felony charges after police in Gastonia County discovered an abhorrent dog fighting situation at his Gastonia residence.
It was the horrific sounds of dogs fighting on the morning of April 28 that led police to a home on Hemlock Avenue in Gastonia. Gaston County Police Animal Care Enforcement officers found one dog dead and 29 others who were caged in conditions described as "poor."  The authorities stated that many of the dogs had "obvious injuries," and there was immediate concern for their welfare.
The evidence led to 60 felony charges against 39-year-old Terrance Marvin Cooper.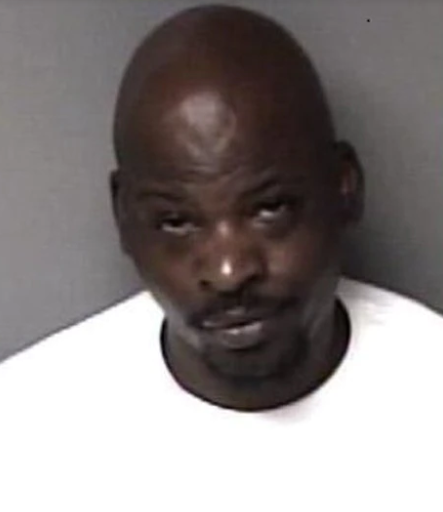 According to a release from the Gaston County Police, Cooper was charged on May 26 with 30 felony counts of dog fighting and 30 felony counts of animal cruelty; he was booked into the Gaston County Jail on a $325,000 secured bond. The dogs found at the residence were taken into protective custody and they are receiving treatment and care. Investigators also found and seized goats and rabbits from the property; it is unclear if these animals were used to "train" the dogs to fight and kill.
Dog fighting is inhumane and it often goes hand-in-hand with other illegal activities, such as gambling and drug dealing. Brutal fights have been known to include youthful audiences, who become desensitized to animal cruelty. Dogs forced into this so-called "bloodsport" endure a terrible existence…from living a life devoid of comfort and love, to the unbearable pain of vicious fighting that results in severe injuries and often, death.
A convicted dogfighter recounted one dog fight and the description reveals the brutality of what these dogs face:
"Miss Rufus spent most of the rest of the fight on her back and Bandit broke her other front leg high up in the shoulder, as well as one of her back legs, in the knee joint. The only leg she didn't break, she chewed all to hell. She had literally scalped Miss Rufus, tearing a big chunk of skin off the top of her head alongside one ear."
Please add your name to the petition as we fight for justice on behalf of the dogs forced into the violent, inhumane life of dogfighting.
We the undersigned demand that Terrance Marvin Cooper is held responsible for the abuse and killing of dogs who were abused and forced to fight. We are petitioning for Cooper to receive the maximum punishment allowable by law, in addition to being prohibited from owning or residing with animals in the future.
Note: Individuals are presumed innocent until being found guilty in a court of law. Animal Victory relies upon the authorities and the court system to determine guilt or innocence.
News: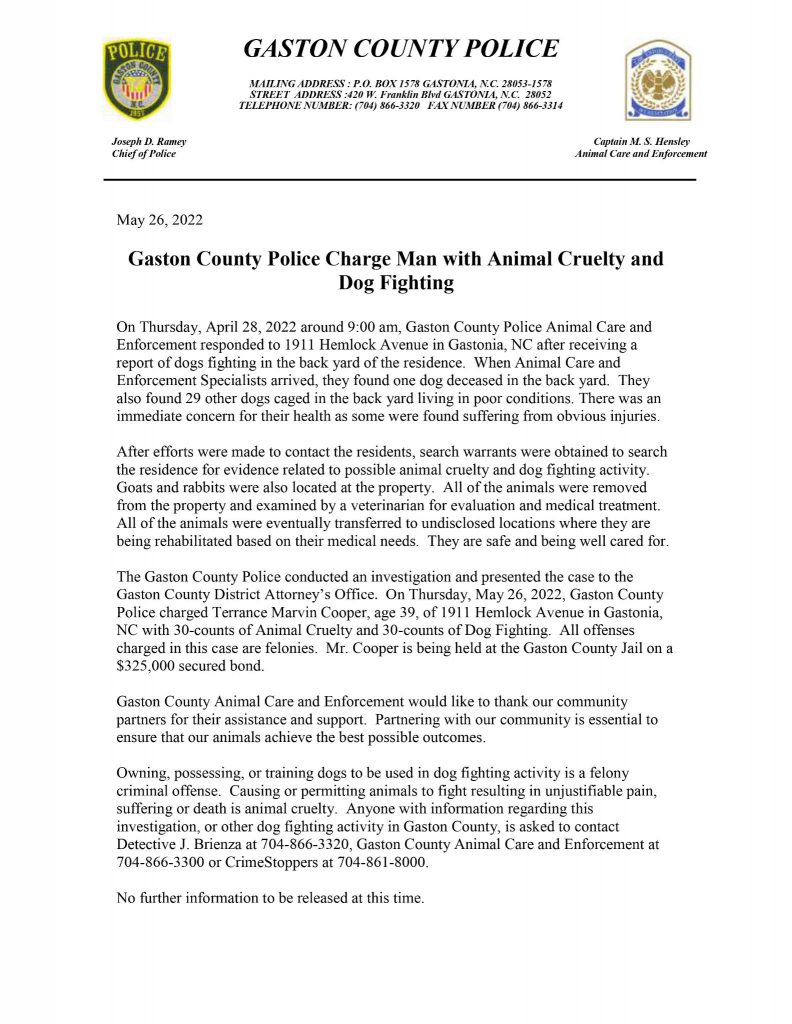 Update 4/03/2023: Animal Victory has learned that the defendant returns to court on 06/24/2023 in room 004A. on the AM sessions docket.
Update 3/16/2023: Animal Victory sent cover letter and petition to the judge. 
Update 12/19/2022: Court is scheduled for 03/23/2023 for the AM sessions in courtroom 004A.
Update 9/13/2022: The defendant is scheduled to appear in court on December 1, 2022. 
Update 7/17/2022: The next court date is September 2nd for all the charges.
Update 6/24/2022: Attorney Travis Page has reached out to Animal Victory and assured us that this case has their office's full attention. He very much appreciates the petition, signatures, and comments from each of you and will hopefully be able to convey your thoughts and feelings in his zealous pursuit of justice for these animals.
Update 6/22/2022: Animal Victory has sent 13,347 signatures to District Attorney Travis Page.
Prior Signatures 14,278