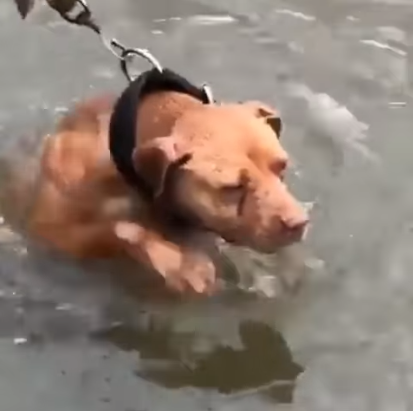 Dog fighters in Ft. Worth, Texas, have been captured on video forcing a tethered dog to swim with a weighted collar. The cruel practice is used to condition dogs to have endurance for bloody fights to the death and the local authorities MUST take action to stop it!
In a social media post on July 9, a concerned citizen requests help, and expresses dismay over the lack of care and concern from the local authorities:
"We need HELP immediately. Two of the persons in this video have a long history of dogfighting, training, and breeding. They are connected to known dog-fighters in Dallas, TX and Houston, TX. Ft Worth Police were provided information about these persons in April 2020 and nothing has been done."
We must come together to get the police involved – this is a despicable practice that must be brought to an end!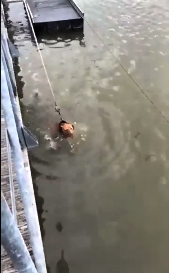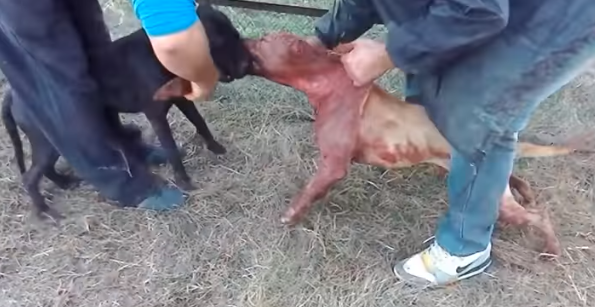 An explanation has been provided about what is being seen in the video which is circulating on social media:
When the video begins, the dog is already treading water in the lake (Lake Arlington, West side, Eugene McCray Park) When the video ends 28 minutes later, the dog is still treading water, being forced to swim to keep its head above water. This video has been shown to attorneys who agree it meets the standards of cruelty.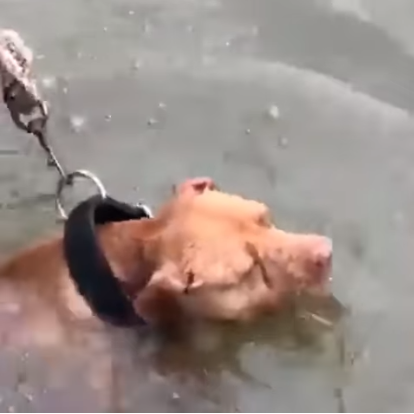 Though this is an obvious form of cruelty, the authorities have declined to pursue an investigation and charges. We must come together to let the authorities know that this is something that must be stopped. We must show them that it is something that we care about. Dog fighting is an ugly, heinous "sport" that must be eradicated.
Click here to watch the video of the dog being forced to swim with the weighted collar. Another video showing suspects at this link.
We will be sending your signatures and comments to the local authorities and the mayor, as well as to the Fort Worth visitor bureau. Enough is enough!
Update 7/16/2020: Read our letter to Councilmember Gyna Biven here   Read our letter to Police Chief Ed Kraus here
* Individuals are presumed innocent until proven guilty in a court of law.
PRIOR SIGNATURES : 12600
Dog Fighters Cruelly Force Dog To Swim With Weighted Collar
36
signatures = 0% of goal
36
Kit Dugan
Sep 18, 2021
35
Teri Paszotta
We need tougher laws, more judges with balls to hand down stiffer sentences & justice to those affected by sick abusers of animals in our communities. It's going on in your city and those that prey on the most vulnerable are WEAK COWARDS & THE LOWEST, POOREST EXCUSE OF BEINGS WALKING THIS EARTH!
Sep 17, 2021
34
Ann Freeman
Sep 15, 2021
32
Chante' Kline
Sep 13, 2021
31
astrid suchanek
Sep 13, 2021
30
Kennedy Roop
Sep 12, 2021
29
Sophie Emlek
Sep 09, 2021
28
Stefanie E.
Sep 09, 2021
27
Dodie Harrison
Sep 08, 2021
26
Ilana Karapetyan
Sep 08, 2021
25
Jan Anderson
Sep 08, 2021
24
Melissa Curtis
Sep 07, 2021
23
Giustina Damiano
Sep 07, 2021
22
Anonymous
Texas needs better laws to protect animals. Dog fighting is inhumane and people need be prosecuted.
Sep 04, 2021
21
Kelly Lagace
Sep 03, 2021
19
Evalyn Tonel
Aug 31, 2021
18
Colette Winslow
Aug 29, 2021
17
Cecilia Lalinde
Aug 29, 2021
16
lara balser
Aug 29, 2021
15
Daniel Pawlowski
Aug 28, 2021
14
Brenda Hoback
Aug 27, 2021
13
Marina Ris
Aug 27, 2021
12
DIANA FARFAN
Aug 25, 2021
11
Teresa Corner
Aug 24, 2021
10
Chinanan K.
Aug 24, 2021
9
laura raforth
Aug 23, 2021
8
Diane Tabbott
Aug 23, 2021
PRIOR SIGNATURES : 12600
---