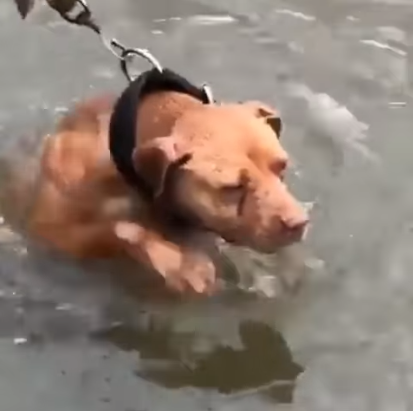 Ft. Worth, Texas – Dog fighters in Ft. Worth, Texas, have been captured on video forcing a tethered dog to swim with a weighted collar. The cruel practice is used to condition dogs to have endurance for bloody fights to the death and the local authorities MUST take action to stop it!
In a social media post on July 9, a concerned citizen requests help, and expresses dismay over the lack of care and concern from the local authorities:
"We need HELP immediately. Two of the persons in this video have a long history of dogfighting, training, and breeding. They are connected to known dog-fighters in Dallas, TX and Houston, TX. Ft Worth Police were provided information about these persons in April 2020 and nothing has been done."
We must come together to get the police involved – this is a despicable practice that must be brought to an end!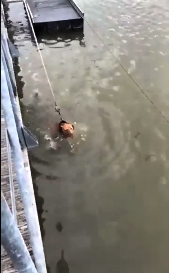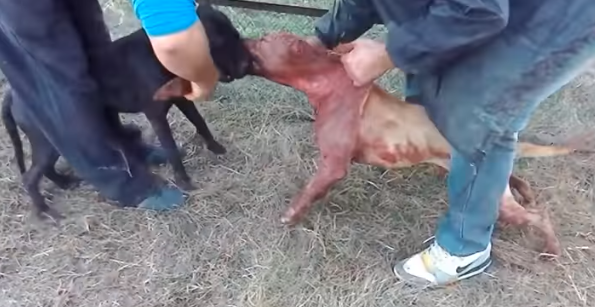 An explanation has been provided about what is being seen in the video which is circulating on social media:
When the video begins, the dog is already treading water in the lake (Lake Arlington, West side, Eugene McCray Park) When the video ends 28 minutes later, the dog is still treading water, being forced to swim to keep its head above water. This video has been shown to attorneys who agree it meets the standards of cruelty.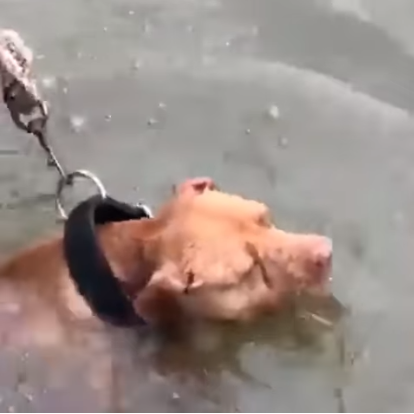 Though this is an obvious form of cruelty, the authorities have declined to pursue an investigation and charges. We must come together to let the authorities know that this is something that must be stopped. We must show them that it is something that we care about. Dog fighting is an ugly, heinous "sport" that must be eradicated.
Click here to watch the video of the dog being forced to swim with the weighted collar. Another video showing suspects at this link.
We will be sending your signatures and comments to the local authorities and the mayor, as well as to the Fort Worth visitor bureau. Enough is enough!
Update 7/16/2020: Read our letter to Councilmember Gyna Biven here   Read our letter to Police Chief Ed Kraus here
Animal-Protection-Laws-of-Texas-2020-Animal-Legal-Defense-Fund
* Individuals are presumed innocent until proven guilty in a court of law.
PRIOR SIGNATURES : 12600
Dog Fighters Cruelly Force Dog To Swim With Weighted Collar
179
signatures = 1% of goal
179
Sertain Claudine
enfoire!sg
Jul 01, 2022
178
DeAnn Hill
Jun 30, 2022
177
Sheila Moore
You sick mother fuker
Jun 26, 2022
176
Olga Espinoza
Jun 23, 2022
175
Gloria H
Jun 22, 2022
174
Cornelia Herschel
Human beasts like these disgusting animal abusers deserve to be tortured themselves. I hate these vile monsters so much that I would put every single one of them in a sack and set it on fire!!!!!!!
Jun 22, 2022
173
Anonymous
Jun 22, 2022
172
Carolyn Cooper
Jun 22, 2022
171
Rochelle Massey
Jun 21, 2022
170
Amanda Briggs
Jun 21, 2022
169
Marsha Andrews
Jun 21, 2022
168
Kristen Tirado
Jun 19, 2022
167
Ann RIgano
This is sick and disgusting. I would like to have these so called humans weighted like the dogs and dragged over water. But am sure they will get off easy as usual because the victims are not human. Doesn't matter ... they are still living, breathing creatures and deserve way better in life than to be around morons like these people.
Jun 19, 2022
166
Angela Steinberg
Jun 18, 2022
165
Debbie Mccollum
Jun 12, 2022
164
Gary Simmons
Jun 09, 2022
163
Aennelore Raab
Jun 06, 2022
162
Loredana Bernabei
Anyone who Abuses and Neglects Animals is a Scumbag and a POS!
Jun 05, 2022
161
Carie Matriciano
Jun 02, 2022
160
Grace Vendemio
Jun 02, 2022
159
Cheryle Lefort
Jun 02, 2022
157
Anonymous
Put weighted collars on the POS dogfighters throw them in the water and leave them there. Then they would see how it feels. Low life scum.
May 30, 2022
156
Sara Sampkin
May 29, 2022
155
Janice VanMarter
May 29, 2022
154
Marion Friedl
May 22, 2022
153
Alessia Di Buono
May 14, 2022
152
Adrienne Kaiser
May 05, 2022
151
Angela Dennis
May 05, 2022
150
Deborah knox
Evil. Serious jail time heavy fines. I mean serious jail time 25 years or more.
May 01, 2022
PRIOR SIGNATURES : 12600
---