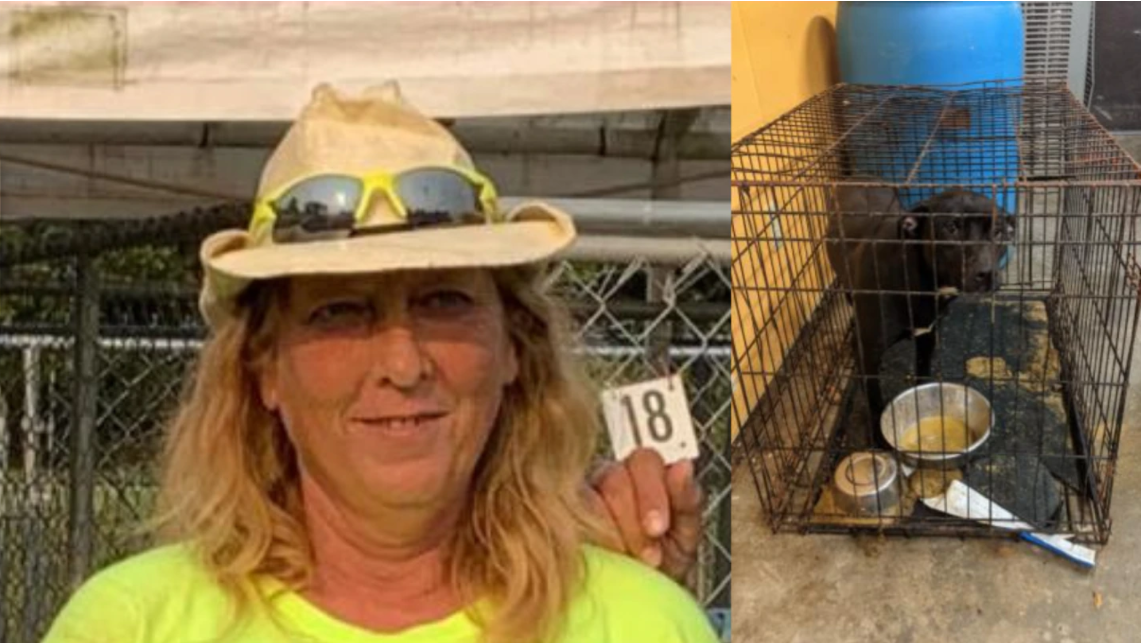 Helena, Arkansas: Reta Merritt Roberts, director of the Humane Society of the Delta in Helena, Arkansas, is facing 285 counts of aggravated animal cruelty for horrific conditions found at the no-kill animal shelter, which is located at 8480 Phillips Road 300.
Roberts was arrested last week after Mayor Kevin Smith executed a search warrant at the facility following reports of neglect and animal cruelty at the shelter; investigators and officers executing the search warrant found appalling conditions at the facility, including dead rats, feces, and trash, as well as neglected shelter animals.
ABC 24 News reports that officers saw, "several dogs in wire kennels outside in the ground, rodent holes by the kennels, and an overwhelming smell of feces and urine inside. They said they also saw overflowing garbage and debris around the property." Roberts lives in a mobile home on the property, with a young child, and the conditions in her residence were described as appalling as well. Officers found dead rats, in addition to animal feces and urine; the child appeared to be covered in insect bites. The Department of Human Services was notified about the situation.
Mike Wheeler, president of the Arkansas State Animal Control Association commented on the disturbing conditions, telling KARK News,  "There's rats, they're eating on rats, there's raw sewage they're sitting in. It's just not, it's not what animal welfare should be."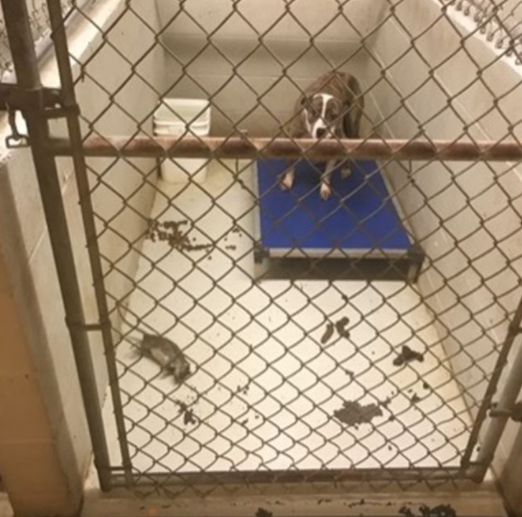 A total of 240 dogs and 45 cats were found at the animal shelter – many of the animals were malnourished and/or injured.
The investigation into conditions at the no-kill facility was instigated after former volunteers at the shelter reported that animals were being mistreated, neglected and sometimes even physically abused by workers, reports Fox 13 News.
After investigators visited the facility and witnessed the appalling conditions, the shelter was shut down. The Mayor issued a plea for help on social media.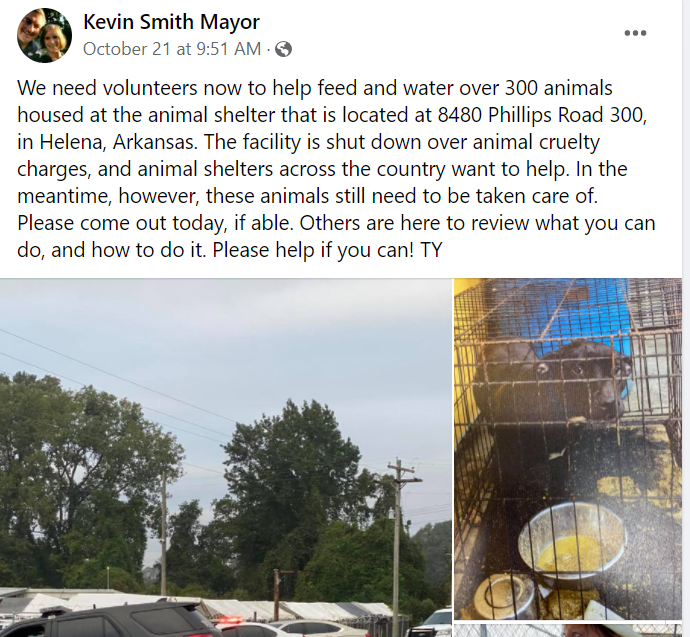 Mayor Smith stated:
"A shelter that was once a champion for animal welfare, and fought hard against animal cruelty and inhumane treatment, has since developed into a place of animal hoarding, maltreatment and worse." He added that it was just "a horrendous crime scene at this location."
The Tunica Humane Society has organized a team to help care for the cats and dogs at the shelter, and the non-profit group, Animal Rescue Corp, is assisting as well.
The cats and dogs who were kept at this no-kill "shelter" were suffering a miserable existence. Had no one spoken up, their torment would have continued. Reta Merritt Roberts is facing 285 counts of aggravated cruelty to a dog, cat or horse, a Class D Felony in Arkansas. Please add your name to the petition today to help us fight for the maximum punishment allowable by law.
Note: Individuals are presumed innocent until being found guilty in a court of law.
News:
Animal-Protection-Laws-of-Arkansas-2020-Animal-Legal-Defense-Fund
Update 8/24/2022: The last court date was August 24, 2022 for a motion for discovery. We are still waiting for the next court date. 
Update 4/1/2022: As of today, there is still no one assigned to this case and the prosecutor's office has it under review.
Update 3/4/2022: Animal Victory has sent Attorney Amy Green 15,368 signatures and comments.
Update 2/23/2022: Animal Victory has been in touch with the courts and we are told that nothing is scheduled yet.
Update 12/03/2021: Animal Victory has spoken to Lynn Stillwell, the court clerk, and there is nothing scheduled as of yet. The case is still being investigated and put together.
Director Of No-Kill Shelter Charged With 285 Counts Of Aggravated Animal Cruelty
15,506
signatures = 78% of goal
15,506
Sterling Long-Colbo
Sep 21, 2022
15,505
Guisselle Martinez
Sep 17, 2022
15,504
Shambhavi Ojha
Sep 16, 2022
15,503
Nancy Coupe
Sep 15, 2022
15,502
Carmen Verdugo
Sep 11, 2022
15,501
Kelly A Kalish
Sep 10, 2022
15,500
Craig Davis
Sep 10, 2022
15,499
Mike Davis
Sep 10, 2022
15,498
Jammie Davis
Sep 10, 2022
15,497
Michelle Krueger
Sep 09, 2022
15,496
Jeffrey Clouatre
Sep 04, 2022
15,495
Tina Woods
Sep 03, 2022
15,494
Marlaine Triplett
I wish An Eye For An Eye was legal.
Sep 03, 2022
15,493
LEO MENDEZ
PUT THIS BITCH LOW LIFE RED NECK IN A CAGE WITH HER OWN URINE AND SHIT AND GIVE HER NOTHING TO EAT!! PUT HER IN PRISON FOR THE CRUELTY SHE DID TO THESE INNOCENT ANIMALS!!
Aug 30, 2022
15,492
MARIE BOTEILHO
Get rid of this sick cruel heartless low life female!!! Put her away for life and let the punishment fit the crime!!!
Aug 30, 2022
15,491
Jackie Bauers
Aug 16, 2022
15,490
Karen Sexauer
Aug 15, 2022
15,489
Renee Crawford
Aug 10, 2022
15,488
Cheryl-Lee Bower
Bitch needs worse treatment!
Aug 10, 2022
15,487
Jeanette Uy
Aug 10, 2022
15,486
Ana Carolina Casey
Please put this horrible evil monsters in prison for ever evil animal abuser !
Aug 05, 2022
15,485
Gabrielle McCarthy
Jul 24, 2022
15,484
meredith mitchell
Jul 15, 2022
15,483
kingsley clary
Jul 15, 2022
15,482
Andrea Good
Jul 14, 2022
15,481
Rose Bubello
Jul 14, 2022
15,480
Anonymous
Jul 14, 2022
15,479
Lacee Mikkelsen
Jul 13, 2022
15,478
Lisa Stoneham
Jul 05, 2022
15,477
laura raforth
SKANK
Jun 25, 2022
---