Brick, NJ – Two self-proclaimed animal rescuers are facing a deluge of animal cruelty charges after the authorities made a grim discovery inside a Brick Township Home in December. The women,  Aimee Lonczak, 49, and Michele Nycz, 58, called themselves the "Crazy Rescue Ladies," and the authorities said that they were keeping 180 cats and dogs in deplorable conditions inside a home on Arrowhead Park Drive.
Under the guise of rescuing, Lonczak and Nycz collected money from unsuspecting good Samaritans, while keeping innocent cats and dogs in unspeakable conditions.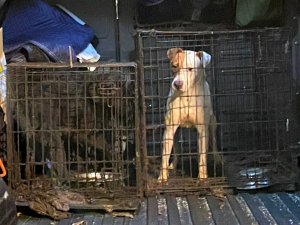 The Instagram account for the two "rescuers" claims that they are a "responsible rescue" with a non-profit,  501(c)3 status.

But the people who raided the rescue agency's home found conditions that told a different story. Officials said:
"Most of these animals were forced to live in cages filled with their own feces, urine and other garbage. The odor was unimaginable and one of the first tasks was to clean and bathed the dogs and cats."
A Brick Township Police Department news release provides further information about the dismal situation:
The officers observed stacks of animal crates on top of each other with dogs and cats in the crates. Because of the conditions, the officers were forced to exit and requested that a Hazmat team respond.
Initially, officers estimated that there were approximately 30 animals contained within the residence. Once emergency response teams were able to get into the home it became apparent that the number of animals was in excess of 100. The home was full of animal waste and the animals were living in horrible and inhumane conditions. At least two animals removed were deceased – both were dogs.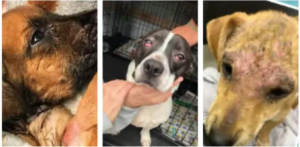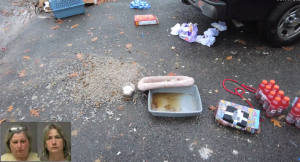 The raid at the home revealed a total of 135 dogs, 45 cats, and two dead puppies; eight of the animals required emergency veterinary care. Officials noted that the animals were covered in "crusted" feces and urine. Alexander Becker, an assistant Ocean County prosecutor, said:
"three inches of feces throughout the entire floor of the home, not just the cages, but throughout the whole household."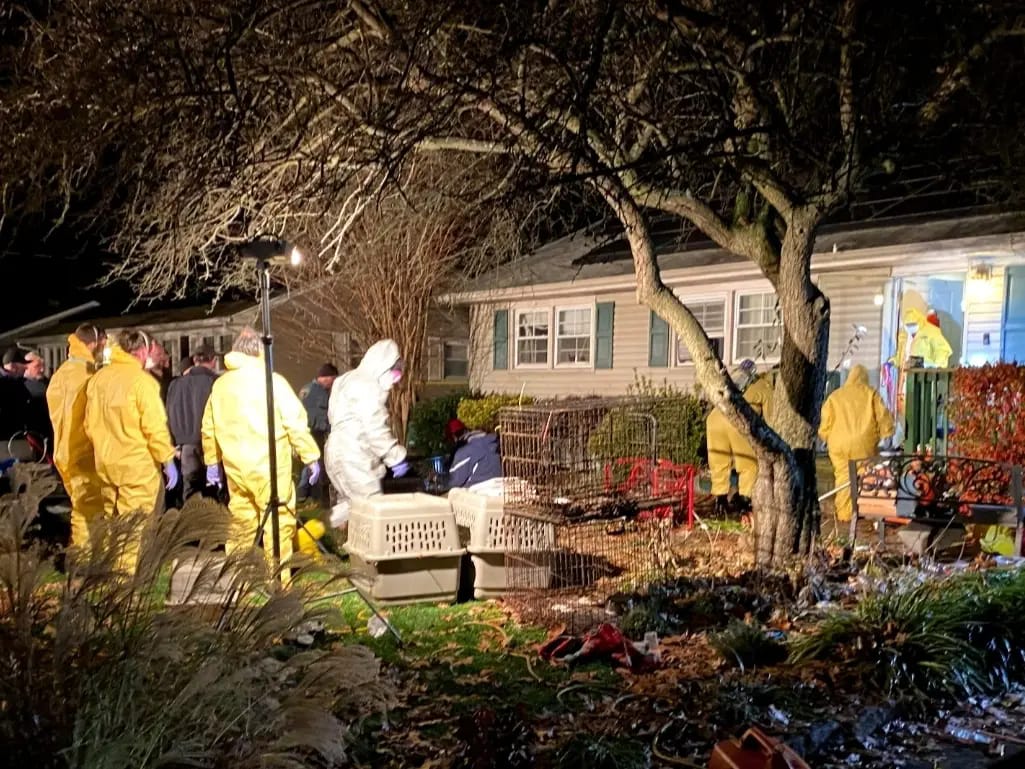 The women were booked into the Ocean County Jail on multiple charges of animal cruelty, in addition to a charge of endangering the welfare of a child because a minor (Lonczak's daughter) was found to be living in the squalor too. On December 8, a superior court judge ordered Lonczak and Nycz to be released from the Ocean County Jail. The women are due in court again on January 24 to see if they will regain custody of their personal dogs.
Please add your name to the petition as we fight for justice on behalf of the animals who were forced to suffer in unimaginable conditions created by these so-called "rescuers."
We the undersigned demand that Aimee Lonczak and Michele Nyczheld are held responsible for the inhumane conditions they forced 180 dogs and cats to live in. We are petitioning for these women to receive the maximum punishment for each and every charge resulting from this inhumane situation. It should go without saying, but these women should NOT regain custody of their personal dogs! At sentencing, we want to see them prohibited from owning, caring for, or working with, animals in the future. 
Note: Animals seized from the home were transferred to the care of Ocean County Health Department animal shelters; the authorities are trying to reunite pets with owners who may have surrendered their animals to the Crazy Rescue Ladies and unclaimed pets will be adopted out to new families.
Individuals are presumed innocent until found guilty in a court of law. Animal Victory relies upon the authorities and the court system to determine guilt or innocence.
News
May 15, 2023: Animal Victory sent cover letter and petition to the judge. 
March 28, 2023: The defendants have been offered plea deals that include jail time. Glenn Kassman, Lonczak's attorney, and Andrew Hannwacker, Nycz's attorney, requested an adjournment until April 18 to give them time to review the results and to discuss the terms of plea deals that were offered March 9 to both women.
January 20, 2023: Animal Victory spoke with a sergeant who informed us that the petition will be sent to the acting ADA. The sergeant thanked Animal Victory for their efforts with this case. On the day of the phone call, he did not know when the court date would be for this case.
'Cages On Cages' Holding 180 Animals Found Inside Filthy 'Rescue' home: Punish Their Abusers!
15,356
signatures = 77% of goal
15,356
Rebecca Holzer
May 27, 2023
15,355
Carol Brandt
These monsters must suffer for this.
May 27, 2023
15,354
Kristjanna Johnson
May 25, 2023
15,353
Anne Havard
May 24, 2023
15,352
John Gogolewski
May 24, 2023
15,351
Jessica Gullbrand
May 22, 2023
15,350
Lori Hanlon
May 22, 2023
15,349
Meyleen Roeseman
Another monster that deserves to be in jail for life. These vile things don't deserve to be free amongst the rest of the world. End animal cruelty by having harsher laws for these so called humans. They deserve a minimum of 10 years behind bars.
May 21, 2023
15,348
Morgan Giacalone
May 20, 2023
15,347
Barbara Small
May 20, 2023
15,346
Kathleen Perdomo
May 19, 2023
15,345
Marian Upton
May 19, 2023
15,344
Manny Miyar
May 19, 2023
15,343
corine renquet
May 19, 2023
15,342
Kimberly Mitchell
May 19, 2023
15,341
Diane Sprouse
Jail time for these 2 low life's. Let them stay in a cell just like the animals did. In their own filth with dirty food and water if they got any. I honestly don't know how these people come up with everything they do to torture animals. Your turn to be tortured.
May 19, 2023
15,340
Jessie Tostes
May 18, 2023
15,339
Justin Tilly
May 18, 2023
15,338
Ashley Boni
May 18, 2023
15,337
Vanessa Hurtado Martinez
May 18, 2023
15,336
Elsie Rivera
May 18, 2023
15,335
Angelique Starkey
Oh this is horrible how can you act like a rescue and then do this to animals this isn't right them two women need to be jailed for a long time this is so sad I am signing this petition thank you Angelique Starkey
May 18, 2023
15,334
Zoey Duarte
May 18, 2023
15,333
Aide Morales
Why is there a petition for this!?!? Lock them up!!!!
May 18, 2023
15,332
Lynne Potts
May 17, 2023
15,331
Maya Howard
May 17, 2023
15,330
Flora Rosas
May 14, 2023
15,329
Dawn Grimes
May 14, 2023
15,328
anna ionina
May 13, 2023
15,327
donna dingli sacco
May 12, 2023
---