Brick, NJ – Two self-proclaimed animal rescuers are facing a deluge of animal cruelty charges after the authorities made a grim discovery inside a Brick Township Home in December. The women,  Aimee Lonczak, 49, and Michele Nycz, 58, called themselves the "Crazy Rescue Ladies," and the authorities said that they were keeping 180 cats and dogs in deplorable conditions inside a home on Arrowhead Park Drive.
Under the guise of rescuing, Lonczak and Nycz collected money from unsuspecting good Samaritans, while keeping innocent cats and dogs in unspeakable conditions.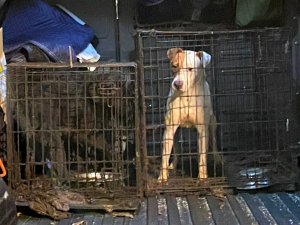 The Instagram account for the two "rescuers" claims that they are a "responsible rescue" with a non-profit,  501(c)3 status.

But the people who raided the rescue agency's home found conditions that told a different story. Officials said:
"Most of these animals were forced to live in cages filled with their own feces, urine and other garbage. The odor was unimaginable and one of the first tasks was to clean and bathed the dogs and cats."
A Brick Township Police Department news release provides further information about the dismal situation:
The officers observed stacks of animal crates on top of each other with dogs and cats in the crates. Because of the conditions, the officers were forced to exit and requested that a Hazmat team respond.
Initially, officers estimated that there were approximately 30 animals contained within the residence. Once emergency response teams were able to get into the home it became apparent that the number of animals was in excess of 100. The home was full of animal waste and the animals were living in horrible and inhumane conditions. At least two animals removed were deceased – both were dogs.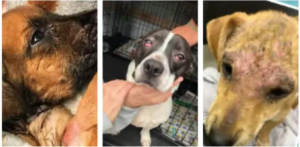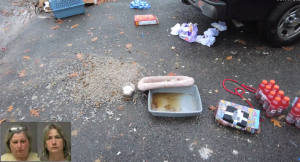 The raid at the home revealed a total of 135 dogs, 45 cats, and two dead puppies; eight of the animals required emergency veterinary care. Officials noted that the animals were covered in "crusted" feces and urine. Alexander Becker, an assistant Ocean County prosecutor, said:
"three inches of feces throughout the entire floor of the home, not just the cages, but throughout the whole household."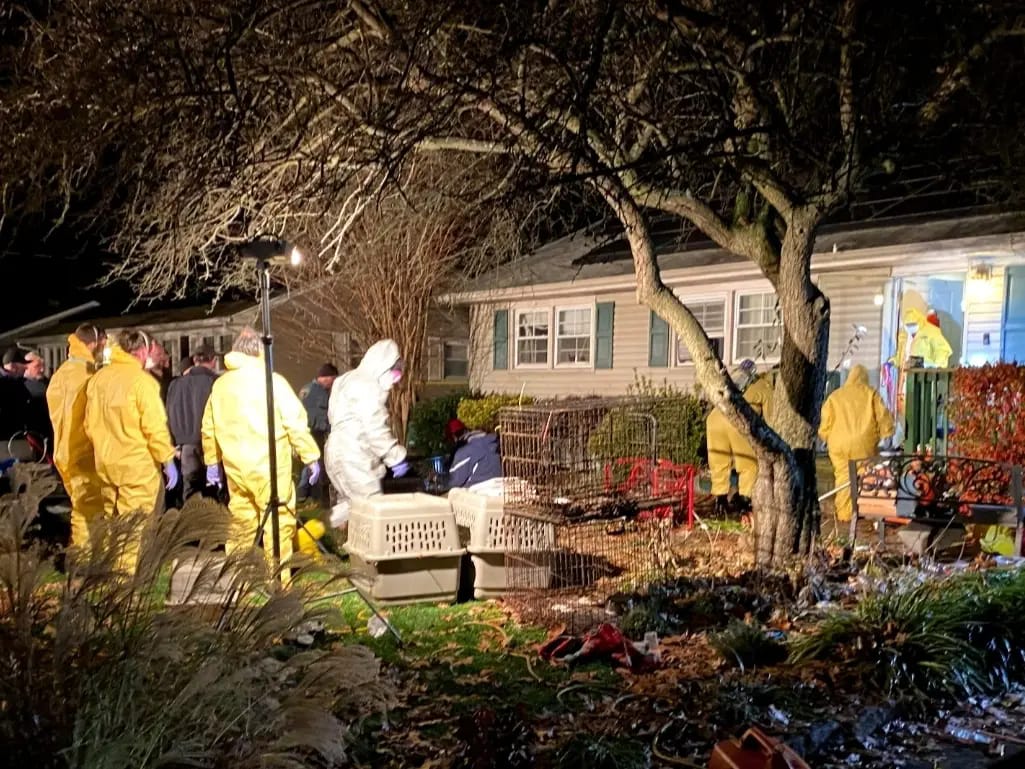 The women were booked into the Ocean County Jail on multiple charges of animal cruelty, in addition to a charge of endangering the welfare of a child because a minor (Lonczak's daughter) was found to be living in the squalor too. On December 8, a superior court judge ordered Lonczak and Nycz to be released from the Ocean County Jail. The women are due in court again on January 24 to see if they will regain custody of their personal dogs.
Please add your name to the petition as we fight for justice on behalf of the animals who were forced to suffer in unimaginable conditions created by these so-called "rescuers."
We the undersigned demand that Aimee Lonczak and Michele Nyczheld are held responsible for the inhumane conditions they forced 180 dogs and cats to live in. We are petitioning for these women to receive the maximum punishment for each and every charge resulting from this inhumane situation. It should go without saying, but these women should NOT regain custody of their personal dogs! At sentencing, we want to see them prohibited from owning, caring for, or working with, animals in the future. 
Note: Animals seized from the home were transferred to the care of Ocean County Health Department animal shelters; the authorities are trying to reunite pets with owners who may have surrendered their animals to the Crazy Rescue Ladies and unclaimed pets will be adopted out to new families.
Individuals are presumed innocent until found guilty in a court of law. Animal Victory relies upon the authorities and the court system to determine guilt or innocence.
News
'Cages On Cages' Holding 180 Animals Found Inside Filthy 'Rescue' home: Punish Their Abusers!
14,811
signatures = 74% of goal
14,811
Ann Klein
Jan 30, 2023
14,810
Mary Barber
Jan 30, 2023
14,809
Pat Wyman
Jan 30, 2023
14,808
Eleanor Justice
Please help God's beautiful precious creations!!!
Jan 30, 2023
14,807
Sarah Rowe
Jan 30, 2023
14,806
Iryna Yasinska Graves
Jan 30, 2023
14,805
Barbara Ribarich
Jan 30, 2023
14,804
Kim Munchel
Jan 30, 2023
14,803
Kelly Byrne
Jan 30, 2023
14,802
Annesia Malone
omggg what is wrong with people, i cannot imagine this filth. poor poor animals, I always think of how lucky some are and how horrible others have to live....breaks my heart
Jan 30, 2023
14,801
Lyndon Stivers
Jan 30, 2023
14,800
Susan Phillips
Jan 30, 2023
14,799
Judy Morelle
Jan 30, 2023
14,798
Lucy Melluish
Jan 30, 2023
14,797
nagy peter
Jan 30, 2023
14,796
M Wentworth
Jan 30, 2023
14,795
Sally MARLES
Jan 30, 2023
14,794
Kelly Mcevers
Jan 30, 2023
14,793
Gisele Germain
Jan 30, 2023
14,792
Robin Butcher
Jan 30, 2023
14,791
Martin Tanke
Jan 30, 2023
14,790
Lara Doornbosch
Jan 30, 2023
14,789
Allie Barkalow
Jan 29, 2023
14,788
Wendy Wilfong
Jan 29, 2023
14,787
Connie Anderson
Jan 29, 2023
14,786
Cathleen Schulz
Jan 29, 2023
14,785
Jody Parker-Matt
Jan 29, 2023
14,784
Ruth DORF
Jan 29, 2023
14,783
Kym Kephart
These rescues should be monitored.
Jan 29, 2023
14,782
Debra Gamble
Jan 29, 2023
---