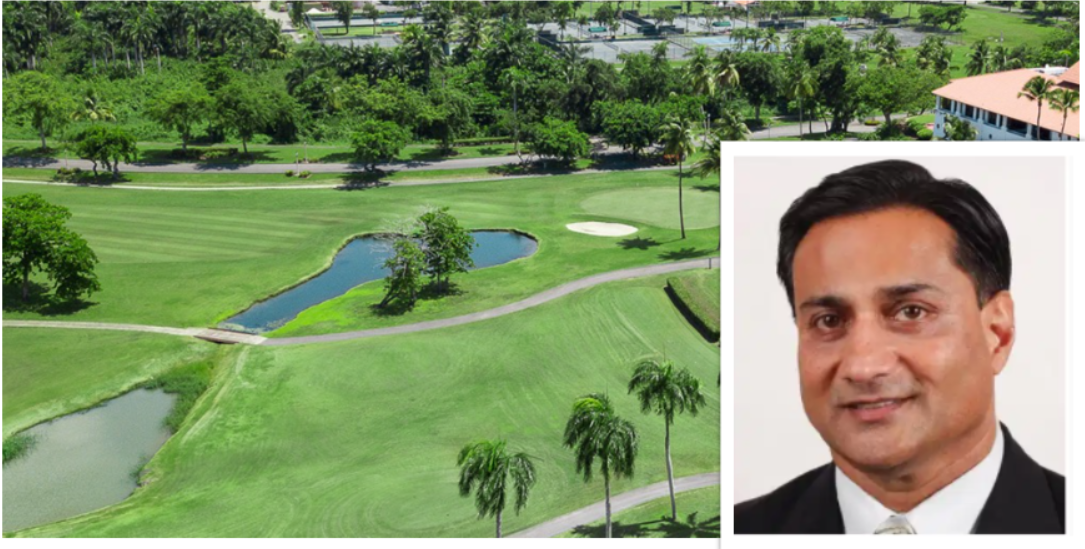 Puerto Rico – A playful pooch, who picked up a golf ball at the Wyndham Rio Mar Beach Resort in Puerto Rico, lost his life after a businessman used a 9 mm gun to end his life. The man identified as the dog's killer is 60-year-old Salil Zaveri, a sales consultant and founder of Zaveri Consulting, LLC.
The horrific incident happened on Saturday, May 8, and it resulted in Zaveri's arrest.
This is an appalling act of cruelty which must be punished! Please add your name to the petition today as we fight for the maximum punishment for Salil Zaveri.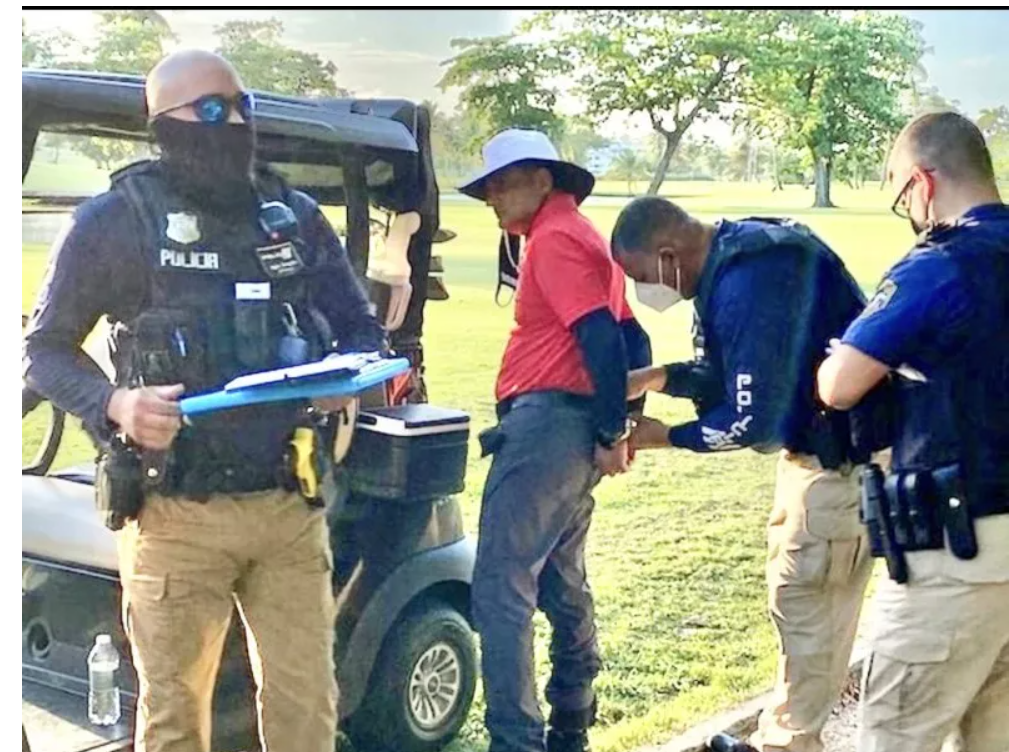 It has been reported that the people golfing with Zaveri were shocked by his actions, and the killer himself seemed to be nonchalant about what happened. Gabriel Redondo Miranda, prosecutor in the case, said, "He got in the cart and kept playing."
Col. Antonio López Figueroa, the designated commissioner of negotiations of the Puerto Rico Police Bureau Tweeted (translated):
"Thanks to my policemen, who today was the voice of justice of a little dog, that an unscrupulous one, vilely killed, without any reason and in a clear disregard for life."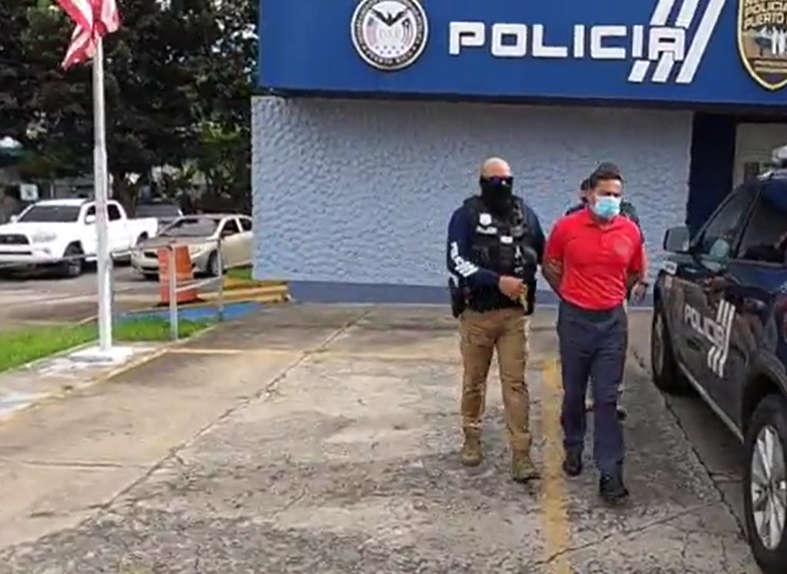 The prosecutor shared specific information about what led up to the fatal shooting:
"the information I have is that in that place there are some small dogs, about two feet high, that the people from the golf club have let loose because they hunt the iguanas that are in the area and pass by. What they tell us is that they were barking and that at one point, it seems that the ball ran a little and the puppy went and caught it. He was walking with a gun on his ankle. He pulled it out, went and shot him twice. That was at the 17th hole. He was arrested at the 18th hole."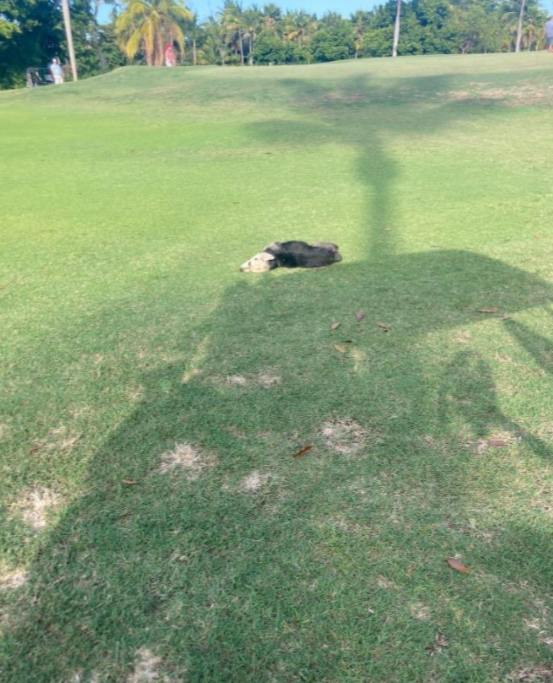 Salil A. Zaveri, faces one charge for the Animal Abuse Law and two charges for violation of the Puerto Rico Arms Law. According to ENDI, Zaveri could face between 8 and 15 years in prison for the aggravated mistreatment of animals charge. The other two charges are for violation of the Puerto Rico Gun Law. One of them, for the charge of shooting in a public place, could result in a maximum of 20 years in prison, and for pointing and shooting, a consecutive prison sentence of one to 10 years without the right to probation.
The preliminary hearing is scheduled for May 19.
Please add your name to the petition today – we are fighting for the maximum sentence for all charges!
News:
Individuals are presumed innocent until proven guilty in a court of law.
Update 2/7/2022: Animal Victory has learned that the court date has been continued to 8/25/2022.
Update 8/17/2021: Animal Victory has obtained the following information about this case:
Case number: FA2021CR00197/Status: ACTIVO
Stage of the Case: VISTA PRELIMINAR
Start date: 9/5/2021 (May 9th in U.S.)
Region of Origin: FAJARDO
Parties: Whistleblowers
THE PEOPLE OF PUERTO RICO vs, Defendants SALIL TO ZAVERI
Lawyers: MYRIAM C. JUSINO MARRERO (TS 12214 )
Judicial File: Date Number Annotation to the Judicial File Notification
-09 / May / 21 1 Electronic filing of BALLOT and COMPLAINTS on May 9, 2021. (Attached Documents: [1] [2]
-09 / May / 21 2 DETERMINATION issued by Judge JOSÉ A CABALLERO LÓPEZ in relation to COMPLAINT (S) [1] presented by FEDERICO J ESQUILIN PEREZ.
-09 / May / 21 3 BOND provided by ALLEGHENY CASUALTY CO. (R-7) for SALIL A ZAVERI.
This is what has happened with the case thus far:
PREVIEW POINTED May 19, 2021 08:30 am
CONFERENCE POINTED May 14, 2021 08:30 am
DETERMINATION OF CAUSE (RULE 6) Held 09 / May / 2021 06:44 pm
*Preview = preliminary*
Update May 16, 2021: Animal Victory sent 16,429 signatures and comments to Prosecutor Redondo: PETITION LETTER HERE
Update July 6, 2021: Animal Victory sent 16,429 signatures and comments along with our petition letter to District Attorney Yamil Juarbe Molina.
Update May 16, 2021: Animal Victory sent 16,429 signatures and comments along with our petition letter to Prosecutor Redondo: PETITION LETTER HERE
PRIOR SIGNATURES : 16615
Businessman Fatally Shot Playful Dog Who Grabbed A Golf Ball
1,674
signatures = 11% of goal
1,674
John Robertson
Nov 30, 2022
1,673
Lisel Sipes
This is insufferable! Put this moron in prison!
Nov 19, 2022
1,672
Dana Dykes
Nov 19, 2022
1,671
brigitte deschaintre
Nov 11, 2022
1,670
Amy Ong
Nov 04, 2022
1,669
Sharon Hull
Nov 01, 2022
1,668
Lisa Cairns
Oct 20, 2022
1,667
Carolina Pino
Oct 15, 2022
1,666
Shannon Nichols
Oct 07, 2022
1,665
Marga Gili
Sep 22, 2022
1,664
Guisselle Martinez
Sep 17, 2022
1,663
Carmen Verdugo
Sep 11, 2022
1,662
Kelly A Kalish
Sep 10, 2022
1,661
Michelle Krueger
Sep 09, 2022
1,660
Tammy Welch
Sep 07, 2022
1,659
Tina Woods
Sep 03, 2022
1,658
Nancy Coupe
Sep 03, 2022
1,657
Daria Bucklin
Sep 02, 2022
1,656
Farah Khumbatta
Aug 20, 2022
1,655
Anu Dutt
Aug 18, 2022
1,654
Jacqueline Lukens
NEEDS TO BE SENTENCED TO LONGEST PUNISHMENT POSSIBLE.
Aug 17, 2022
1,653
Vickie Barnett
Aug 10, 2022
1,652
Renee Crawford
Aug 10, 2022
1,650
Rose Bubello
Aug 07, 2022
1,649
Iris Barter
Aug 06, 2022
1,648
Susan Welch
Aug 06, 2022
1,647
Anonymous
A little dog was enjoying his morning and this Dum&@$$ takes his little ball and stick game so seriously that he steals joy from everyone. Get a new hobby, get medicated and get away from people and Animals!!
Aug 06, 2022
1,646
Ana Carolina Casey
Horrible animal abuser put him prison for ever evil monster.
Aug 05, 2022
1,645
Carolyn Chamberland
Aug 02, 2022
PRIOR SIGNATURES : 16615
---