Boycott Fair Oaks Farm For Calf Cruelty
Published: February 06, 2020 at 07:48 AM Author:
PENNY EIMS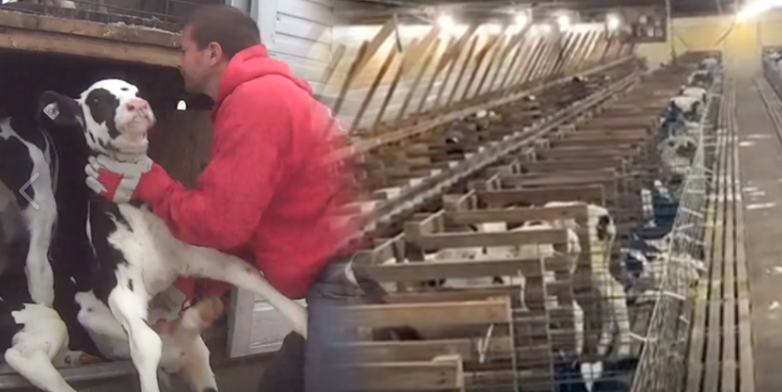 Photo courtesy of Animal Rescue Mission
Fair Oaks, Indiana – An investigation by the Animal Recovery Mission has uncovered horrific cruelty towards calves at Fair Oaks Farm, a company that boasts "best in class animal care." Video taken during the undercover investigation showed calves being punched, kicked, stabbed, and burned. Is it not bad enough that animals are bred to be killed…must they be tortured from nearly their first breath?
McCloskey, Co-Founder of Fair Oaks and CEO of Select Milk Producers has expressed dismay and disgust about the cruelty happening at the Fair Oaks Farm facility and he has stated that the employees involved in the abuse are no longer working for the company. Is that enough? Fair Oaks Farm products are being pulled off of many retail store shelves, which will impact the company's bottom line. But abuse, severe abuse, took place and justice must be served.
Join us in asking the Newton County Sheriff's Office to investigate and charge everyone involved in these cruel situations. Until that time, the so-called "Disneyland of dairy" should be boycotted.
Update 6/15/2022:  In 2019 Animal Legal Defense Fund joined forces with multiple law firms to bring a class-action lawsuit against the dairy company Fairlife alleging deceptive marketing practices. Animal Victory has since learned that a settlement has been reached. A $21 million settlement fund was created to pay settlement class members who submit timely and valid claims. The lawsuit against Fairlife, The Coca-Cola Company, Select Milk Producers, Fair Oaks Farms, and Mike and Sue McCloskey claimed certain products were produced using milk from cows that were allegedly not treated humanely. The defendants denied all allegations and the court has not decided who is right. 
Claims can be submitted online at www.fairlifemilksettlement.com, and forms can be downloaded from the website or obtained by calling a toll-free number, 1-855-604-1865.
Update 12/20/2019: We are saddened to report that the felony animal cruelty charge against Edgar Gardozo-Vasquez, a former Fairlife Farm employee, has been dropped and he has been sentenced to one year of probation. The prosecutor stated, "I don't know that he mutilated or tortured an invertebrate animal, based on the video that I saw. I'm satisfied by the plea, and I'll stand by it."
At this point in time, with the lack of accountability for animal cruelty from a legal standpoint, the only recourse against this business is a boycott of their products. We will continue to circulate the petition to raise awareness about the cruelty that was inflicted on the innocent calves at Fair Oaks Farm and to keep up pressure on the farm owners to prevent this despicable behavior from happening again.
Update 10/09/19: Lawsuit against The Coca-Cola Co. and FairLife LLC – details here.
Read our Letter to Fair Oaks Farm Here
Read our Letter to Sheriff Tom VanVleet Here
Please continue to Sign and Share.
8/13/19 Update: Your voices are being heard! Fair Oaks Farms has reacted to the public outcry and taken steps to improve the safety of the cows in its care. The company began installing surveillance cameras in June and by July, the installation was reported to be "100 percent complete." Fair Oaks Farms has also hired an animal welfare expert to oversee animal care operations and contracted with an independent auditor (Food Safety Net Services) who will perform random and unannounced audits every two to four weeks. You can see all of the safety measures Fair Oaks Farms has put into place at this link.
Read our Letter to the Sheriff here
Read our Letter to Fair Oaks Farm here
We would like to believe that Fair Oaks Farms is committed to the welfare of the cows and calves in their care, but we are not 100 percent convinced given the epic failure which was revealed in the damning undercover video. We will continue this petition until we are certain that this company knows that the public care, and until we see that humane animal welfare practices are in place and adhered to.  We have asked Fair Oaks for the courtesy of a reply to update our supporters.
08/05/19 Update! Edgar Gardozo-Vasquez, one of the men identified as an abuser of calves at a Fair Oaks Farm, has been turned over to U.S. Immigration and Customs Enforcement custody. Gardozo-Vasquesz, a Mexican national, will remain in the custody of ICE pending the outcome of accusations that he is in the United States illegally.
6/13/19 Update! One suspect has been arrested! Edgar Gardozo-Vasquez, 36, of Brook, Indiana, has been taken into custody. There are outstanding warrants for the other two suspects.
6/12/19 Update! Three men are now facing charges for these atrocious acts of cruelty. Prosecutors have charged 31-year-old Santiago Ruvalcaba Contreros, 36-year-old Edgar Gardozo Vazquez and 38-year-old Miguel Angel Navarro Serrano with misdemeanor beating of a vertebrate animal and arrest warrants have been issued. Your voices are being heard! We must push for these men to be punished to the full extent of the law.
* Individuals are presumed innocent until proven guilty in a court of law.
Prior Signatures 20,310