36 Dogs And Puppies Seized From Same Home Where Dozens Of Dogs Were Previously Seized From Suspected Dog-Fighter
Published: October 17, 2020 at 08:32 AM Author:
PENNY EIMS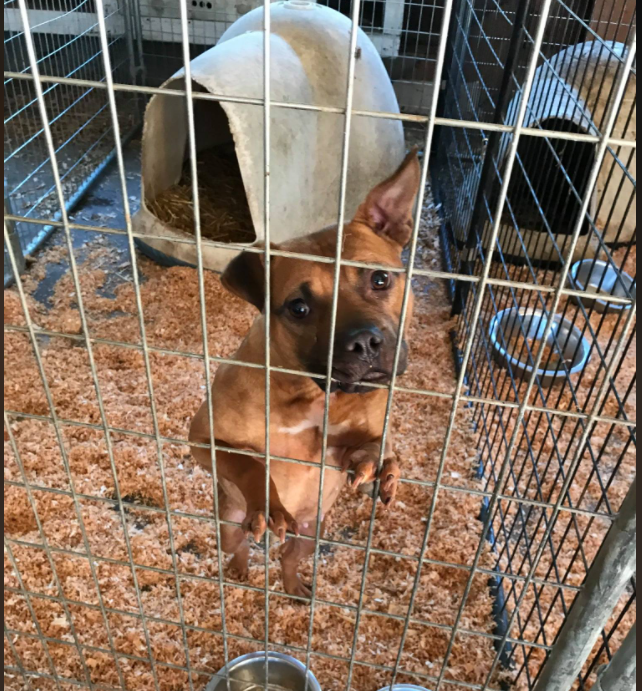 Pierce County, Washington – Dozens of dogs and puppies were seized this week from the same Pierce County, Washington, home where nearly 50 dogs were seized in December 2019 from a suspected dog fighter. The Pierce County Sheriff's Office announced that 36 dogs and puppies were removed this week because of suspected dog abuse. In a release, the authorities state:
The warrant was part of an ongoing investigation into reports of animal cruelty and an illegal kennel operation on the property; per Pierce County Code the property owner is restricted from possessing more than five dogs unless he obtains a kennel license.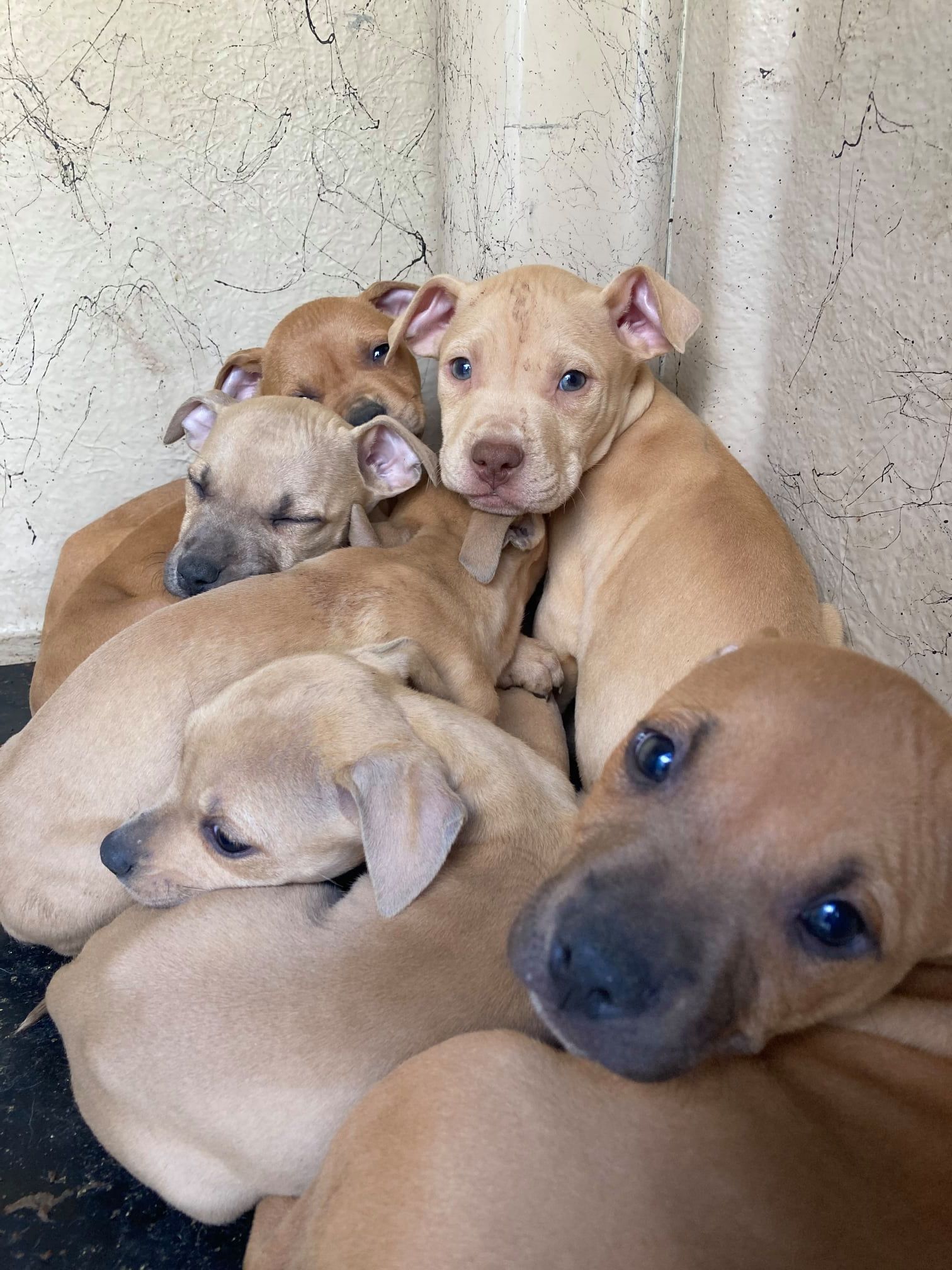 The owner, identified as Elmer James Givens Jr., has 15 days to petition the court to regain custody of the dogs. Please sign the petition to ask for Givens to be denied his right to reclaim the dogs AND face charges!
Elmer Givens Jr. petitioned the court to get his dogs back after the first seizure, but Judge Jeanette Lineberry denied his request. Though Givens has denied the dog-fighting allegations, the authorities have stated that the conditions at his residence in Midland point to dog-fighting activity. After the 2019 seizure, the Pierce County Sheriff's Department stated that dozens of dogs were found locked in crates with their own waste in a garage, and investigators found materials related to dogfighting and breeding.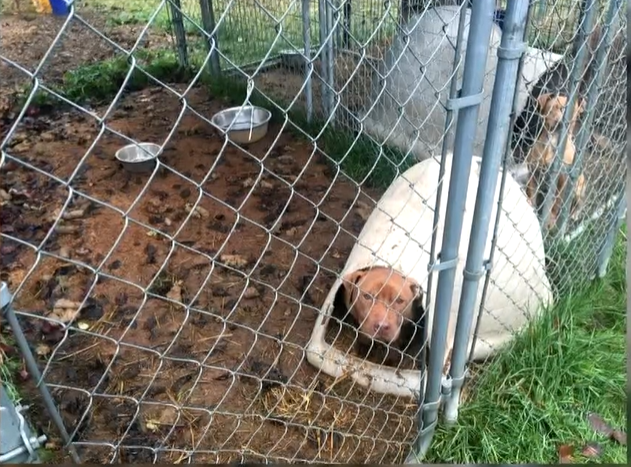 The authorities have outlined what led to the most recent seizure, stating:
Earlier this week our investigators received a tip that a large number of dogs were being kept on the same property and made allegations that the property owner was shooting the dogs with a pellet gun. The tip contained footage of the property, dogs, and the alleged abuse. Our investigators interviewed witnesses, collected the video evidence, and obtained a search warrant for the property.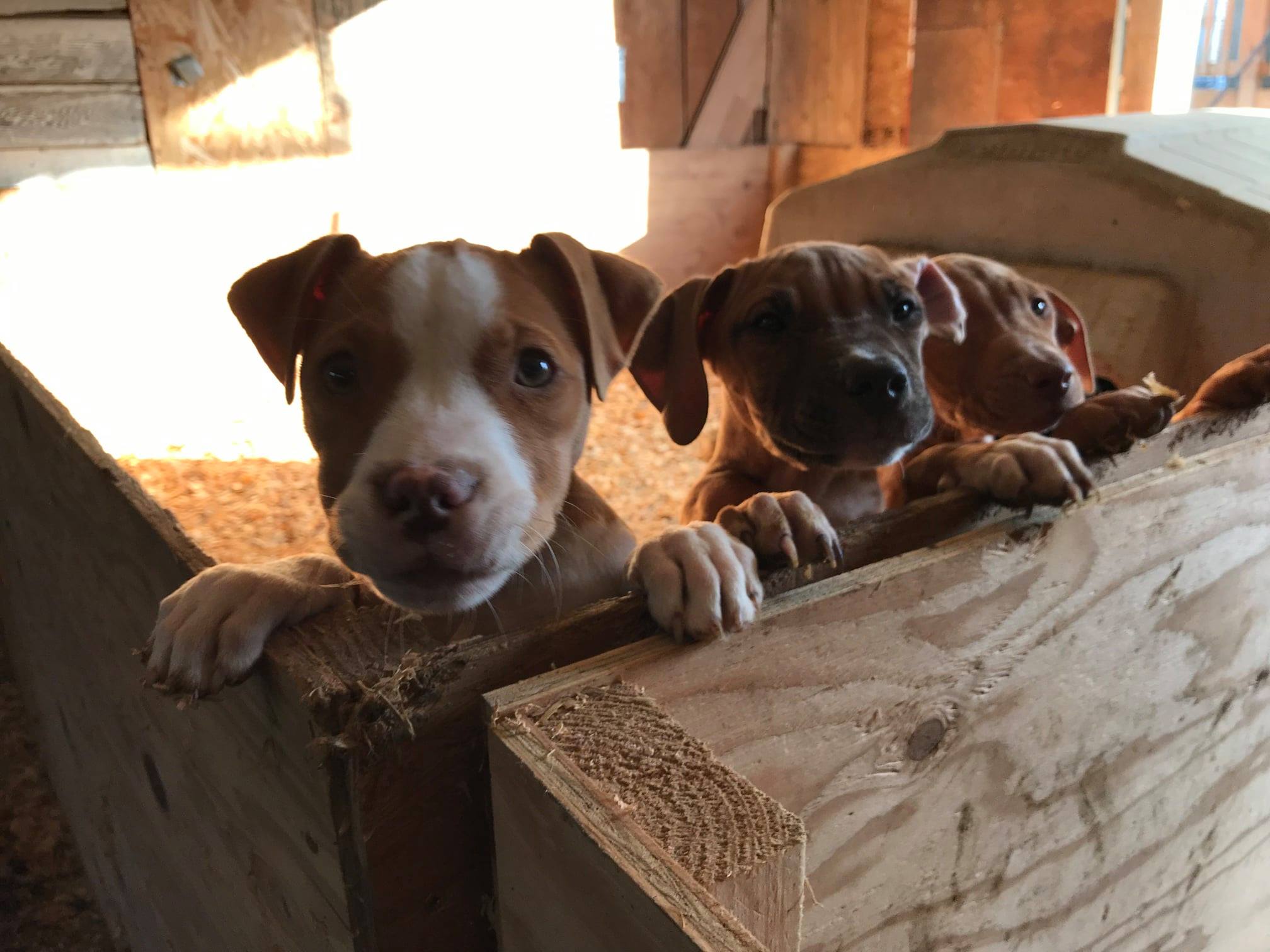 Upwards of 90 dogs and puppies have been seized from this man's residence in less than a year. The investigation of the first situation has not even been concluded!
Please add your name to this petition today – the court needs to know that we care about this case and want to see Givens denied his bid to reclaim the dogs! The courts must also issue a mandate that Givens can never own dogs again! Additionally, based on the investigation by the Pierce County Sheriff's Department, this man deserves to face animal cruelty and/or dog-fighting charges. Please take action right now to stop this man from continuing to abuse and exploit dogs!
News:
Individuals are presumed innocent until proven guilty in a court of law.
Update 5/5/2023: Victory! Elmer Givens Jr. was sentenced today to 10 months in prison and two years of probation. Givens' attorney asked for the judge to sentence his client to six months behind bars, but the judge said that six months was not enough time to send the message necessary given the severity of the crime.  Givens Jr. was also banned for a lifetime from owning, possessing, or residing with any animals.
After two and half years of waiting, Animal Victory would like to thank all of the animal welfare organizations and protestors who helped make this possible. Over 40,000 signatures were sent to the judge before sentencing. 
Update March 2023: Animal Victory sent a cover letter and petition to the judge on 4.28.2023. 
Update March 2023: The trial has concluded and sentencing is scheduled to take place on 5/5/2023: Prosecutors have recommended that Givens serve six months in custody and be given a lifetime ban on owning, caring for, possessing an animal, or residing in any house where an animal is present. They are also asking the judge that Givens forfeit any animals currently in his possession, pay back costs for the dogs' veterinary care, and attend animal abuse training. A final letter, with every signature, will be sent to the judge before sentencing in order to ensure that they are aware of the public support for this man to receive the maximum sentence possible. 
Update 1/13/2023: 8:30 am Jury Trial to be held on 02/22/2023.
Update 9/12/2022: The trial readiness conference is scheduled on September 22, 2022, at 1 p.m. Jury trial will begin October 18, 2022, at 8:30 a.m. 
Update 5/09/2022: Animal Victory has obtained the upcoming court dates:
05/11/2022 08:30 am JURY TRIAL CONTINUED
07/21/2022 08:30 am MOTION-CrR 3.6 (Suppress)
08/26/2022 08:30 am TRIAL READINESS STATUS HEARING
09/12/2022 08:30 am JURY TRIAL
Update 2/7/2022: Animal Victory has learned that court has been continued again to March 22, 2022.
Update 11/30/2021: Animal Victory has learned that court dates have been revised to:
12/02/2021 01:30 pm Omnibus Hearing
01/27/2022 08:30 am Trial Readiness
02/08/2022 08:30 am Jury Trial
Update 11/08/2021 – Animal Victory has learned of the following court dates for this case:
10/13 Omnibus Hearing
11/19 Trial Readiness
11/30 Jury Trial
Update: 4/19/21: Animal Victory has sent 19,723 signatures and comments to Prosecutor Patrick Vincent today.  Animal Victory has sent signage below to protesters attending the court.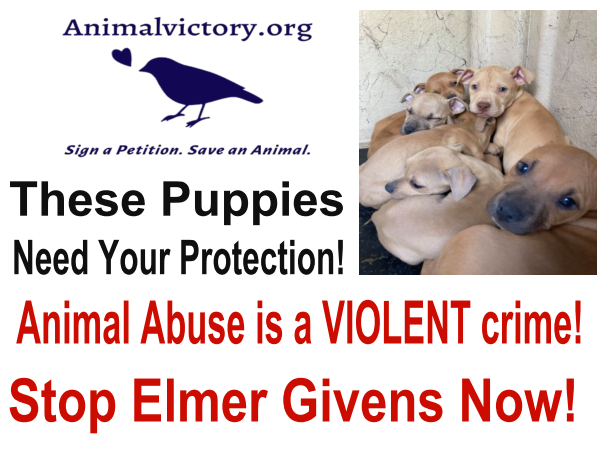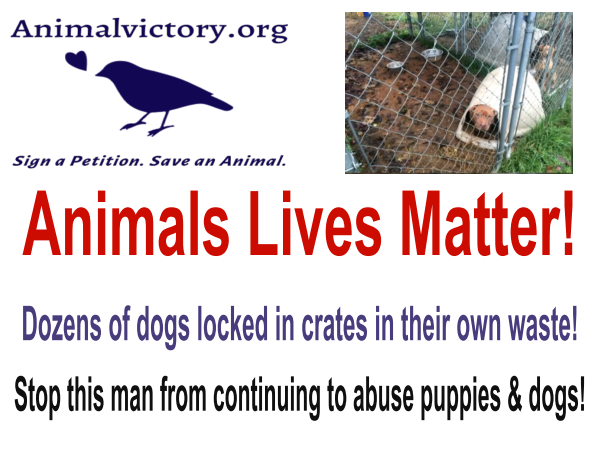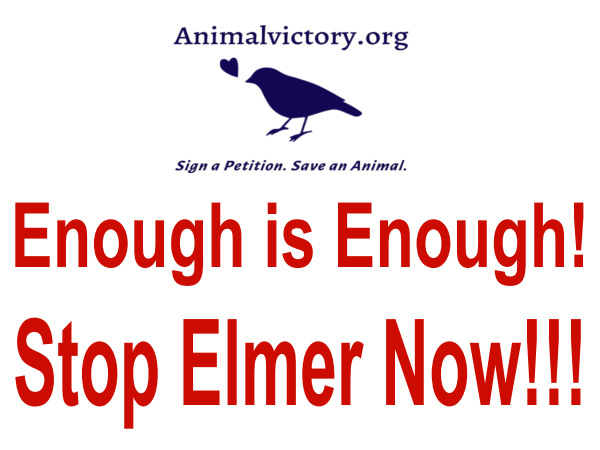 Update 3/31/2021: Animal Victory has learned that 23 of the dogs involved in this cruelty case are now being made available for adoption through the Humane Society – Tacoma/Pierce County. We have also learned that a Pierce County judge has banned Givens from using social media, websites, or other sources to promote dog breeding. The Pierce County Prosecutor's Office has stated that any current social media posts or websites of Givens promoting breeding are to be taken down immediately. Animal Victory has learned that another court date is scheduled for 7/20/2021. Animal Victory has sent 18,000 signatures along with our letter of intent to Lead Prosecutor Patrick Vincent. Read our letter here.
Update 3/5/2021: The arraignment took place on 3/4/21, and the suspect pleaded not guilty; he is being held in lieu of $150,000 bail. The next scheduled court dates are 3/30 and 4/22 for the omnibus hearing and jury trial. Animal Victory has been informed that the lead prosecutor is J. Patrick Vincent.
Update 3/4/2021: This week, the authorities seized ANOTHER 23 dogs from Elmer Givens Jr.'s home! A total of 107 dogs/puppies have been seized from this man's home since 2019. Prosecutors have filed 75 animal cruelty-related charges against this man.  According to the probable cause statement, Givens remains defiant, saying,  "I'm not afraid of jail. I've been to jail, and as long as you ain't charged me and convicted me, I'm gonna do whatever I want." Please add your name to the petition if you haven't yet.
Update 11/12/2020: The puppies seized from Givens are currently available for adoption through the Humane Society for Tacoma Pierce County. Givens did not get them back! We will continue to push for him to face charges, and to be prohibited from owning pets in the future.
Update October 27, 2020: Read our letter to Prosecuting Attorney Robnett here
Animal-Protection-Laws-of-Washington-2020-Animal-Legal-Defense-Fund
Prior Signatures 41,142.