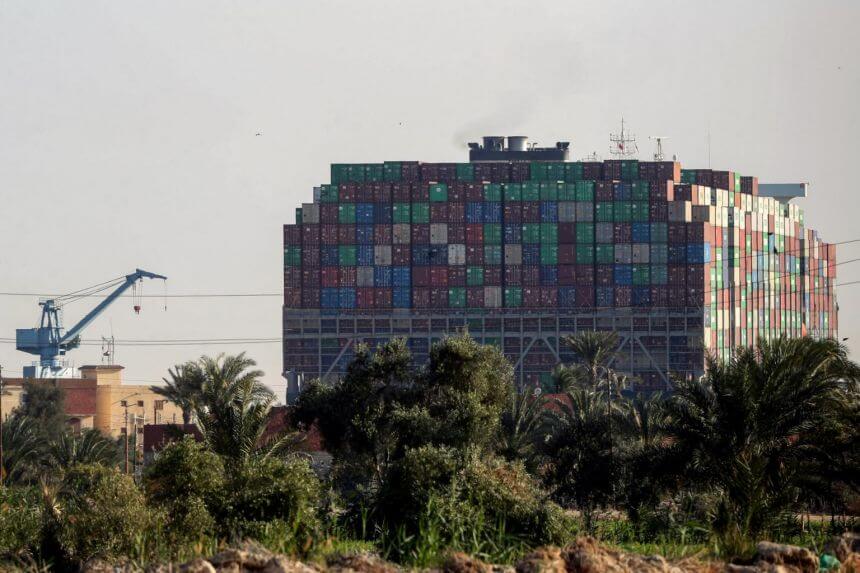 Suez Canal, Egipto – The recent Ever Given container ship fiasco in the Suez Canal has put a spotlight on the cruel live animal export trade. While the massive ship was wedged in the Egyptian canal, thousands of captive livestock suffered in tight, filthy quarters aboard ships trying to make their way through the passage. It is estimated that upwards of 200,000 animals were part of the back-up…trapped onboard literal ships of deaths traveling to destinations where the animals will be cruelly slaughtered.
Please join us as we petition the European Parliament to bring an end to live animal export!
When things go awry at sea, livestock on board ships suffer immeasurably. Animals have to stand in their own waste, for weeks on end. And if resources run out, the animals suffer dehydration and starvation; the ones who don't survive are thrown overboard.

The atrocities these sentient beings are forced to endure are overwhelming.
Recently, a livestock ship with 1,800 head of cattle was denied port entry for THREE months! According to The Guardian, nearly 200 of the cattle died in conditions described as "hellish."

The animals forced onboard these ships of death are already slated for death – must they suffer unnecessarily before they are slaughtered? Does anyone care for their welfare?
Your signatures and comments will be sent to the European Parliament along with our letter asking for this cruel live export transportation business to come to an end.
News:
Warning: Distressing content
Video from YouTube/Mercy For Animals
Individuals are presumed innocent until proven guilty in a court of law.
PRIOR SIGNATURES : 12235
Suez Canal Situation Highlights Atrocious Animal Trade, With 200K Animals Stuck On Ships
879
signatures = 6% of goal
879
Cheryle Lefort
Nov 26, 2021
878
Laura Zavadil
Nov 26, 2021
877
Debra Rivait
It's disgusting that innocent animals are made to suffer like this, by humans who should be looking out for the animals welfare. The world needs to stop these hideous practices
Nov 26, 2021
876
Maria Kagelind
Nov 26, 2021
875
Melissa Walters
Nov 26, 2021
874
Anne Ferrari
Nov 25, 2021
873
Diana Baker
DISGUSTING
Nov 24, 2021
872
Penny Welstead
Nov 24, 2021
871
tony zop
Nov 24, 2021
870
jerrilynn tzakis
Nov 24, 2021
869
Charlotte Hoskins
Nov 23, 2021
868
Vass Carol
Nov 22, 2021
867
Anonymous
Nov 22, 2021
866
Anonymous
Nov 22, 2021
865
Jane Dunn
Stop all animal exports. Cruel to animals and humans.
Nov 22, 2021
864
Shelley Stevens
Nov 22, 2021
863
CARLOS RODRIGUEZ
Nov 22, 2021
862
Andrea Ritter
Nov 22, 2021
861
Elizabeth Strachan
Nov 21, 2021
860
Nita Tomaszewski
Nov 21, 2021
859
Debbie Spagnola
Nov 21, 2021
858
Dianne Clegg
Nov 21, 2021
857
Johnny Pflugrad
Nov 21, 2021
856
shirley stone
Nov 21, 2021
855
Marie Pelfrey
Nov 21, 2021
854
Lynn Duncan
Nov 21, 2021
853
Beryl Ludwig
Nov 21, 2021
852
Chris Van Enkenvoort
Nov 21, 2021
851
Gail Tewalt
Nov 21, 2021
850
Doreen Perry
Nov 21, 2021
PRIOR SIGNATURES : 12235
---