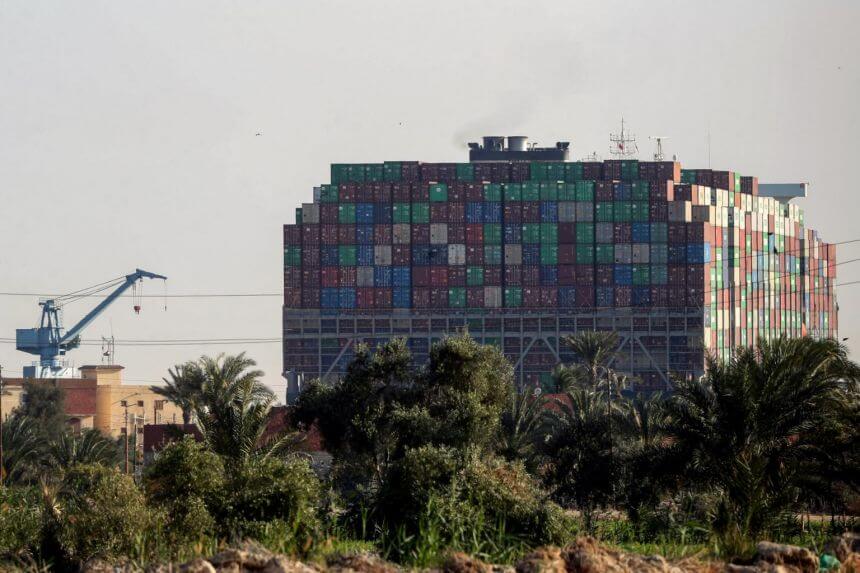 Suez Canal, Egipto – The recent Ever Given container ship fiasco in the Suez Canal has put a spotlight on the cruel live animal export trade. While the massive ship was wedged in the Egyptian canal, thousands of captive livestock suffered in tight, filthy quarters aboard ships trying to make their way through the passage. It is estimated that upwards of 200,000 animals were part of the back-up…trapped onboard literal ships of deaths traveling to destinations where the animals will be cruelly slaughtered.
Please join us as we petition the European Parliament to bring an end to live animal export!
When things go awry at sea, livestock on board ships suffer immeasurably. Animals have to stand in their own waste, for weeks on end. And if resources run out, the animals suffer dehydration and starvation; the ones who don't survive are thrown overboard.

The atrocities these sentient beings are forced to endure are overwhelming.
Recently, a livestock ship with 1,800 head of cattle was denied port entry for THREE months! According to The Guardian, nearly 200 of the cattle died in conditions described as "hellish."

The animals forced onboard these ships of death are already slated for death – must they suffer unnecessarily before they are slaughtered? Does anyone care for their welfare?
Your signatures and comments will be sent to the European Parliament along with our letter asking for this cruel live export transportation business to come to an end.
News:
Warning: Distressing content
Video from YouTube/Mercy For Animals
Individuals are presumed innocent until proven guilty in a court of law.
PRIOR SIGNATURES : 12235
Suez Canal Situation Highlights Atrocious Animal Trade, With 200K Animals Stuck On Ships
1,150
signatures = 8% of goal
1,150
John Robertson
Nov 30, 2022
1,149
Dana Dykes
Nov 19, 2022
1,148
brigitte deschaintre
Nov 11, 2022
1,147
Lisa Cairns
Oct 20, 2022
1,146
Tanya Barsoumian
Oct 17, 2022
1,145
Carolina Pino
Oct 15, 2022
1,144
Shannon Nichols
Oct 07, 2022
1,143
Michele Pierce
Oct 05, 2022
1,142
Julie Goss
Oct 05, 2022
1,141
Guisselle Martinez
Sep 17, 2022
1,140
Shambhavi Ojha
Sep 16, 2022
1,139
Carmen Verdugo
Sep 11, 2022
1,138
Kelly A Kalish
Sep 10, 2022
1,137
Craig Davis
Sep 10, 2022
1,136
Mike Davis
Sep 10, 2022
1,135
Jammie Davis
Sep 10, 2022
1,134
Michelle Krueger
Sep 09, 2022
1,133
Tammy Welch
Sep 07, 2022
1,132
Tina Woods
Sep 03, 2022
1,131
Nancy Coupe
Sep 03, 2022
1,130
Farah Khumbatta
Aug 20, 2022
1,129
Jeff Dickson
Aug 20, 2022
1,128
Anu Dutt
Aug 18, 2022
1,127
Iris Barter
Aug 11, 2022
1,126
Vickie Barnett
Aug 10, 2022
1,125
Renee Crawford
Aug 10, 2022
1,124
Susan Welch
Please STOP All Live Exports!!! This is SO Cruel!!!
Aug 06, 2022
1,123
Ana Carolina Casey
Please stop this animal abusers put them in prison for ever!
Aug 05, 2022
1,122
Carolyn Chamberland
Aug 02, 2022
1,121
Debbie Coggins
Jul 25, 2022
PRIOR SIGNATURES : 12235
---